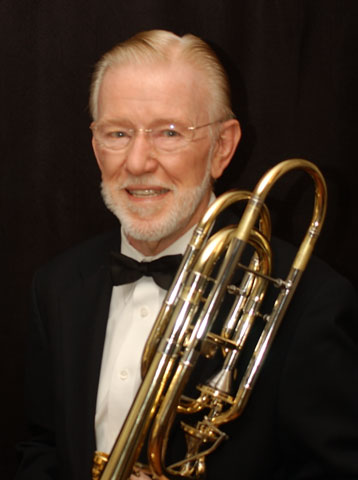 Robert Biddlecome (bass trombone, euphonium) began his music studies with piano lessons and later took up the euphonium, then the trombone. With only a few lessons he demonstrated a musical talent that brought encouragement from his teachers to continue his studies and to follow a musical career. Upon graduating from high school, he decided that the trombone was his instrument of choice and undertook studies with the great trombonist and euphonium soloist, Simone Mantia. He progressed rapidly with Mantia, who immediately recognized his potential and after one year recommended that he audition for Juilliard. He was accepted as a student of Roger Smith and graduated with a diploma in trombone in 1952. While at Juilliard he gained considerable orchestra experience in the JuillardOrchestra under conductor Jean Morel. At the same time he was a member of the National Orchestral Association Orchestra conducted by Leon Barzin. At graduation he had already been playing with the Radio City Music Hall Orchestra, performed under Fritz Reiner at the Metropolitan Opera, and seemed to be on his way. Nevertheless, he decided to join The United States Army Band (TUSAB) in Washington, DC, where he was assistant first trombone, alongside Keig Garvin, for four years. He then moved to the solo euphonium chair and held that position for the next five years, until he left the Band in 1961 to return to New York and further pursue his "classical" music aspirations.
Upon returning to New York, Mr. Biddlecome's first performing opportunity was with the Goldman Band, under Richard FrankoGoldman. He remained with the band for three summers, two as a trombonist and one as solo euphonium. Following his first season with Goldman, he made an extensive tour with the NY City Ballet, under Robert Irving, playing both trombone and euphonium, then running off to finish the season as a member of the Baltimore Symphony Orchestra, under Peter Herman Adler.
Next came what would turn out to be one of the most important auditions he would ever take, to replace Gilbert Cohen, who was leaving the fledgling American Brass Quintet in order to join the New York Philharmonic. He won the position as bass trombonist of the ABQ and shortly afterwards was offered the bass trombone chair with the NY City Ballet Orchestra. From this point on he was a bass trombonist, who also doubled on euphonium. He performed throughout the world as a member of the American Brass Quintet for twenty-eight years, until he left the group in 1990, and he may be heard on more than thirty recordings with the ABQ. It was during his tenure that the ABQ began its ongoing commissioning program, made its first recordings, made its first international tours, started the Aspen and Juilliard residencies and became recognized as the premier brass ensemble that it remains today. Despite his busy performing schedule, Mr. Biddlecome managed to return to Juilliard and obtain both his Bachelor's and Master's degrees.
In addition, for twenty years Mr. Biddlecome was bass trombonist of the American Symphony Orchestra under Music Directors Leopold Stokowski, Kazuyoshi Akyama, SergiuComissiona, Giuseppe Patane, Moshe Atzmon, Catherine Comet, John Mauceri and Leon Botstein. He was also bass trombonist and a founding member of the American Composers Orchestra, under Dennis Russell Davies, bass trombonist of the MusicaAeterna Orchestra, the Aspen Festival Orchestra, performed frequently with the NY City Opera and did a Broadway run of the show 110 in the shade. After forty-seven years as bass trombonist of the NY City Ballet Orchestra, he finally played his last Nutcracker in January 2010 and retired to Princeton, New Jersey.
Mr. Biddlecome continues as Executive Director of The American Brass Chamber Music Association, a position he has held since 1972. He has served on the board of Chamber Music America, was a board member and president of the American Symphony Orchestra, and for more than twenty years was a member of the Aspen Music Festival administration and Festival Orchestra manager from 1970 to 1997. He has also been a faculty member of Brooklyn College Conservatory, the Mannes School of Music and the Juilliard School.