DICK NASH



This page is updated: April 2, 2022 6:30 PM

(Richard.T Nash) b. Jan 26, 1928, Boston - US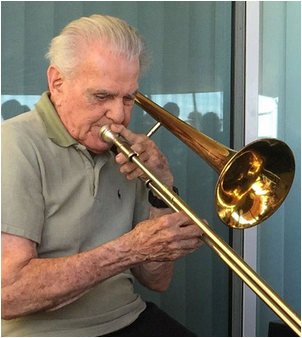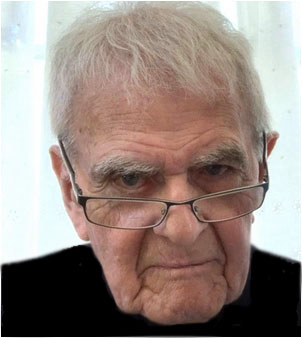 Dick Nash started playing a brass instrument at the age of 10. His parents died and, since he was very young, he went to a boarding school where he came in contact with brass playing. His first brass instrument was a army bugle and he was told to play the trumpet. Even then he was attracted to the trombone and practiced it secretly. The bandmaster heard him play trombone and said "the trumpet is too small for you, you must play the baritone." During his high school days he switched to the trombone and took lessons from John Coffey of the Boston Symphony Orchestra.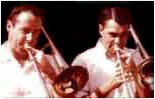 Cliff Stark and Dick Nash (1950's)

Dick took classical trombone lessons and played all the repertoire, but his desire was to play dance music, which was very popular in the 40's and 50's. During this period there was a great market for the big bands, ballroom bands and so on. He traveled with Billy May and played in several other bands. In the 50's, the popularity of big bands waned and a lot of great bands disappeared. Dick had problems finding a job as a trombone player (as did a lot of other players at that time.) In 1953, Dick married Barbara and he asked her if she would like to go to Los Angeles for their honeymoon? She said yes! so they packed their bags and left to build a new future. For nearly a year they struggled but a rescue came from Tommy Pederson, who arranged a job for him with one of the local bands. This was his lucky break and his great Los Angeles career began.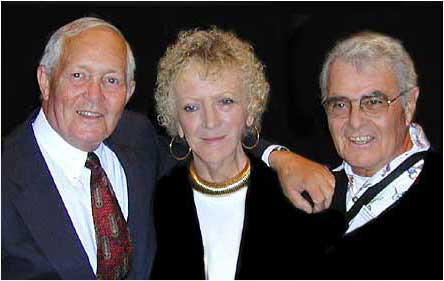 George Roberts, Barbara & Dick Nash (Photo Joshua Brown ITA)



Dick Nash - Photo Scott Whitefield

Discography:

Don Swan Hot Cha Cha
Larry Elgart Latin Obsession
Rudiger Gleisberg Arabesque
Henry Mancini Symphonic Soul
Don Ellis Music from Other Galaxie
Paul Chihara King of the Olympics
Julia Migenes Smile (Tribute to Hollywood)
Henry Mancini Theme from Z and Other Film Music

Mel Tormé Collection (1944)
Best of June Christy (1949)

Nat King Cole Billy May Sessions (1951)
Various Artists All the Things You Are (1952)
Various Artists Jazz Giants Plays Horace Silver (1954)
Anita O'Day Jazz 'Round Midnight (1954)
Harry James in Hi-Fi (1955)
Art Pepper Art of the Ballad (1956)
Ella Fitzgerald For the Love of Ella (1956)
Ella Fitzgerald Complete Songsbooks (1956)
Ray Anthony Jam Session at the Tower (1956)
Stan Kenton Back to Balboa (1958)
Rob Reiner Peter and the Wolf (1958)
Esquivel Four Corners of the World (1958)
Esquivel Other Worlds Other Sounds (1958)
Art Pepper + Eleven: Modern Jazz (1959)
Oscar Peterson Bursting Out With The All-Star Big (1959)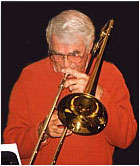 Dick Nash 2003 - Photo Debbie Boltinghouse

Ella Fitzgerald Sings the Harold Arlen Song Book (1960)
Henry Mancini Combo! The Original "Peter Gunn" (1960)
Anita O'Day Trav'lin' Light (1961)
Peggy Lee Blues Cross Country (1961)
Erroll Garner Close-Up in Swing (1961)
Henry Mancini Uniquely Mancini (1963)
Pete Fountain South Rampart Street Parade (1963)
Erroll Garner You Brought a New Kind of Love (1963)
Henry Mancini Concert Sound of Henry Mancini (1964)
Henry Mancini Latin Sound of Henry Mancini (1965)
Sonny Criss Orchestra Sonny's Dream (1968)
Henry Mancini Big Latin Band of Henry Mancini (1968)

Lincoln Mayorga & Distinguished (1974)
Nancy Nevins (1975)
Louis Bellson Louie Bellson's 7 (1976)
Henry Mancini Cop Show Themes (1976)
Melissa Manchester Help Is on the Way (1976)
Original Soundtrack Bingo Long Traveling All-Stars (1976)
Quincy Jones Roots (1977)
Teresa Brewer 16 Most Requested Songs (1977)
Henry Mancini Theme Scene (1978)

Randy Crawford Everything Must Change (1980)
Tutti Camarata Tutti's Trombones (1983)
Julio Iglesias 1100 Bel Air Place (1984)
Scott Joplin Digital Ragtime/Wall Street Rag (1985)
Nancy Sinatra Hit Years (1986)
Original Soundtrack King of the Olympics (1988)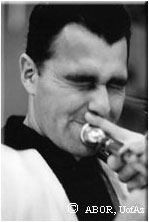 Les Brown Anything Goes (1990)
Sue Raney In Good Company (1990)
Miles Davis with Michel LeGrand (1990)
Barry Manilow Showstoppers (1991)
Stan Kenton 50th Anniversary Celebration (1991)
Round Midnight 'Round Midnight [Milestone] (1991)
Manhattan Transfer Christmas Album (1992)
Hollywood Trombones Christmas Songs & Carols (1992)
New England Conservatory - Red Back Book/Elite Syncopations (1992)
Frank Sinatra Duets (1993)
Kenny Rogers Timepiece (1994)
Ella Fitzgerald Essential: Great Songs (1994)
Jean-Pierre Rampal Fascinatin' Rampal (1994)
Various Artists Gershwin Songbook: 'S Marvelous: (1994)
Various Artists Fine Romance: Jerome Kern Songbook (1994)
Various Artists Complete Gershwin Songbooks (1995)
Original Soundtrack Sabrina [Original Soundtrack] (1995)
Louie Bellson's 7 Live at Concord Summer Festival (1995)
Ella Fitzgerald, Jazz 'Round Midnight: Three Divas (1995)
Tex Beneke Dancers Delight (1996)
Henry Mancini Mancini Touch (1996)
Oscar Peterson Swinging Brass (1996)
Randy Crawford Best of Randy Crawford (1996)
Various Artists Complete Jerome Kern Songbooks (1997)
Jimmy Witherspoon Jazz Me Blues (1998)
Lena Horne Best of the RCA Years (1998)
The Palladium Orchestra Big Band Latin Heat (1998)
Various Artists Gershwin Jazz Round Midnight (1998)
Various Artists West Coast Jazz Box: An Anthology (1998)
Anita O'Day Ultimate Anita O'Day (1999)
Erroll Garner Night at the Movies Up in Erroll's (1999)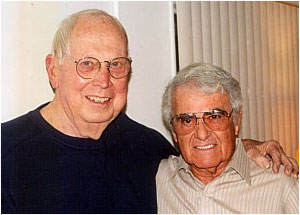 Dick Nash with with Lloyd Ulyate, LA 2003 - Photo Debbie Boltinghouse

Count Basie Anthology (2000)
Michael Davis Brass Nation (2000)
Henry Mancini Big Band Sounds (2000)
Tex Beneke Music in the Miller Mood (2000)
Mel Tormé Finest Hour (2001)
Count Basie Anthology [Japan] (2001)
Planet of the Apes (2001)

All My Concertos by Tommy Pederson (2003)
-



|


Copyright 2022 René Laanen - Trombone Page of the World
Please direct comments and questions about this web site to René Laanen ~ contact