CONRAD HERWIG



This page is updated: April 2, 2022 6:48 PM

Conrad Herwig b. 1 November 1959, Oklahoma, USA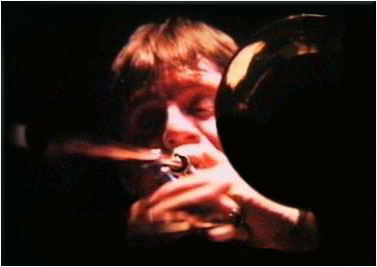 Conrad Herwig is one of New York's more prominent young progressive/mainstream trombonists. He has recorded and/or performed with a number of famous leaders, including, but not limited to, Joe Henderson, Jack DeJohnette, and Paquito D'Rivera. Herwig is an alumni of the famous University of North Texas jazz program, an experience that obviously prepared him well as a big band player. He began his professional career in the early '80s with Clark Terry's big band; stints with Buddy Rich, Toshiko Akiyoshi, Mel Lewis, and others were to follow. Herwig has become an increasingly in-demand sideman in the '90s. He is an accomplished pedagogue, having taught clinics and workshops around the world. Currently, Herwig is on the faculty at William Patterson College in New Jersey. His seventh album as a leader, The Latin Side of John Coltrane, emphasizes an affinity for South American idioms. Criss Cross followed in 1998, and a year later Herwig resurfaced with Osteology. Unseen Universe followed in fall 2000. — Chris Kelsey

Conrad Herwig's Discography as a Leader:
"Shades of Light" SteepleChase 31520
'Hieroglyphica" Criss Cross 1207
"Unseen Universe" Criss Cross 1194
"Osteology" Criss Cross 1176
"Heart of Darkness" Criss Cross 1155
"The Latin Side of John Coltrane" Astor Place 4003
"Ao Vivo No Festival de Jazz de Guimaraes, Portugal" Groove 10
"New York Breed" Double-Time 108
"The Amulet" Ken 016
"Intimate Conversations" Ken 012
"New York Hardball" Ken 002
"With Every Breath" Ken 008

| | |
| --- | --- |
| Click on photo for LARGE picture! | Awesome New CD |
Late in the decade, he made his recording debut as leader on which he was teamed with saxophonist Jim Snidero. When he moved to New York he played with Mario Bauza and Eddie Palmieri, continuing to play with the latter throughout the 90s. These latter associations imbued him with a long lasting interest in Latin music.
Herwig continued to record, with varied critical success, throughout the 90s.
During all this time, he was advancing his interest in and facility at writing music.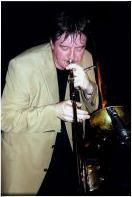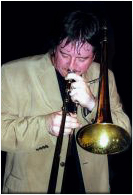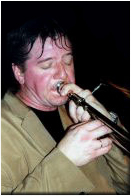 Click on photo's for LARGE picture! (copyright by René Laanen)

His inspiration often extended outside of jazz as is demonstrated by several of his compositions that were inspired by the short stories of Joseph Conrad, which appear on the December 1997 recording Heart Of Darkness.


On his recording dates, Herwig has worked with many noted artists from the world of jazz, including Ronnie Cuber, Gary Smulyan, Brian Lynch, and several from the world of Latin music, including Dave Valentin and Paquito D'Rivera.

Herwig's technical fluency, honed on the often demanding musical complexities of Latin music, has allowed him to develop into areas of music where many other trombonists would not care to venture. Never content to re-work depleted ground, Herwig's 1998 session Osteology, on which he was paired with fellow virtuoso trombonist Steve Davis, found him exploring regions that would probably have never occurred to earlier two-trombone teams such as J.J. Johnson and Kai Winding.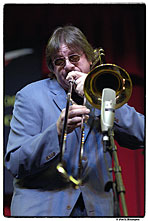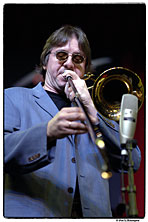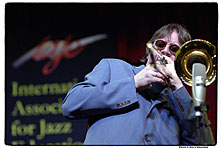 photo's taken by my good friend Jos.L. Jnaepen

Herwig's inventive and probing mind was revealed in his tribute to John Coltrane. Where many less imaginative, if often better known, performers, might have been content to only regurgitate music that was already three decades old, Herwig chose to explore the saxophonist's influence through the seemingly inappropriate use of the Latin form. The device threw fresh and interesting light upon Coltrane's music and gave clear notice that the trombonist has much to offer jazz in the new century.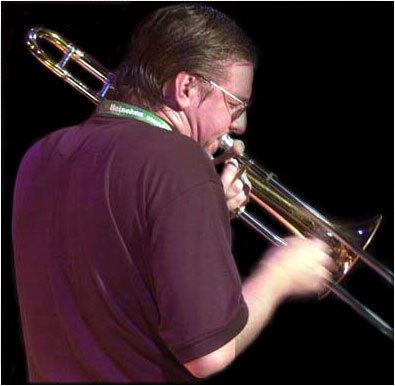 Played with...
Toshiko Akiyoshi, Jay Anderson, Dave Bargeron, Bob Berg, Kenny Berger, Don Braden, Delmar Brown, Hiram Bullock, Kevin Burger, Abraham Burton, Oskar Cartaya, John Clark, Terry Clarke, Jose Claussell, Xavier Davis, Kenwood Dennard, Kenny Drew, Jr., John Eckert, Mark Egan, Miles Evans, Matt Finders, Richie Flores, Gil Goldstein, Danny Gottlieb, Philip Harper, Tom Harrell, Jamal Haynes, Chris Hunter, Gene jackson, Nelson Jaime, Howard Johnson, Frank Lacy, Peter Levin, Mark Lopeman, Tony Lujan, Brian Lynch, Andy Mckee, Earl Mclntyre, Paoli Mejias, Joe Mosello, Ugonna Okegwo, Herman Olivera, Javier Oquendo, Eddie Palmieri, Chris Pasin, Piro Rodriguez, Nelson Palacio Rodriguez, Luis Rosas, Kenny Rupp, Joe Santiago, Mark Shim, Mike Sim, Alexander Sipiagin, Hart Smith, Jim Snidero, Lew Soloff, John Stubblefield, John Surman, Lew Tabackin, Greg Tardy, Gary Valente, Phil Vieux, Walt Weiskopf, Scott Wendholt, Frank Wess, and many others...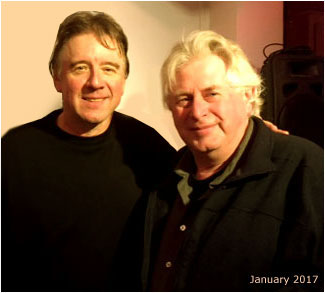 Conrad with René Laanen





























Copyright 2022 René Laanen - Trombone Page of the World
Please direct comments and questions about this web site to René Laanen ~ contact