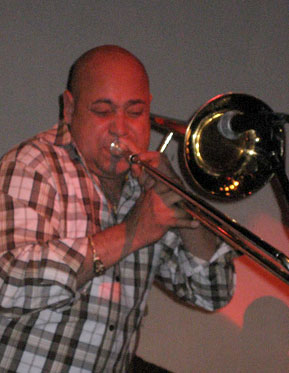 Willie Alvarez was born on July 24, 1966 in Elmhurst New York. He began playing the trombone at the age of 11. Since then he has performed, traveled and recorded with some of the world's greatest Latin musical legends.
Willie's first professional club date was at the age of 17 with the Tito Allen Orchestra were he was immediately noticed for his musical genius and incredible improvisational ability. Whenever he was given the opportunity to perform a trombone solo, he would go into a hyper trance like state and thus was given the nickname- Willie "El Loco"!
During his 23 year reign, Willie has performed with such musical greats as: Tito Allen, Adalberto Santiago, Rafael de Jesus, Manny Oquendo's Conjunto Libre, Hector Lavoe, Larry Harlow, Ismael Miranda, Roberto Roena, Lalo Rodriguez, Junior Gonzalez, Jose Mangual Jr, Santiago Ceron, Jimmy Sabater, Charlie Palmieri, La Orchesta Broadway, La Tipica Novel, Cheo Feliciano, Santitos Colon, The Lebron Brothers, Ray Barretto, Los Hermanos Moreno, Jose Alberto "El Canario", Oscar D'Leon, Pete "El Conde" Rodriguez", Celia Cruz, Batacumbele, Raulin Rosendo, Michelle, Tito Nieves, La India, Andy Montanez, Justo Betancourt, Paquito Guzman, Cano Estremera, Hector Tricoche, Frankie Ruiz, Luisito Carrion, Pedro Arroyo, Pedro Brull, Maelo Ruiz, David Pabon, Van Lester, The Latin Legends of Fania, Richie Ray and Bobby Cruz, Tito Gomez, Joe Arroyo, Johnny Rivera, Ray Sepulveda, Dominic, George Lamond, Luis Damon, Kevin Ceballos, DLG, Frankie Negron, Alfredo De La Fe, Anthony Cruz, N'Klabe, Herman Olivera, Michael Stuart, Domingo Quinones, Willie Colon, Servando y Florentino, Obbini Tumbao, Frankie Vasquez y Los Soneros del Barrio, Tito Puente Jr., Mel Martinez, Ocho y Mas, Chino Nunez, Wayne Gorbea y su Salsa Picante, Diosmary, Victor Manuelle, Eddie Palmieri, Frankie Morales, Tito Rojas, Ray de La Paz, Ismael Quintana, Luis "Perico" Ortiz, Jimmy Sabater Jr, El Grupo Folklorico y Experimental Nueva Yorkino, and The Chico O'Farrell Big Band.
Willie attended Long Island University where he earned a Bachelor of Fine Arts Degree in Contemporary Jazz Studies and a Masters Degree in Education. Willie made his acting debut in the off-broadway musical production "Quien Mato A Hector Lavoe", and is also featured in the major motion picture production, "El Cantante" which stars Marc Anthony and Jennifer Lopez. Willie is presently performing/touring with Jose Alberto "El Canario" and with his fabulous new group- Willie Alvarez "El Trombonista del Barrio" y sus Amigos!