F



Heinsz Fadle
- Classical -
Heinsz Fadle
[bio at this site]
Germany - Detmold
Heinz Fadle is Professor for trombone at the Hochschule für Musik Detmold, Germany. His publications include Looking for the Natural Way (Piccolo-Verlag 1996), Musizieren (Verlag Die Blaue Eule 1999) and articles on instrumental techniques, teaching and learning. He was founder/president of IPV, Germany.



Mike Fahn
- Jazz Improv -
Mike Fahn
[bio at this site]
USA
Valve Trombonist, Slide Trombonist, Baritone Hornist .Mike Fahn was born in Queens, New York in 1960, and was raised in Huntington, Long Island. His father, who is a jazz drummer was a big influence on Mike. Mike started on trumpet, and then moved to baritone horn.



John Faieta
- Classical
USA - Boston, MA

Yamaha
John Faieta (trombone) of Lynn, Massachusetts, received his Bachelor of Music and Master of Music degrees from Boston University. John frequently performs with the Boston Pops Orchestra, the Boston Symphony Orchestra the Handel and Haydn Society Orchestra and is Principal Trombonist with the Vermont Symphony.



John Fallas - Classical
Belgium - Brussels, Overijsel

Yamaha YSL-651 / Yamaha 47
British National Youth Orchestra 1967-68. Active amateur ever since. French horn with Orchestergemeinschaft Würzburg, Germany, 1974-78. Since end 1978, translator with EC Commission, Brussels. Horn or trombone in several orchestras, incl. Orchestr Philharmonique d'Uccle, Musica Classica, Brussels Light Opera.



Paul Faulise
- All styles
USA

Larry Minick built his horn by hand using Conn parts. The bell is a 60H with tuning in the bell. The open wrap is Larry's design. After playing it for a while, he had the valves bored to enlarge the ports. The slide is a medium weight with a stock Conn lead pipe. His mouthpiece is a stock Bach 1 1/2G with the throat and backbore bored. He also had the stem shaved so that the mouthpiece fits further into the receiver.
Paul Faulise
, a native of Buffalo, New York, first became known to jazz audiences for his work with Kai Winding's trombone septet but can also be heard on the recordings of such jazz luminaries as Cannonball Adderley, Oscar Peterson, Art Farmer, Jimmy Smith, Quincy Jones, and Benny Goodman. He is also one of the most in-demand studio musicians, having played on thousands of recording sessions including countless jingles, feature films, TV and movie soundtracks, and a twenty-year tenure with Frank Sinatra. In 1987 and 1989, the New York Chapter of the National Academy of Recording Arts and Sciences named Paul, "Most Valuable Player."



Renato Farias
- All Styles
Brazil - Santa Marcellina
ABT-President of the Brazilian Association of Trombonists, member of the ITA-International Trombone Association, and founder of the BTE-Brazilian Trombone Ensemble and teacher-coordinator of Brass of FASM-Faculty Santa Marcellina
www.fasm.edu.br
. During 22 years served in major Brazilian orchestras as: OSESP, Theatro Municipal Opera of St. Paul, the Paraíba Symphony Orchestra, Symphony Orchestra of Recife, Symphony Orchestra of St. Andre, Symphony Orchestra of Santos, Philharmonic Orchestra of San Caetano do Sul, and other ....



-





John Fedchock
- Jazz Improv -
John Fedchock
[bio at this site]
USA - Astoria, NY

King 2B Plus Gold Brass / Bach 11C
John Fedchock
established his career as a jazz trombonist in 1980 when he joined the legendary Woody Herman Orchestra. He toured with Woody's "Thundering Herd" for seven years, during which time he was musical director and a featured soloist.



Gerald 'Jerry' Felker
- Classical
USA - Farmingdale, NY

Bach 50B2 / Greg Black 1GM
US Army School of Music 1982, 3rd Armored Division Band, Frankfurt, West Germany 1982-1984 Onondaga Community College Associate in Applied Science in music 1986 Potsdam College, Crane School of Music, Bachelor of Music Education, 1989 Potsdam College, Crane School of Music, Master of Music in Performance.



Michael Fellinger
- Classical
USA
Michael Fellinger, Bass Trombonist, San Diego Symphony Orchestra, was born and raised in Ft. Smith Arkansas. He earned a B.A. in Music Education in 1972 from Arkansas Polytechnic College (now Arkansas Tech University ), where he studied trombone with Andy Anders.



Randy Fendrick
- All Styles
USA - Bakersfield, CA

Bach 42B / Doug Elliott LT 100,LT F,.F8
Trombonist, Bakersfield Symphony Orchestra, US Navy School of Music 1958. AA Degree Bakersfield College 1966. BA Degree Fresno State 1971. MA Cal-State Bakersfield 1974. Bakersfield Symphony 1970-present. Southside Chicago Seven 1995-present.



Pablo Fenoglio
- Classical
Argentina - Buenos Aires

Bach 42 TG / Klier 5 Bl
Trombonist in the Argentine National Symphonic Orchestra. Previously he has been principal trombone with the Cordoba Symphonic Orchestra and the Cordoba Symphonic Band. He has played as a soloist with the Symphonic Orchestras of Santa Fe and Córdoba, the Municipal Chamber Orchestra and many more.



Alan Ferber
- Jazz Improv
USA - Brooklyn, NY
Trombonist Alan Ferber, 30, was born in Oakland, CA and raised in the surrounding Bay Area. His professional music career began in Los Angeles after graduating with an economics degree from UCLA in 1997.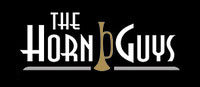 Steve Ferguson
- Classical -
USA - Los Angeles, CA

King 2B
Steve Ferguson is a commercial trombonist in Los Angeles. He specializes in bass trombone, but also doubles on all the low brass instruments, including tenor trombone, tuba, euphonium, bass trumpet, and contrabass trombone. He can occasionally be found with an alto trombone or alto horn as well.




Maynard Ferguson
- Swing 1928 - 2006
Canada
Maynard Ferguson - Trumpeter, flugelhornist, valve trombonist, bandleader, b Verdun (part of Montreal) 4 May 1928. As a child he studied piano and violin, and played the latter instrument in a Fox-Movietone short. Taking up the trumpet at nine, he was a member in his teens of dance bands led by Stan Wood.



Bob Ferrel
- Jazz Improv
USA - Lincoln Park, NJ
Bob Ferrel has been described by a jazz critic recently as one of the best Jazz trombonists around today. Bob performs with the Spirit of Life Ensemble every Monday night at Sweet Basil in NYC. In 1998-99 the Ensemble performed at the Pori Jazz Festival (Finland), Kaunas Jazz Festival (Lithuania) and many more.



Glenn Ferris
- All Styles -
Glenn Ferris
[bio at this site]
USA - Los Angeles, CA
Trombonist, born in Los Angeles, USA - Glenn played with Don Ellis innovative big band when he was only 16. Ferris also played with Frank Zappa, Stevie Wonder, Dave Frishberg, Billy Cobham, Steve Lacy, Manu Dibango, Louis Sclavis, Michel Portal and many others.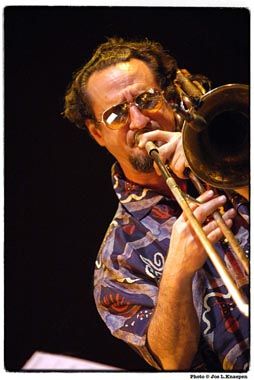 Nicola Ferro
- All Styles -
Nicola Ferro
[bio at this site]
Italy - Pontecagnano, Salerno

Bach 42G / Greg Black Alessi 5
As a child, he started his approach to music with his fat her, a musician too, who gave him, from his tender age, his passion for music. He studied music at Conservatory of Salerno till 1996, when he brilliantly gained his Trombone diploma under the guidance of M.° ROBERTO BIANCHI.



Jon Ferrone
- All Styles
USA - New York, NY
As a freelance musician in the New York Metropolitan Area, bass trombonist Jon Ferrone is a frequent performer in the Symphonic, Jazz, Theatrical, Chamber, Commercial, and Rock and Roll genres. As an orchestral musician, Jon has performed with the National Repertory Orchestra, New Jersey Pops Orchestra, and many more.



David Fetter
- All Styles -
David Fetter
[bio at this site]
USA - Baltimore, MD
David Fetter is a Conservatory and Preparatory Trombone faculty member at the Peabody Institute of the Johns Hopkins University in Baltimore, Maryland, where he also teaches Chamber Music in the Conservatory.



Mark Ficher
- Classical
USA - Chicago, IL
As performing artist and teacher, Mark Fisher has established himself as one of the most versatile brass musicians in the world. Assistant principal/second trombonist and bass trumpet with the Lyric Opera of Chicago and principal trombone of the Santa Fe Opera.



Chris Fidler
- All Styles -
Chris Fidler
[bio at this site]
UK - London

Rath Artist, plays Michael Rath Trombones exclusively and Rath or Greg Black Mouthpieces.
Trombonist Chris Fidler studied at The Royal College of Music in London and has worked in the UK, Europe, USA & Japan with artists such as Jamiroquai, Paul Weller, Wet Wet Wet, The Supremes, The Drifters, Glen Miller UK, Luciano Pavorotti, The Rat Pack on Tour, Fosse, 5 guys named Mo and many more. From October 2015 back living and freelancing in the UK.



Joe Fiedler
- Latin -
Joe Fiedler
[bio at this site]
USA - Beacon, NY
Since moving to New York in 1993, trombonist
Joe Fiedler
has performed in a wide array of musical settings within both the Jazz and Latin music scenes. He has performed or recorded with Wynton Marsalis and the Lincoln Center Jazz Orchestra, Lee Konitz, Kenny Wheeler, Cecil Taylor, Anthony Braxton, and many more.



Robert 'Bob' Fineberg - Swing
USA - Cape May Court House, NJ

Shires Bass Trb. / Greg Black 1 1/2 G
Bass trombone, CA PE May Courthouse, New Jersey - Coming Soon >>> more



Hansjörg Fink
- All Styles
- Hansjörg Fink [bio at this site]
>
new CD
!
Germany - Düsseldorf
Hansjörg maintains a busy schedule as a recording and performing artist and can be heard frequently in concerts, on CD recordings as well as on radio- and television programmes, performing with the finest European Ensembles including the Dutch Jazz Orchestra (Holland), the WDR Big Band (Cologne), the Jazz Orchestra of the Concertgebouw Amsterdam (the Netherlands) and the Metropole Orkest (the Netherlands).



Doug Finke
- Swing
USA - Louisville, KY
Doug Finke's career began in the late 1950's in Chicago, where he played with the Smokey Stover Firehosue Band, the Original Salty Dogs, Art Hodes, the Bob Scobey Frisco Jazz Band and Wild Bill Davison. He left the music world in 1970 to raise a family and pursue a corporate career.



David Finlayson
- Classical -
David Finlayson
[bio at this site]
USA - New York, NY
David Finlayson joined the New York Philharmonic in December of 1985 during Zubin Mehta's tenure as music director. He serves as the orchestra's second trombonist. Born in Washington D.C. into a military family, Mr. Finlayson spent his early years in many different parts of the world.



Bob Fitzpatrick
- Swing
USA




Sean Flanigan
- All Styles
USA - Des Moines, IA
Sean Flanigan
has developed a reputation as an extremely versatile performer, equally at home in the symphonic and jazz idioms. His wide range of professional experience includes performances with the Des Moines Symphony, Cedar Rapids Symphony, Syracuse Symphony, Toledo Symphony, Toledo Opera Orchestra, and many more.




Roger Flatt
- Classical
USA - Boston, MA
Roger Flatt was born in Buckner, IL and received his bachelors degree in music from Southern Illinois University. After finishing his bachelors degree he lived from three years in Salt Lake City, UT. While in Salt Lake City, Roger finished his Masters degree in music from the University of Utah.



David Flores - All Styles
USA - Houston, TX

Edwards T350 / Doug Elliott 101 LT H
Symphony North of Houston, Houston, Texas. Alumni of University of St. Thomas.



Nelson Foltz
- Jazz Improv
USA - New York, NY
Trombonist Nelson Foltz was raised in Pittsburgh Pennsylvania where he attended Duquesne University and studied with legendary trombonist Matty Shiner. He came to New York to attend New York University and study with Jim Pugh who continues to be a great friend and inspiration.





Carl Fontana
- Jazz Improv 1928 - 2003 -
Carl Fontana
[bio at this site]
USA - Las Vegas, NV

Edwards
Charles Carl Fontana, trombonist and bandleader: born Monroe, Louisiana 18 July 1928; married (two sons, one daughter); died Las Vegas 9 October 2003. It is an odd fact that all the really outstanding jazz trombonists were very low on ego. Carl Fontana, perhaps the most gifted player of his time.



Lito Fontana
- Classical
Austria

Schagerl
Lito Fontana was born in Buenos Aires in 1962. He studied trombone at the conservatory "G. Rossini" in Pesaro, Italy with Maestro Ernesto Pumpo, where he took his diploma in 1984. His career as an orchestral trombone player and soloist started soon after.



Earl Ford
- All Styles
USA - Atlanta, Georgia

King 3B Silver Sonic / Schilke Power
Earl Ford has defended the trombone position for over twelve years. Besides having worked with Otis Redding, Wet Willie, and Greg Allman, his big, brassy sound and versatile improvisation talents keep him in demand in latin and acid jazz circles.



Luis Fortuna - Classical
Portugal - Coimbra
Courtois 420MBO

Bach 6 1/2
O Quarteto de trombones Lusitano tem actuado em todo o pais assim como no estrangeiro, com um repertorio variado, da renascença ao moderno.



Chris Fower
- All Styles
UK - Aylesbury, Buckinghamshire

Edwards
Chris gained a graduate diploma in jazz from the City of Leeds College of Music and then spent two years, full time on the Advanced Studies Course at the Royal Academy of Music during which time he was bass trombone with the European Community Youth Orchestra.



Bruce Fowler
- All Styles
USA - California
Son of famous jazz educator Dr. William L. Fowler, Bruce Fowler is an extraordinary trombonist whose jazz credits are based in L.A. studios. Bruce Fowler was part of Zappa's Mothers from September 1972 (The Grand Wazoo Orchestra) until May 1975.



Curtis Fowlkes
- Jazz Improv
USA - New York, NY
Trombonist Curtis Fowlkes has performed on dozens of albums since the early '90s, maintaining a diverse career that spans jazz and rock music. In addition to co-founding the Jazz Passengers, he has been a member of the Lounge Lizards, Bill Frisell's quartet, and the Kansas City All-Stars.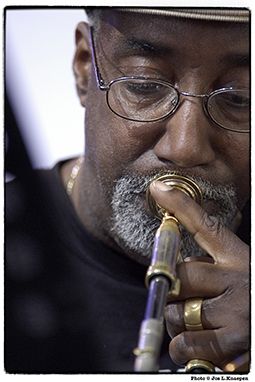 ..




Rodger Fox
- Swing
New Zealand - Grey Lynn, Auckland
Rodger Fox is known as New Zealand's top Jazz Trombonist, Bandleader and talented Arranger. Through this work as the leader of the Rodger Fox Big Band he has performed at the Montreaux, Monterey and Wichita Jazz Festivals in the USA along with 2 performances at the International Association of Jazz Educator.



Glenn Franke
- All Styles
USA - Maplewood, NJ

Bach 11C
Glenn toured as a Trombonist with: Buddy Rich (1978-1981) - Sammy Davis Jr. (1978) - The Jackson Five (1977) - The Spinners (1977) - Buddy Morrow (1976) Various performances with: Donna Summer, Manhattan Tran sfer, Mel Torme, Johnny Mathis, Peggy Lee, Dizzy Gillespie, Johnny Carson. He currently arranges for and leads a big band in the NJ area, and has a
Tax & Accounting Practice
in NYC serving musicians all over the country.



Hugh Fraser
- Jazz Improv
Canada - Victoria, BC
Native Victorian Hugh Fraser has been a positive force to the beautiful world of music for over two decades. He formed the 13 member Vancouver Ensemble of Jazz Improvisation (VEJI) in 1980, then went on to international success with the Hugh Fraser Quintet from 1986. The Quintet tours Europe, North and South Amercia.



Andrew 'Drew' Fredrickson
- Swing
USA - Urbana, IL
Drew Fredrickson was born and raised in Champaign, Illinois where he is currently a student (University of Illinois) pursuing perfomance degrees on Tuba and Jazz Trombone. In addition to trombone and tuba he plays guitar in his own group, Doxy. Drew does freelance studio and live work.



Gregory 'Greg' Freeman
- Classical
USA - College Park, MD
* B.M. George Mason University; M.M. Northwestern University * Studies with Michael Mulcahy, Charles Vernon, Dr. Paul Schultz, and Gail Williams * Performed with the Sherwood Symphony Orchestra, Washington Symphony Orchestra * Washington Wind Symphony and the Washington Revels Brass.



Brian French
- Classical -
Brian French
[bio at this site]
USA - Greensboro, NC

Bach 42 / Schilke 51 - 51D
Brian French, currently principal trombonist of the Winston-Salem Symphony Orchestra, made his Wachovia Masterworks Series solo debut in February 2002, joining the orchestra for three performances of the George Walker Trombone Concerto. Brian has held principal positions in the Arkansas Symphony Orchestra.



Yoram Friedman
- Classical
Israel
Former Principal Trombone player in the Israeli Symphony Orchestra and Israeli Opera. Currently playing in the Israeli Brass Quintet, and a Trombone teacher. Recently released a new CD called Mosaic.



Jay Friedman
- Classical -
Jay Friedman
[bio at this site]
USA - Chicago, IL
Jay Friedman has been a member of the Chicago Symphony Orchestra's trombone section since 1962, and was appointed principal in 1964 by Maestrom Martinon. He has performed solos with the CSO on serveral occasions, including a concerto by Ellen Zwilich commissioned for him by the Edward F. Schmidt family.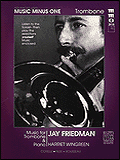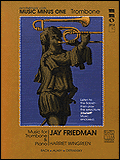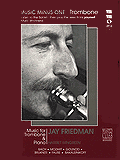 Steven Frioux
- All Styles -
Steven Frioux
[bio at this site]
USA - Belleville, IL
Leader (NCOIC) of the USAF Shades of Blue Jazz Ensemble, Scott AFB, IL
Steve Frioux was born in 1965 and began playing trombone at the age of 10 in New Iberia, LA. He entered the USAF in 1990 after earning a BM at University of Louisiana, Lafayette. After joining the AF he was stationed at Scott AFB, IL and was prominently featured as principal trombonist with the Concert Band, lead/solo trombonist with the Shades of Blue Jazz Ensemble and Starlifter Rock Band.



John Froelich
- All Styles
USA - Dayton, MN

Getzen
John Froelich is one of the original members of The Lake Wobegon Brass Band and continues to anchor the trombone section in that capacity. John is an active performer and can be heard performing with the Civic Orchestra of Minneapolis, the Riverside Brass Quintet and the Basilica Brass.



Mark Frost
- All Styles
United Kingdom
Mark Frost started playing tenor trombone at the age of 11 having lessons from the Rotherham Music Service. He was asked to join the Rotherham Schools Band and eventually ended up on bass trombone as he was the only person able to read bass clef. At the age of 13 he was asked to join the Yorkshire Schools Band and also the Barnsley Chronicle Band.



Mark Fry
- All Styles -
Mark Fry
[bio at this site]
USA - Chicago, IL

Bach 50 custom / Schilke custom
Mark Fry is one of Chicago's busiest freelance musicians. Currently, he is the bass tro mbonist of the Elgin Symphony Orchestra, as well as the Ars Viva Symphony Orchestra and Lake Forest Symphony. He has performed with numerous ensembles in the Chicago area, including the Chicago Symphony Orchestra, Chicago.



Joseph 'Jose' Frye
- Classical
USA - Odessa, TX

Shires 1G - TB47 slide / Giddings & Webster Boreas
Dr. Joseph W. Frye serves as Principal Trombonist with the Midland-Odessa Symphony & Chorale and also serves as the trombonist with the Lone Star Brass, a professional brass quintet based in Midland-Odessa, Texas. In addition to maintaining a private low brass studio, he is also plays trombone and euphonium with the 572nd Air National Guard Band of the Smoky Mountains, where he holds the rank of Staff Sergeant and is the current trombone soloist. Joseph holds a Doctor of Music degree with an emphasis in Trombone Performance from The Florida State University in Tallahassee, Florida. He also earned the Master of Music degree in Trombone Performance from The Florida State University, and a Bachelor of Music degree from The University of Tennessee at Knoxville.



Byron Fulcher
- Classical
UK - London
Byron Fulcher is Principal Trombone with the Philharmonia Orchestra, appointed in 2001. In addition he is Professor of Trombone at the Royal College of Music. Fulcher was featured as soloist in the 2004 Benjamin Zander / Philharmonia recording of Mahler's Third Symphony.





Curtis Fuller
- Jazz Improv 1934 - 2021
USA

Blessing
Curtis Fuller was born in Detroit, Michigan in 1934. He came to music late, playing the baritone horn in high school and switching to the trombone at age 16. Detroit, at the time, was the breeding ground for an astonishing pool of fresh, highly individual talent.



Wes Funderburk
- Jazz Improv -
Wes Funderburk
[bio at this site]
USA - Atlanta, GA

King 3B Silver Sonic '60 / Giddings & Webster Chocolatera
Wes Funderburk is from Stone Mountain, Georgia, where he began pia no lessons at age 8, trombone at age 12, and tuba and euphonium at age 14. He earned a B.M and M.M. (Summa Cum Laude) in trombone performance with a concentration in jazz studies from the University of North Florida.



Robert Funk
- All Styles -
Robert Funk
[bio at this site]
USA - Jersey City, NJ

King 3B / Warburton
In live shows, on television and in recording sessions, Bob Funk has worked with the following artists: The Rolling Stones, Ray Charles, Bruce Springsteen, BB King, The Allman Brothers, Stevie Wonder, George Benson, Alicia Keyes, James Brown, Tom Waits, Joe Cocker, Robert Palmer, Albert Collins, and many more.



Uwe Fussel
- Classical
Germany - Hamburg





























Copyright 2022 René Laanen - Trombone Page of the World
Please direct comments and questions about this web site to René Laanen ~ contact