R





Mark Sheridan Rabideau - Classical
USA - Millersville, PA
Dr. Mark Sheridan-Rabideau is currently serving as Assistant Professor of Low Brass and Director of the Music Business & Technologies program at Millersville University where he teaches trombone, tuba, and euphonium, as well as courses in Music Business and Popular Music.





Brian Raby - Classical
UK - Pontypridd, Wales


Edwards
Brian Raby was born in South Wales and studied at the Guildhall School of Music with Denis Wick. In 1970, he joined the Orchestra of the Welsh National Opera where he remained as principal trombone until 1994.





Christian Radovan - All Styles
Austria - Linz
Teaching since 1989 at the Anton Bruckner University in Linz, Austria - Christian Radovan.Born in Linz Austria.Lived in South Africa from age 7 to 17. - Studied in Vienna. Toured arround the world with the Vienna Art Orchestra. Permanent member of the v.a.o. For 15 years. - Played with: Slide Hampton, and many more.





Bob Ramsdell - Jazz Improv - Bob Ramdell [bio at this site]
USA - Madison, WI


CG Conn Minick Valve / Schilke 50
Graduated UW-Eau Claire with degree in Chemistry/Physics/History in 1967. Started Law School at UW-Madison in fall of 1967, left after 3 semesters to fulfill military obligation serving 3 years, 10 months, 18 days on active duty with the US Navy. Attended Armed Forces School of Music in Little Creek, VA.






Phil Ranelin - Jazz Improv - Phil Ranelin [bio at this site]
USA - Los Angeles, CA
Phil Ranelin Trombonist, Composer, Arranger, Band Leader, Producer, Educator Phillip Arthur Ranelin was born in Indianapolis, Indiana where he grew up under the influence of Jimmy Coe, Earmon Hubbard, J.J. Johnson, Pookie Johnson, Willis Kirk, Wes Montgomery, Melvin Rhyne, Russell Webster and many more





Igor Rankovic - Classical
Serbia and Montenegro - Belgrade


Getzen Custom 3047 / Greg Black Alessi 3
Born in Belgrade, from a family of musicians.Studied trombone on Belgrade academy of music in class of prof.Vinko Valecic.During studying also had worked with respected tombonists David Finlayson and Per Brevig on several ocasions. From 1995 to present, member of Belgrade philharmonic orchestra as a 2nd trombone.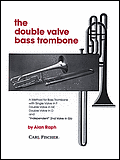 Alan Raph - All Styles - Alan Raph [Bio at this Site]
USA - Candlewood Isle, Connecticut


King 2106, 2107, 4103 F
Alan Raph is a composer, conductor, instrumentalist (Bass Trombone, Trombone, Tuba, Bass Trumpet, Euphonium, Piano, Organ, Keyboard, Percussion), author, educator, clinician, lecturer, soloist. Present affiliations with Conn-Selmer Inc.Musical Instruments (clinician/soloist), Carl Fischer Publishing and many more.




Michael Rath - Classical
Yorkshire, UK


Michael Rath [his own trombone line]
The man who started it all. Mick studied at Merton College, London, before joining the famous Horn manufacturers Paxmans of Covent Garden. He moved to Yorkshire in 1992, and established his own sales and repair business with Andy Hutchinson.





Gordon Rawls - Classical
USA - Newport News, VA
Mr. Rawls is a native of Newport News, Virginia. He holds a Bachelor of Music degree in Music Education from East Mr. Gordon RawlsCarolina University in Greenville, North Carolina and a Master of Music degree in Instrumental Conducting from The University of Tennessee in Knoxville Tennessee.





Derek 'Danny' Ream - Classical
USA - The Colony, TX


Getzen 3062AF / Bach 1G megatone





Ralph Ream - Swing - Ralph Ream [bio at this site]
USA - West Chester, OH


King 3B/F Silversonic / Denis Wick 5BS
Cincinnati Ohio area trombonist. Reynolds Contempora TO-01 Bass Trombone, King 3B/F Silversonic. Bass trombonist in The Monday Night Big Band and Jack Carr Big Band. Enjoy playing in local college and community theater orchestras.





Jason Redman - Classical
Australia - Brisbane, Queensland
Principal, Queensland Sym Orch.





Jack Redmond - All Styles
USA - North Hollywood, CA


Bach 12 / Bach 11C
Lead chair, Bill Holman Big Band, Steve Huffsteter Band. Trombonist, Los Angeles, California. Jack Redmond worked with: Les Brown, Jerry Gray, Les Elgart, Stan Kenton, Charlie Ba rnet, Tex Beneke, Claus Ogerman, Ray Conniff, Si Zentner and Buddy Childers bands, to mention a few.





Sean Scot Reed, D.M.A. - Classical
USA - New York, NY
Director of Brass Studies, New York University - Steinhardt School of Culture, Education, and Human Development, Department of Music and Performing Arts Professions (212) 998 5828.





Kris T. Reeder - Classical
UK - Oxford
Trombonist with Anthony Donovan's 'Murmurists' (2016 - present) and have worked with the likes of Martin Archer (Discus), Geoff Leigh (Henry Cow), Lawrence Casserley, Pat Thomas, John Hyatt, Jamison Williams and Mark Browne (and other high profile artists). I studied at the Royal College of Music (Junior Department) as a Scholar from 2001-03 and at the Royal Academy of Music as a Scholar from 2003-2005.





Richard Reeves - Classical
USA - Houston, TX


Edwards Thayers / Doug Elliott LB, 114 rim
Bass Trombone, Houston Ballet Orchestra, TX Rick hold music d egrees from the University of Southern Mississippi and Rice University. He joined the Houston Ballet Orchestra in 1984.





Scott Reeves - All Styles
USA - Valley Cottage, NY
Scott Reeves is an Associate Professor of Music at The City College of New York, CUNY, and is on the faculty of the Juilliard School of Music. He is also the author of jazz improvisation texts, a noted performer, recording artist, and clinician.






Frank Rehak - Jazz Improv 1926 - 1987
USA
Jul 07, 1926 in New York City - Died: Jun 26, 1987 in Badger, California A talented trombonist who was both a decent soloist and an adaptable ensemble player, Frank Rehak's career was cut short by his heroin addiction. After starting on piano, cello and baritone horn, Rehak switched to trombone.






Bill Reichenbach - Jazz Improv
USA - Los Angeles, CA


CG Conn 32H (.500/.522) / Doug Elliott LT G100
Bill Reichenbach started his jazz playing career while still in high school by playing with various bands in the Washington, D.C. area. He also sat in with his father's group at the famous Georgetown club "Blues Alley" where he played with artists such as Zoot Simms, Al Cohn, Clark Terry, Urbie Green, to mention a few.





David Rejano Cantero - Classical
Spain - Pamplona, Navarra


Bach 42 / Bach 5G
Principal trombone in Navarra Symphony Orchestra, Spain, David has studied at Conservatoire National de Musique et de Danse de Paris, with Gilles Milliere and Jan Raffard. He took master-classes with teachers as Peter Gane, Eric Crees, Stefan Schluz, Olaf Ott, Christian Lindberg, Michael Mulcahy.






Emory Remington - Classical 1891 - 1971
USA
Emory B. Remington (1891-1971) was a trombonist and music teacher. His unique method made him one of the most well-known and influential trombone educators in history. He was a member of the Rochester Philharmonic Orchestra from 1923 to 1949, and on the faculty of the Eastman School of Music in Rochester, NY.





Morris Repass - All Styles
USA - Woodland Hills, CA
Played with Dallas Sympony Orchestra 10 years -some of the conductors: Nelson Riddle, Walter Hendl, Paul Kletzki, Darius Milhaud, Duke Ellington, George Solti, Andre Previn, Henry Mancini. - Studio work in Los Angeles: Recorded with Frank Sinatra, Natalie Cole, Johnny Mandel, Billy Byers, Don Costa, Neal Hefti, Patrick Williams, Clare Fischer, Four Freshmen, Moacir Santos, Alf Clausen, Ray Charles, Paul McCartney, Prince, Mel Torme, Robert Palmer, Steve Huffsteter, David Angel, Kim Richmond. Player/Manager Billy Vaughn Orchestra 15 years. Played with Bob Florence and Bill Holman big bands.





Sean Reusch - All Styles
USA - Carlsbad, CA


Shires Tnr Thayer / Greg Black 5M
Sean Reusch received a B.A. degree from Penn State University in psychology, where he also earned a minor in music and studied trombone with Mark Lusk. He went on to earn an M.M. from Manhattan School of Music where he studied with Hal Janks and Dave Finlayson. Sean moved to San Diego, California.





Harold 'Hal' Reynolds - Classical
USA - Ithaca, NY


Edwards 321CF
A native of San Antonio, Texas, Harold 'Hal' Reynolds earned his Bachelor's Degree in Music Education from St. Mary's University, his Master's Degree in Trombone Performance from Southwest Texas State University, and his Doctor of Musical Arts Degree from the Eastman School of Music.





Jeffrey Reynolds - Classical
USA - Los Angeles, CA
Jeffrey Reynold has been the bass trombonist with the Los Angeles Philharmonic since 1969. During these years, he has performed under Music Directors Zubin Mehta, Carlo Maria Giulini, Andr? Previn, and Esa-Pekka Salonen, and guest conductors including Pierre Boulez, Christopher Hogwood, Simon Rattle, to mention a few.





Marcus Reynolds - Swing - Marcus Reynolds [bio at tis site]
UK
Marcus studied the trombone at the Royal Military School of Music, Kneller Hall and then taught for twelve years in Surrey. He also worked as a sucessful freelance player in the West End and in TV and radio sessions. In 1981 he was offered the chance to play the main ballroom of the QE2.





Thomas Riccobono - Classical
USA - Interlochen, MI


Edwards T350
Thomas Riccobono is instructor of low brass at the Interlochen Arts Academy. He holds degrees from the Eastman School of Music, Penn State University, and the Cleveland Institute of Music. He has performed concertos with the Penn State and Florida State University orchestras, Interlochen Arts Academy Band, to mention a few.






Nelson Riddle - Swing 1921 - 1985
USA
He gave new careers to Frank Sinatra and Linda Ronstadt." This is a quote by Robert Windeler in a KCRW radio tribute to Nelson Riddle in 1985. Mr. Windeler goes on to say "Much of the best work of Ella Fitzgerald, Rosemary Clooney, and Peggy Lee was done in collaboration with him."
Gerorge Roberts was for years his bass trombone player!





Sverre Riise - Classic
Norway -Oslo
Currently principal trombone in the Norwegian Radio Orchestra and has formerly had the positions of principal in the Norwegian Opera Orch., and Co principal in The Malaysian Phil. I has featured as a soloist on several recordings, and recorded his solo album in 2015.





Jeff Rinear - Swing
USA - Twin Cities, MN


Edwards T302
Upon graduating from the Berklee College of Music with a degree in performance on trombone, Jeff Rinear freelanced in a wide variety of musical settings, including numerous extended engagements, for four years. After a touring stint with the Artie Shaw Orchestra he settled in the Minneapolis/St. Paul area.




Stefan Ringive - Jazz Improv - Stefan Ringive [bio at this site]
Denmark - Copenhagen


Bach 16lm / Bach 6 1/2 AL
Born 1980 in Billund Denmark. Finish as Musician from Music akadamy of Music in Esbjerg in 2006. Now living in Copenhagen, and works as freelance trombonist. I play most BigBand around the most of denmark and also works as studio musician.





David Ringle - All Styles
USA - Richmond, VA
Attended Robert E. Lee H.S. in Springfield, VA. Studied with Ross Morgan of the U.S. Army Band Pershing's Own in Washington D.C. Earned B.A. in Music from Mary Washington College in Fredericksburg, VA studying with Dr. Patricia Norwood. Joined Army Band in 1989 and has served and performed all over U.S, Canada, Korea, and Japan. Currently stationed at Fort Lee, VA.





Michael 'Mike' Rinta - All Styles
USA - Berkeley, CA


King 3B Silversonic / Bach 6 1/2 AL
Michael Rinta has played and/or recorded with: Sly & the Family Stone, Malo, Voices of Latin Rock, Howard Tate, Carlos Santana, George Santana, Herbie Hancock, Wayne Shorter, Buddy Guy, Jerry Garcia (Grateful Dead), Bob Weir (Grateful Dead), Otis Clay, Mighty Sam McClain, Pine Top Perkins, EC Scott, to mention a few.





Timothy Riordan - Classical
USA - Chicago, IL





Antti Rissanen - Jazz Improv
Finland - Helsinki
Trombonist, Composer, Arranger, Conductor, Lecturer Antti Rissanen is one of the few jazz trombonists in Europe, who works internationally as a soloist with multiple big bands. He is a long time student of Mr. Conrad Herwig and Mr. Jiggs Whigham via The New School University and "Hanns Eisler".





David Ritt - Classical (jazz & Salsa)
USA - Seattle, WA
David L. Ritt grew up on Long Island, New York. His father was a historian and his mother a pianist. He started playing the trombone at the age of nine, and graduated from the Eastman School of Music in 1979. He became the Principal Trombone of the Seattle Symphony, and the Seattle Opera, since 1981. He moved to Second Trombone in 2006. He plays Bass Trumpet for Seattle Opera's Ring cycle. He performs regularly at St. Thomas Episcopal Church, where he plays trombone in the church choir (yes, really). - David is working on writing accompaniments to Rochut's Melodious Etudes that will allow trombonists to play them in both Duet and Trio form. As of October, 2011, he has completed the first 45.





Brandon Rivera - Classical
USA - Baltimore/Washington DC, WA
Brandon Rivera, trombone, is the newest member of the Lyric Brass Quintet. Originally from New York, Mr. Rivera is an active performer in the Baltimore/Washington D.C. area. He has performed with such diverse artists as Patti LaBelle, Jessica Simpson, Wynton Marsalis, Nathan Lane, Charlotte Church, to mention a few.






George Roberts - Swing 1928- 2014
USA - Los Angeles, CA


Kanstul George Roberts
George Roberts, " Mr. Bass Trombone" was one of the most beloved personalities in the music world. The man whose sound we so easily recognize in movies, records and television, is also the man who virtually single-handedly brought the Bass Trombone from its last low trombone status, to the forefront as a solo intrument.





James 'Jim' Roberts - Classical
USA - Jacksonville, AL


Edwards T-350 / Greg Black 3.5M Alessi
Professor of Trombone at Jacksonville State University in northeast Alabama, James Roberts is a summa cum laude graduate of Hartt College of Music of the University of Hartford. His first lessons in trombone were with his father, John Roberts, a graduate of the New England Conservatory.





Kevin Roberts - Classical
Chile - Santiago, Chile


Yamaha YSL 882 BO / Bach 5GL
Kevin Roberts was born in Williamstown, MA. During high School studied with Davi d Sporny (UMASS) and Norman Bolter (Boston Sym.). He won prestigious contests such as the Youth Concerto Competition with Boston Symphony, and the Greater Boston Youth Symphony Competition.





Jared 'Slide' Roberts - All Styles - Jared Roberts [bio at this site]
USA - Hot Springs, AR


Edwards T302 / Denis Wick 5BS
Began playing the trombone in 1988 in DeSoto, TX. Since them he has been an All-State soloist and ensemble player throughout the state of Texas. It wasn't until he moved to Mt. Pleasant, TX that he learned his love for Jazz.





Joseph 'Joe' Robida - Classical - Joseph Robida [bio at this site]
USA - New York, NY


Edwards T350 / Greg Black 4G-5G
Trombonist, Joseph Robida, began playing at age 9. In high school, he studied under the late Scott Parkinson. During this time, he was the first trombonist to win the Greater Buffalo Youth Orchestra Concerto Competition in its history. At the moment Joseph is the Principal Trombonist of the National Centre for the Performing Arts Orchestra in Beijing, China





Greg Robinson - All Styles
USA - New York, NY
Greg K. Robinson was born in Cleveland, Ohio in 1969, and moved to New York City in 1987. Robinson sang and played with a rock band from age 11. Following preparatory studies at the Cleveland Institute of Music, his trombone teachers in New York were Benny Powell, Al Grey, and Alex LoDico.





Janice Robinson - Jazz Improv
USA - New York, NY
Janice Robinson has performed and recorded with the finest jazz big bands and ensembles in the country including those of Dizzy Gillespie, Billy Taylor, Marian McPartland, Thad Jones/ Mel Lewis, Slide Hampton, The Jazzmobile All Star Big Band, Gil Evans, McCoy Tyner, George Gruntz and Mercer Ellington to mention a few.






Jim Robinson - Swing 1892 - 1976
USA
b. Dec. 25, 1892, Deer, LA, d. May 4, 1976, New Orleans, LA Jim Robinson was a very reliable New Orleans trombonist who was much more consistent than most of the musicians he performed with, never seeming to have an off day.






Fred Robinson - Swing 1901 - 1984
USA
It seems odd that trombonist Fred Robinson had such a long life, for he is chiefly remembered for his work with Louis Armstrong from 1928-29, particularly the recordings with Armstrong's Savoy Ballroom Five.






Harry Roche - Swing 1918 - 1987
UK
b. 18 Feb/1918 - d. 04 Nov/1987 Harry Roche himself was a former military bandsman, a common factor for many session players in those days, and had embarked on tours of duty with his trusty trombone with the likes of Ted Heath and his band playing swinging versions of easy jazz tunes throughout the 60's.





Ruben Rodriguez Ferreira - Classical
Colombia - Bogota, Distrito Capital


Yamaha YSL 882 0 / Yamaha Peter Sullivan
Born in Bogotá (Colombia, South America), Ruben is a trombonist, composer, arranger, teacher, and father of three. Since his childhood he worked in his family's popular music orchestra and began her musical studies in the National University of Colombia where he earned his laureate diploma as a trombonist.






Barry Rogers - Latin 1935 - 1991
USA
Barry rogers is widely recognized as being the most influential trombone soloist in New York's formative Salsa scene from the early 1960's through the late 80's. The sound which he created transformed the way the trombone has been used in Latin music and still resonates today.





John Rojak - Classical
USA - New York, NY


Michael Rath
Bass trombonist, American Brass Quintet John Rojak joined the American Brass Quintet in 1991, with which he has been touring internationally, recording, and teaching, including residencies at the Juilliard School in New York and the Aspen Music Festival.





Winston Rollins - Jazz Improv
UK - London
Winston Rollins needs little introduction. His background is steeped in music having been in bands such as Brand New Heavies, In Cognito, Aswad, Jamiraquoi, Courtney Pine and currently Jools Holland. He has his own studio, RedRoom Studios, in Chiswick, West London, and has produced the album himself.





Dennis Rollins - Funk - Dennis Rollins [bio at this site]
UK - Birmingham


Michael Rath
Born in Birmingham, England in 1964 of Jamaican parents, Dennis cut his teeth at the age of 14 studying and performing with The Doncaster Youth Jazz Association. After years of concentrated study Dennis moved to London where his unique approach to the instrument was immediately and appreciatively recognised.




Keith Rose - All Styles
USA - El Paso, TX


Benge 290F / Schilke 60
SPC Keith R. Rose, bass trombone SPC Rose is a native of the upper Midwest, born and raised in west suburban Chicago, and later in Southwestern Wisconsin, where he graduated With Honors from Seneca High School in 1996. SPC Rose then matriculated to the Lawrence University Conservatory of Music in Appleton.





Josh Roseman - Jazz Improv
USA - Brooklyn, NY
Josh Roseman is a trombonist and composer residing in Brooklyn, USA. He is the leader of the JRU, the Execution Quintet, the Constellations and various other ensembles. Josh has recorded fifty to sixty albums as a sideman. He's toured and/or recorded with Steve Coleman, Dave Douglas' Sextet, to mention a few.





Richard Rosoff - Swing
USA - Amsterdam, NY
Richard Rosoff is originally from DeWitt, a suburb of Syracuse, New York. He attended SUNY Binghamton for two years then transferred to the University of Miami in Coral Gables, Florida. There he earned a Bachelor of Arts in Music Performance specializing in Studio Music and Jazz.








Frank Rosolino - Jazz Improv 1926 - 1978
USA
After dabbling with guitar, Rosolino took up the trombone while in his teens. After military service during World War II he played in a succession of big bands, including those of Bob Chester and Glen Gray. In 1948 he was one of several bebop-influenced musicians playing in Gene Krupa 's big band.





Barry Ross - Jazz Improv
USA - Las Vegas, NV
Internationally Trombonist, conductor, band teacher, composer, arranger and educator. After attending Ohio State University and The Berklee College of Music, Barry ross toured with The Buddy Morrow Orchestra, The Kai Winding Septet, The Glenn Miller Orchestra and The Woody Herman Orchestra.





David Rothschild - All Styles
Netherlands - Amsterdam


Benge 170 / Giardinelli 5D





Norman Rowe - Classical - Norman Rowe [bio at this site]
USA - Gold Beach, OR


Olds P-24G / Schilke 60
Began on tuba in 1956, went on to first chair All-California High School Symphony Orchestra in 1963. Full-scholarship grants to Music Academy of the West (1963-65), studied under Davis Shuman. Studied privately with Roger Bobo 1966-67, then switched to bass trombone as primary instrument.





Jean-Mathieu 'J-M' Royer - All Styles
Canada - Montreal, Quebec


King 2B / Denis Wick 10CS Gold
Jean-Mathieu Royer may look young, but his career as rmbonist is already started. He can play from lead parts in big bands to bass trombone parts in a symphonic orchestra. He is actually in many jazz, rock and classical ensembles either as tenor trombonist, bass trombonist, tubist, arranger, conductor.





Andrew 'Andy' Rozsa - Classical
USA - Chicago, IL


Greenhoe Bach 50
Andrew Rozsa is currently bass trombonist with the Dubuque Symphony Orchestra, as well as a freelance performer in the Chicago area. For the 2005-06 season, he will also be performing with the Cedar Rapids Symphony Orchestra. Rozsa received the Master of Music degree from the Cleveland Institute of Music.





Roswell Rudd - Jazz Improv - Roswell Rudd [bio at this site]
USA - Catskill, NY
Roswell Rudd (born Roswell Hopkins Rudd, Jr. in Sharon, Connecticut, on November 17, 1935)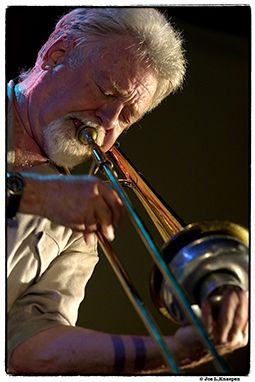 Allen Rumbaugh - Pop/Rock
USA - Brentwood, TN

King 3B Silver Sonic / Jet Tone Studio Mod. A
The 1969 band, Brentwood, Tennessee. Allen grew up laying under the piano....most talented senior at Castle Heights Military Acad majored in trombone...have played on stage with: Rufus Thomas, Jerry Butler, The Boxtops, Steve Cropper, Percy Sledge,T Graham Brown, etc...



Paul Rutherford
- All Styles -
Paul Rutherford
[bio at this site]
UK - London
Born Greenwich, London, 29 February 1940, trombone, euphonium, piano. Trombonist Paul Rutherford has been a stalwart player in the English free music scene since the middle 1960s, playing in, and contributing to just about every musical context in the past four decades.



Martin Ryle
- Jazz Improv
USA - Richmond, VA

Holton / Bach 6.5AL
His primary band is the Doctors of Jazz, Richmond, Virginia. He tried to recreate the work of King Oliver with nods to the Yerba Buena Band of San Francisco. After 30 years of neglect following college , heresumed playing about 25 years ago in this trad jazz band.





























Copyright 2021 René Laanen - Trombone Page of the World
Please direct comments and questions about this web site to René Laanen ~ contact