L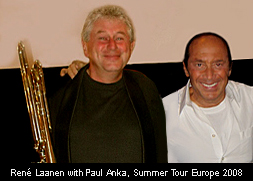 Rene Laanen - All Styles - Rene Laanen [bio at this site]
Netherlands - Zoetermeer (near by The Hague)


I hope soon;
Dave Butler "Carbon Fiber' bass trombone / Schilke 60 Gold plated
Rene, former bass trombonist Shirley Bassey in the '80's and Paul Anka in 2008.
René is the owner/author for the sites: "Trombone Page of the World" and "www.Jazzmasters.nl".
His musical career has spanned five decades in the music industry.





Paulo Lacerda - Classical
Brazil - Rio de Janeiro


Weril
A native of Rio de Janeiro, Paulo Lacerda is a Graduate in trombone from the UFRJ -Universidade Federal do Rio de Janeiro (RJ Federal University) and a Graduate in Brazilian Historic Musicology from the UFMG - Universidade Federal de Minas Gerais (MG Federal University).





Frank 'Ku-umba' Lacy - Jazz Improv - Frank Lacy [bio at this site]
USA - New York, NY
Mingus Big Band -During the '80s and '90s, most of the best jazz trombonists were inclined toward free jazz: Albert Mangelsdorff, Craig Harris, and Steve Swell, among them. Others, like Frank Lacy, straddled the fence between avant-garde and mainstream forms.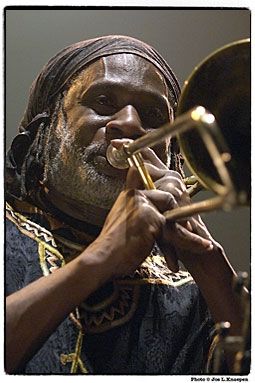 Tony Lada - All Styles - Tony Lada [bio at this site]
USA - Boston, MA
For the past 33 years, Tony Lada has been a Professor of Performance Studies and Trombone at Berklee College of Music in Boston, Massachusetts.





Frédéric Lair - Classical
Canada - Winnipeg


Edwards B454 / Yamaha DY
Royal Canadian Air Force Band, Winnipeg, Manitoba, Canada (formely with La Musique du Royal 22e Régiment in Québec City) - Studied at the Conservatoire de Musique de Montreal, Quebec, Canada (1988-1994) Teachers: Ted Griffith, Joe Zuskin, Alain Cazes. Won audition for the canadian forces band branch in 2000, plays Bass & Tenor Trombone, Euphonium.





Michael Lake - Jazz & Latin alto trombone
USA - Phoenix, AZ
Michael attended Arizona State University where he studied with renowned jazz educator Dan Haerle. His trombone teacher at ASU, a graduate assistant named Kevin Hedges owned an alto and first introduced it to Michael. After ASU, as Michael traveled and performed throughout the country, he settled for a while in Boston where he joined a four-trombone salsa band called Caribbean Express. A year after joining the band they signed with A&M Records and upon the release of their debut album were nominated for a Best Latin album Grammy.





Mark Lammers - All Styles
USA - Tucson, AZ
In 1964, Mark Lammers started the Roseville Municipal Band and the stage band that eventually became the Roseville Community Band and the Roseville Big Band. Named the Outstanding Music Graduate of Mankato State College (now University of Minnesota at Mankato) in 1953.





Josh Lampkins - All Styles
USA - Los Angeles, CA
Josh Lampkins, a southern california native, graduate of Hamilton High School Academy of Music and California State University, Long Beach has been bass trombonist with the GSPO since 2003. Josh has toured the country, won several awards, competitions and scholorships.





Rodney Lancaster - Jazz Improv
USA - Manhattan, NY
Rodney Lancaster, a native of St. Louis, Missouri, moved to New York City in 1993 to pursue his career in jazz music. He has performed with some of the greatest musicians and jazz orchestras of the day in addition to numerous show performances.





Detlef Landeck - All Styles
Germany - Kassel





Nils Landgren - Classical - Nils Landgren [bio at this site]
Sweden


Yamaha
With his smoking, hard-hitting "Funk Unit", the man with the Red Horn has been responsible for a bunch of successful CDs over the past years. His concerts from Stockholm to Beijing have been met with ecstatic acclamation.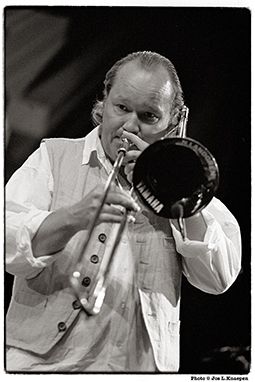 Linda Landis - All Styles - Linda Landis [bio at this site]
USA - Columbus, OH


King 2B Liberty / Doug Elliott LT100/D/D4
Lead trombonist of the Columbus Jazz Orchestra and New Remnants Dance Orchestra, and the former lead trombonist of the Dayton Jazz Orchestra and Famous Jazz Orchestra. Linda has performed with the DIVA Jazz Orchestra, Ernie Krivda's Fat Tuesday Big Band, Harry James Orchestra, Guy Lombardo Orchestra, and many more.





Eric Landrieu - Classical
USA - Mount Laurel, NJ


Bach 36BO / Bach 6.5 AL
Studied music and electrical engineering a t Lehigh University. Director of music at Broad Street United Methodist Church in Burlington, NJ Started playing trombone in 1979 Also double on euphonium.





Nick Lane - Rock - Nick Lane [bio at this site]
USA - Los Angeles, CA
Nick Lane is a freelance trombonist, composer and arranger based in Los Angeles for the last 25 years. Born and raised in Marshalltown Iowa, he graduated Boston's Berklee College of Music before joining Maynard Ferguson's band in 1977. He stayed on with Maynard through 1981.





Stephen Lange - Classical
USA - Saint Louis, MO
Assistant Principal Trombone since September 2000 in the St. Louis Symphony Orchestra. 2nd trombone of the San Antonio Symphony in 1999-2000 season.He has completed his MM degree at Julliard with Joe Alesi and played for a short time in the President's Own Marine Corps band in DC.





Gabriel 'Gabe' Langfur - Classical
USA - Boston, MA


Shires
Artist Relations/Marketing Director Gabriel Langfur is bass trombonist of the Vermont Symphony and Rhode Island Philharmonic Orchestras and performs regularly as a substitute with the Boston Symphony and Pops and the Boston Ballet Orchestra, as well as many freelance engagements.





Nicolas Lapierre
- All Styles
France - Rouen


Courtois 420 MBOST / Bach 6 1/2 AL
Nicolas commence à 7 ans, dans sa ville natale, l'apprentissage du trombone à L'Ecole Nationale de Musique et de Danse de Calais où il y obtiendra quelques années plus tard les plus hautes récompenses en Trombone ainsi qu'en musique de chambre.






Milt Larkin - Swing 1910 - 1996
USA
b. Oct 10, 1910 in Houston, TX - d. Aug 31, 1996 in Houston, TX Milt Larkin led one of the greatest of all territory bands but tragically it never recorded and today can only be thought of as legendary. He was selftaught as a trumpeter, inspired to play after hearing Bunk Johnson.





Ture Larsen - All Styles
Denmark - Copenhagen


Bach 6 / Giardinelli 5D
Educated at the Royal Danish Conservatory 1983. Bigbands, small jazzgroups, salsa, reggae, pop, fu nk, rock, soul, hiphop ('the Job' featuring the hornsection 'the Blowjob') and freeform until 1992. Moved to composing, conducting, arranging and teaching.





Anders Larson - All Styles
Denmark - Copenhagen
Anders Larson is a swedish jazz trombone player, composer and arranger. Lives in Copenhagen since 1996. The debut CD "Unborn" was released in 2007 with original compositions for Anders Larson Quartet and Paizo String Quartet. Anders Larson is also an acomplished big band arranger and has written several arrangments for a.o. the Danish Radio Big Band with soloists like Mike Stern, Gerard Precenser and James Morrison. His second CD, "Monday Night Big Band & Anders Larson" (2010) features Anders as both trombone player, soloist, composer and arranger. The CD also features english trumpet player Gerard Precenser. Anders Larson latest project, www.digitaltrombone.com with exersices and trombone thoughts.





Sven Larsson - All Styles
Sweden - Stockholm
Sven Larsson has recorded with George Russell, Thad Jones, Lars Gullin, Arne Domnerus, Lars Samuelson, Georg Riedel, Bernt Rosengren, Putte Wickman, Monica Zetterlund and many others. He participated in about 100 projects with the Swedish Radio Jazz Group 1970-1990.





Daniel Lassalle - Classical
France - Lyon
Prof of the National Conservatory of Music in Lyon and the ass prof of Monsieur Mathieu at the National Conservatory of Toulouse. He advises in the courses of ancient music of the academies in Urbino, Paris, Barcelona, and La Seu d'Urgell.





Johannes Lauer - All Styles
USA - New York, NY
born on 08/10/1982 in Tübingen (Germany), grown up in Tübingen -Firenze (Italy) -Mochenwangen - Ravensburg until 2002 trombone-lessons with Ernst Hutter, Jiggs Whigham, Adrian Mears.





Douglas Lavell - Classical
Canada - Toronto
Raised in Caulfeild he began at 10 to play euphonium with the West Vancouver Band, adding trombone in his teens then devoting himself to the bass trombone, inspired by backgrounds in a Neil Diamond song. Formative dues paying years followed with two ARCT diplomas and a year of college with Roy Cornick.





Aaron LaVere - Classical
USA - Portland, OR


Bach 42BO / Doug Elliott LT G101,G,H9
Principal Trombone of the Oregon Symphony, Aaron LaVere is emerging as one of the leading brass players of his generation. His most recent work with the New World Symphony had him performing under the batons of Michael Tilson Thomas, Hans Vonk, Sergiu Comissiona, Vladimir Spivakov, Don Runnicles, and many more.





Norman Law - Brass Band
UK - Oldham
Norman, began his playing career on trombone with the Alva Town Band quickly progressing to solo trombone. In 1972 he "emigrated" to England to take solo trombone with the GUS (Footwear) Band, a position he held with various bands for the next 20 years, including Fodens Motor Works, Brighouse & Rastrick.





Mark Lawrence - Classical
USA - San Francisco, CA
Mark H. Lawrence is the Pricipal Trombonist with the San Francisco Symphony, a position he has held since 1974. He has also been Principal Trombone with the Denver Symphony; a member of the Empire Brass Quintet.





Curtis Lawson - Swing
USA - Houston, TX


Bach 16M / Marcinkiewicz 8H
Curtis was born in Houston, TX and began studying piano at age 5. At age 8, his family moved to North Carolina where he started studying trombone at the age of 9. Curtis studied with Keith Jackson and Michael Kris at the University of North Carolina at Chapel Hill.





Bruce Lazier - All Styles
USA - Harmony, PA
Bruce's extensive performance and teaching credits include time with the Denver and New Haven Symphony Orchestras and 10 years as trombonist with Pittsburgh's River City Brass Band as well as tours with Robert Nagel's King's Brass. He has also played with Sammy Davis Jr., Liza Minelli, and many more.





Jeannie Lee - Classical
USA - Morehead, KY


Edwards T350-E
Jeanie Lee is Assistant Professor of Trombone at Morehead State Univeristy. She is a graduate of the Ohio State University and received a Doctor of Musical Arts from the University of Michigan. Lee's previous positions include Principal Trombone of Midland-Odessa Symphony and Big Spring Symphony in Texas.





Vivian Lee - Classical
Canada - Montreal, Quebec
2nd trombone, Montreal Symphony Orchestra Musician of the MSO since: 1990 Previous employments: Second Trombone, Hamilton Philharmonic (1987-90) Bass Trombone, Orchestra London Canada(1987-90) Academics and teachers: Doug Burden, University of Ottawa.





Jim Leff - Jazz Improv
USA - New York City, NY
Trombonist Jim Leff, born in 1962, lives in New York City where he is active playing many different styles of jazz and other improvised music. Leff is prominently featured as soloist in the soundtracks to the films "Money" by German director Doris Dorrie, "The Shvitz" by New York director Jonathan Berman.





Lester Lehr - Classical
USA - Carmichael, CA
Dr. Lester A. Lehr is a distinguished and much respected member of the Sacramento Music Community. Born in South Dakota, he moved to Sacramento in 1947, as a young man, and is a graduate of Sacramento High School. Additionally, his education includes a B.A. from Cal State, Sacramento, an M.M. in Music.





John Leisenring - Jazz Improv
USA - Fort Collins, CO


King 3b / CG Conn 6 3/4 C
Dr. John Leisenring is an acclaimed professor emeritus from the university of Missouri at Kanses City in the areas of trombone and jazz studies. Well known nationally and internationally as both a performer and teacher, Dr. John Leisenring has performed in 35 states and 10 foreign countries.






John Leite - Swing
USA - Lowell, MA


Yamaha Bass Bone
Performed with/backed-up/conducted, the following over 50 years. Tenor/Bass Trombone/Tuba Paul Anka, Louis Armstrong, Frankie Avalon, Tony Bennett, Vivian Blaine, Pat Boone, Barbara Cook, Vic Damone, Everly Brothers, Mitzi Gaynor, Robert Goulet, Engelbert Humperdinck, Barry Manilow, Al Martino, to mention a few . . more






Denis Leloup - Jazz Improv
France - Paris
Studied at the higher academy of Paris. First price in 1980. Played in many Parisiens orchestras: J.L Longnon, D. Badault, L Cugny, G Badini, P. Caratini (Caratini jazz together), Mr. Solal, F Jeanneau (Pandémonium), A. Hervé, S. Adam. Was part of the National Orchestra of Jazz 1986 to 1988.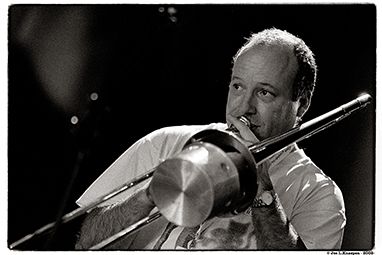 Carl Lenthe - Classical
USA - Bloomington, IN


CG Conn
Carl Lenthe, Professor of Music at Indiana University in Bloomington, was born into a musical family in 1956 and grew up in the Delaware Valley in Pennsylvania. His love of good music, inspired by concert bands and recordings of the great orchestras, was nurtured by both the school and church music programs.





Dana Leong - Jazz Improv - Dana Leong [bio at this site]
USA - New York, NY


Yamaha YSL-350C / Bach 5GS
Dana Leong is a prodigious anomaly of the highest order. At the age of 1 Dana was already sitting at the piano on a regular basis. He was on an intense traditional path towards the classical music arena and by the age of 8, Dana was already performing and competing internationally on the cello, and trombone.





Dr. Drew Leslie - Jazz Improv - Dr. Drew Leslie [bio at this site]
USA - Boone, NC
Dr. Drew Leslie, a native of Ann Arbor, MI, joined the faculty of the Hayes School of Music at Appalachian State University in the fall of 2011 and is currently the Assistant Professor of Trombone..





Charles Levine - All Styles
USA - Seville, FL





Dan Levine - All Styles - Dan Levine [bio at this site]
USA - New York, NY
Brooklyn-born DAN LEVINE is based New York City where he plays Trombone, Bass Trombone, Euphonium, and Tuba in studios and stages throughout the US and the world. He's a student of Charles Levine, Donald Yaxley, Buddy Baker, Roy Main, and Ralph Sauer of the Los Angeles Philharmonic.





Michael Levine - Classical
USA - Dallas, TX
Founder and Director of the Dallas Brass, Michael is originally from St. Louis Park, Minnesota. He first attended the University of Minnesota and then The Juilliard School, where he received his Bachelor of Music Degree.




Jeremy Levy - All Styles - Jeremy Levy [bio at this site]
USA - Burbank, CA


Bach Model 6 / Bach 11C
Composer, arranger, instrumentalist and educator, Jeremy Levy o riginally hails from Hannibal, MO. While growing up in Missouri, he quickly made a name for himself as a jazz trombonist. After graduating high school, Jeremy moved to Kansas City, MO in 1997.





Jim Lewis - Jazz Improv
USA - Los Aneles, CA


Bach 16M / Bach 7C
Jim Lewis is the Trombone player and founding member of SGS. He studied jazz under Bill Watrous and is a regular on the L.A. jazz scene. He started as a session player in Muscle Shoals, Alabama and is a graduate of the University of Alabama Jazz Program.





Rich Lewis - All Styles
USA - Sparks, NV


Lawlor small bore / Shilke 47b / Bach 42/Wick 5al
Born in Oakland in 1953, Rich Lewis picked up a trombone at age 8—and it fit! Keeping up with his lessons, he played in his high school jazz band and kept his chops honed at Cabrillo Jr. College in their excellent jazz ensemble. BA in Music from UNR. Richard is currently involved with a stellar line up of players/vocalists, recording a CD for the band "Little John" . The recording is called "Unfinished Business" This is a band from the early 70's out of Oakland. Several of the original members have stayed in touch and have continued to compose music. The CD should be out in the summer of 09





George Lewis - Jazz Improv
USA - New York, NY
Improvisor-trombonist, composer and computer/installation artist, studied composition with Muhal Richard Abrams at the AACM School of Music, and trombone with Dean Hey. As a composer, Lewis has explored electronic and computer music, computer-based multimedia installations, text-sound works.





Thomas Leyendecker - Classical
Germany - Berlin





Dick Lieb - All Styles
USA - New York, NY
Dick Lieb formerly played bass trombone with (and arranged for) the Kai Winding Septet, Radio City Music Hall Orchestra, and the New York Tonight Show Band under Skitch Henderson and Doc Severin- sen. He also played at NBC on Hullaballoo and the Sammy Davis Show.






Abe Lincoln - Swing 1907 - 2000
USA
b. Lancaster, PA on March 29, 1907 - June 8, 2000 At the age of 5, Abe began playing cornet. Under the direction of his father, Abe would practice scales every day and had to play them correctly each night before being permitted to go to bed. >> Find-A-Grave





Adrian Lincoln - All Styles
UK - Stroud, Gloucestershire


CG Conn 88H / Bach 2G
Freelance - bass & tenor trombonist.





Robert Lindahl - All Styles
USA - Michigan
Dr. Robert Lindahl, professor of music, teaches applied trombone, brass pedagogy, and jazz studies for Central Michigan University. He also directs the CMU Trombone Choir, Jazz Bone - the CMU jazz trombone ensemble, and coaches brass quintets and trombone quartets.





Christian Lindberg - Classical - Christian Lindberg [bio at this site]
Sweden - Stockholm
Christian Lindberg is one of the most remarkable musicians of our time. His career has taken him from the pioneer who established the trombone as a solo instrument to the world famous virtuoso to whom the most prominent contemporary composers have devoted more than 80 trombone concerti.




Ole Lindgreen - Swing - Ole Lindgreen [bio at this site]
Denmark - Kopenhagen
Born, May 16th, 1938 in Copenhagen, Denmark Ole "Fessor" Lindgreen took up an interest in playing music at an early age. In his teens he became a member of the local schoolband and he first got acquianted with the tenor horn and a little later changed to sousaphone (tuba).





Dave Linton - All Styles
USA - Yardley, PA
Dave holds a Bachelors of Education from Trenton State College (now The College of New Jersey) where his major instrument was Euphonium. He currently performs with the Eastern Wind Symphony and does other freelance playing in the area. Dave is part of the Brass Staff for the Bushwackers.





Garrett List - Jazz Improv
USA - California
Garrett List (born 1943 in Phoenix, Arizona) is an American trombonist, vocalist and composer. In 1950, he moved with his family to Southern California. At the age of 18, he already was busy teaching, playing and composing music (from classical and jazz to pop).






Melba Liston - Jazz Improv 1926 - 1999
USA
Melba Doretta Liston was born in Kansas City, Missouri on January 13, 1926. Her family moved to Los Angeles in 1937 and she attended and graduated from McKinley Junior High School (currently George Washington Carver Middle School). She studied trombone and harmony and graduated from Los Angeles Polytechnic.





Jeannie Little - Classical
USA - Los Angeles, CA
Dr. Jeannie Little joined the Montana State University School of Music in 2015 as Low Brass Professor and Director of the University Band. Jeannie earned her Doctor of Musical Arts degree in Performance and Pedagogy at the Eastman School of Music, a Master's degree in Music Performance from Northwestern University and a Bachelor's degree in Music Performance from the Florida State University.





Bryan Livett - Swing
Canada - Toronto, Ontario


Schmelzer 1
Bryan has "guested" with Toronto area bands such as Jim McHarg's Jazzmen, Dr. McJazz, Hot Five Jazzmakers, Climax J.B., Ragweed J.B., Silverleaf J.B., Excelsior J.B., Happy Pals, Downtown J.B., Alex Pangman's Alleycats, Janice Hagan, Tyler Yarema and Chris Whiteley and in New Orleans with Tommy Yetta, and many more.





Sebastien 'Spicebones' Llado - Jazz Improv - Sabastien Llado [bio at this site]
France - Champs


CG Conn 6H / Bach 6 1/2 AL
He has been studying trombone with Guy Figlionlos in Noisiel Conservatory (France), and then went to Berklee College (Boston, USA), where he learned from Phil Wilson, Jeff Galindo, Hal Crook and even late great J.J.Johnson. Back in Europe since 1998, he studies at Conservatoire National Superieur de Musique.





Todd Londagin - Jazz Improv
USA - New York City, NY


Yamaha YSL-645 / Bach 6 1/2 AL
The trombone playing, tap dancing co-founder of New York City's highly acclaimed Flying Neutrinos is making his mark internationally as the leader of the Todd Londagin Band.





Fred Lonzo - Swing
USA - New Orleans, LA
Fred Lonzo has worked with virtually every jazz group in New Orleans and has acquired a lot of experience in many different music styles - brass bands, dixieland and repertory groups, rhythm and blues bands, and modern jazz groups. Locally he has been active in clubs such as, Crazy Shirleys, Heritage Hall, and many more.






Charlie Loper - Jazz Improv
USA - Los Angeles, CA
Charlie Loper was born in Atlanta, Texas and took up the trombone at the age of fourteen. Basically self-taught until college, he won the first trombone chair in the Texas All-State Band his senior year in high school. While at Memphis State University he studied extensively with Ralph Hale.





Richard Lopez - All Styles - Richard Lopez [bio at this site]
USA - Olympia, WA


King 3B Silversonic / Marcinkiewicz 12C
Richard got his start in the Denver Public Schools music program, playing trombone in such groups as the prestigious C.E.C. Honor Jazz Combo and the Colorado All-State Jazz Ensemble. As a teenager he played with jazz contemporaries Greg Gispert, Brad Leali and Javon Jackson and studied jazz.





Rick Lopez - All Styles
USA - Alamo, TX


Olds Super / Bach 6 1/2 AL
Rick Lopez is a free-lance trombonist, music writer, educator, former member of the Air Force Band Of The West (77-81) and most of all, a musician in service to Jesus Christ.





Stephan Lorenz - Classical - Stephan Lorenz [bio at this site]
Germany - Schwerin


CG Conn 88H / Laetzsch Spezial
Germany - (b.1974) studied with Michel Becquet and Hans Voithofer at the Musikhochschule Koeln, after playing with "Neue Philharmonie Westfalen" and "Philharmonisches Orchester Lubeck", from 2000-2005 first/second Trombonist in "Osnabruecker Symphonieorchester" and 2005/2006 Trombonist in "Staatsorchester".





Peter Lothian - All Styles
Australia - Sydney, NSW


Bach 36 / Giardinelli 4D
Freelance Tenor Trombonist, Australia. Also works in cultural management and is Administrator for the Sydney Improvised Music Association (SIMA), Aus tralia's leading contemporary jazz organisation.





Chris Lowe - Jazz Improv
UK - London
Born in April 1977, Chris Lowe was brought up on jazz music of the 1920's and 30's as well as comedy bands such as The Bonzo dog Band and Spike Jones. After brief flirtations with cornet and drums (the latter still an occasional occurence) Chris took up the trombone at 16.






Al Lube - All Styles 1910 - 2001
USA
Al Lube played it all. From classical music to Dixieland jazz, the journeyman musician never limited himself to one genre of music. As a University of Houston trombone instructor, he instilled the same wide-open musical style in his students. Lube passed away in 2001 at the age of 91.





Don Lucas - Classical
USA - Boston, MA


Edwards
Don Lucas, native of Falls Church, Virginia, was educated at North Texas State University, Berklee College of Music, Texas Tech University (BM, MM), The University of Houston (Doctoral) and as a Fulbright Scholar to London's Guildhall School of Music (Advanced Solo Studies Diploma).





Dante Luciani - Swing
USA - Miami, FL
Assistant Professor (Jazz Brass), has B.M. and M.M. degrees from the University of Miami. Formerly the lead trombonist and soloist with the Woody Herman and Maynard Ferguson Orchestras, Luciani has performed with various artists, including Frank Sinatra, Sammy Davis, Jr., Ben Vereen, Burt Bacharach, and many more.





Ingo Luis - All Styles
Germany - Cologne
Ingo Luis graduated from high school in Mülheim in 1981 and went on to study the trombone at the Folkwang Conservatory in Essen until 1984. He then continued his studies at the Cologne Conservatory with various tutors including Jiggs Whigham, Axel Jungbluth and Michael Junghans.





Royce Lumpkin - Classical
USA - Charlotte, NC


CG Conn 88H Lindberg / Giardinelli Symph T
Royce Lumpkin, a native of Kilgore, Texas, has been the chair of the music department at the University of North Carolina at Charlotte since 1998. He holds degrees in music education from the University of North Texas and a DMA degree in trombone performance from the University of Oklahoma.





Steven Lundahl - Classical - Steven Lundahl [bio at this site]
USA - Canterbury, NH


CG Conn 88H / Stork Custom
By day, I am a software developer and consultant, specializing in Microsoft technologies. In particular, I design and build database systems for companies large and small, using Microsoft SQL Server and .NET technologies including web, smart-client, SOA and client-server architectures.





Kirk Lundbeck - Classical
USA - Sycamore, IL


Bach 42TG Lt 50 / Giddings & Webster Euros
Kirk Lundbeck received his Bachelor of Music, B.M., in 1981 with an emphasis on trombone performance and continued his studies in trombone and instrumental conducting through 1983. He has studied with some of the finest trombone instructors in the world including Mr. James Mattern, and Anthony Garcia.





Torbjorn Lundberg - Classical - Torbjorn Lundberg [bio at this site]
Sweden - Gothenburg


Bach 50T / Schilke 60
Torbjorn Lundberg was born in Sandviken. He took his first trombone lessons in the community music school in Sandviken. Being 11-12 years, he dreamt about playing the bass trombone. A dream that became true. In high school Torbjorn moved to Stockholm, and Sodra Latin's music education.






Don Lusher - Swing 1923 - 2006 - Don Lusher [bio & movie at this site] - Don Lusher
UK


Yamaha
Don Lusher, born in Peterborough, started on trombone at six years old, becoming the third generation to play in the Peterborough Salvation Army Band, alongside his father and grandfather. During the war he served as a gunner signaller in the Royal Artillery.





Mark Lusk - All Styles
USA - University Park, PA


Shires
Mark Lancaster Lusk, Professor of Trombone, became a member of the Penn State faculty in 1986. Prior to his appointment, he enjoyed a varied career with such diverse groups as the Woody Herman Thundering Herd, the Chicago Symphony Orchestra, the Eastman Wind Ensemble, and the Chicago Contemporary Chamber Players..





David Lussier - All Styles
USA - Milwaukee, MI
David Lussier is a professional free lance trombonist who has lived in the Milwaukee area. A 1979 graduate of Marquette university High School, he studied trombone with David Ruck at the University of Wisconsin-Milwaukee and Donald Haack of the Milwaukee Symphony Orchestra.





Jim Lutz - All Styles - Jim Lutz [bio at this site]
USA - Los Angeles, CA


Edwards Jazz tenor / Yamaha 48
Jim is a trombonist with the newetproduction of Cirque du Soleil, which debuts in April 2007. In 2005, Jim completed his master's degree in jazz studies at the University of Southern California in 2005, after serving for 2 years as a teaching assistant in the USC jazz department.





Max Lyon - All Styles - Max Lyon [bio at this site]
USA - Austin, TX


King 3B Silversonic/ F - Denis Wick 9BS
Born in Jefferson, IA, USA Bachelor of Music Education, Drake University, Des Moines, IA, 1972 Special Bandsman US Military Academy Band, West Point, NY, 1972-75 Free-lance musician NYC 1975-77 Public school band instructor in Iowa 1977-83 Master of Arts-Brass Performance, University of Iowa, Iowa City, IA.






























Copyright 2021 René Laanen - Trombone Page of the World
Please direct comments and questions about this web site to René Laanen ~ contact