T




Ernie Tack - All Styles
USA - Los Angeles, California
Ernie Tack was with the NBC Orchestra on the Tonight Show for 20 years. Like John Bambridge, a regular member of Ray Conniff's Orchestra for 37 years. The most sought-after bass-trombonist in Hollywood for decades.





Toshinori Tanaka - Classical
Japan - Kobe City
Born in Kobe. Started playing the violine at age 4, the trombone at 13. Graduated from Music division of Osaka University of Music. Learned music under Mr.R. Sauer, Mr.B. Slokar, Denis Wick, and Mr. L. Isacson. Received lessons of Empire Brass and Berlin Philharmonic Brass Ensemble.







Paul Tanner - (1917 - 2013) was an American musician and a member of the Glenn Miller Orchestra. He developed and played the Electro-Theremin, a theremin soundalike instrument that is best known for its use on the Beach Boys 1966 songs "I Just Wasn't Made for These Times" and "Good Vibrations".




John Tarr - Classical - John Tarr [bio at this site]
Switzerland - Basel


Edwards .535 bore / Bach 6 1/2 AL
John Tarr studied Trombone Performance at the University of Northern Colorado and the San Francisco Conservatory of Music (Bachelor's and Master's Degree in Music Performance respectively).





Alex Tartaglia - Classical
Brazil - Sao Paulo


Edwards T350-E
Alex Tartaglia has been the second and assistant principal trombonist of the São Paulo State Symphonic Orchestra since 1996. He is a former member of the Jeunesses Musicales World Orchestra and has toured Europe and Israel with Kurt Masur, Yuri Temirkanov and Sir Neville Marriner.





Frederico Tassani - All Styles
Italy - Rimini


CG Conn 6-H / Schilke 52
Stage e Master class con: 1-Michel Becquet 2-Car la Bley 3-Steve Coleman 4-Bruno Tommaso 5-Marco Tamburini 6-Roberto Rossi 7-Fabio Petretti 8-Tomaso Lama 9-Stefano Zenni Esperienze professionali in qualità di musicista di fila e/o solista 1-Quintetto G.Gabrieli 2-Orch.Fil.di Vicenza 3-Orch.Fil .di Livorno 4- and many others.





Shaun Tatnell - Funk
Australia - Sydney, NSW


King 2B / Jupiter 11C
Shaun began trombone on the Gold Coast in 1990 and studied at the Queensland Conservatorium of Music from 1997 under the tutelage of Bob Evans. Since 2002, he has been based in Sydney, as a Jazz/Rock trombonist with the Royal Australian Navy Band.





Christopher Taylor - Classical
Canada - Edmonton, AB
Bass Trombone, Edmonton Symphony Orchestra A native Edmontonian and a graduate of the University of Alberta, Christopher Taylor has performed with the Edmonton Symphony Orchestra since 1975. Christopher studied with former ESO trombonist Dr. Malcolm Forsyth and furthered his education in Los Angeles.







David Taylor - All Styles
USA - New York, NY


Edwards David Taylor
Receiving B.S. and M.S. degrees from the Juilliard School of Music, David Taylor started his playing career as a member of American Symphony Orchestra, and by appearing with the New York Philharmonic under Pierre Boulez. Almost Simultaneously, he was a member of the Thad Jones-Mel Lewis jazz band, to mention a few.







Jack 'The Gate' Teagarden - Jazz Improv 1905 - 1964 >> Find-A-Grave
USA


CG Conn 4H





Dana Teboe - All Styles
USA - Brunswick, Maine
Dana has played on more than 400 commercially released albums, soundtracks and commercials. Some of the artists he has recorded with are Vanessa Williams, Gloria Estefan, Elton John, Regina Belle, Arturo Sandoval, Bobby Caldwell, Jon Secada, Nestor Torres, Duffy Jackson, Ricky Martin, Julio Iglesias, Placido Domingo , Prince, KC & The Sunshine Band, Lionel Hampton, Celia Cruz, Christina Aguilera, Jose Feliciano, Yanni, Shakira, Jaco Pastorius among many others.






Phil Teele - All Styles - 1942 -2019
USA - Simi Valley, CA


Yamaha
Phil Teele (Philip Allan) was born in Ottumwa, IA 6-6-1942. He plays bass trombone, contrabass trombone, euphonium and ophicleide. He began his wind studies in LA schools at age 13. Between 1958 and 1964, he studied bass trombone with Ernie Smith, George Roberts, and Dick Nash.





Keith Teller - All Styles - Keith Teller [bio at this site]
USA - Poughkeepsie, NY


King 4B Silver Sonorous / King





James TenBensel - All Styles - James TenBensel [bio at this site]
USA - Minneapolis, MN


Yamaha Custom / Bach 12C
Trombonist, Yamaha Artist MN This Yamaha trombone artist has Bachelor and Master degrees in music education from the University of Minnesota and has taught vocal and instrumental music at all levels from elementary through college.





Aycan 'Cancan' Teztel - All Styles - Ayan Teztel [bio at this site]
Turkey - Istanbul


Bach 42 / Greg Black Alessi 5,5
Istanbul Univ State Conservatory trb& chamber music faculty, Conductor of the Beck's Big Band. Aycan Teztel (1959) started his music life in 1970 at the Istanbul Municipal Conservatory where he studied trombone. He graduated from the conservatory in 1979.





Kasper Thaarup - Classical - Kasper Thaarup [bio at this site]
Denmark - Copenhagen


Bach 42G / Yamaha 52
Kasper Thaarup was born in 1974 and studied at the Royal Danish Conservatory of Music in Copenhagen. In 2002 Kasper graduated from the soloist class with concert examination. After only 3 years at the conservatory, Kasper won the audition for solo trombone with the Danish National Radio Sinfonietta.





George Thatcher - All Styles
USA - Los Angeles, CA
George Thatcher, trombonist, performs currently as a Hollywood freelance recording and symphonic musician whose career has transverses a wide variety of styles as well as a number of continents.





Jim Theobald - All Styles
USA - New York, NY


Getzen Eterna 1062FDR / Olds P-24G
Jim Theobald plays bass trombone in an orchestra, wind ensemble and big band in New York City, and has composed over 300 pieces for all types of ensembles. Favorite music includes marches, circus music, big band jazz of all types and orchestra and wind ensemble works that have interesting bass trombone parts. His compositions have been played all over the USA as well as in Russia and Australia..






Eje Thelin - Jazz Improv 1938 - 1990
Sweden
Eje Thelin (Eilert Jon Thelin) (June 9, 1938 - May 18, 1990) was an innovative Swedish trombonist, widely admired among fellow trombonists for his facile technique and rhythmic intensity. He was, perhaps, the first jazz trombonist to translate that technique into the so-called "sheets of sound" style that characterized much of the music of tenor saxophonist John Coltrane and, in general, Free Jazz of the late 1960s and 1970s.





Frode Thingnæs - All Styles
Norway - Oslo
Frode Thingnæs, born in 1940, is one of Norway's foremost jazz musicians with a versatile background as a trombonist, composer, arranger and conductor. Around the end of the 1950's he started his carreer in various big bands in Oslo. Around the beginning of 1960, Frode Thingnæs started his own quintet.





Brian Thomas - All Styles
USA - Boston, MA
Trombonist Brian Thomas is widely regarded as one of the leading funk/jazz artist in the northeast. His melodic, lyrical, and funky style first gained him recognition in the funk/jazz scene in the late 1990's.





Rachel Thomas - Classical
Canada - Kitchener, Ontario
Toronto-born Rachel Thomas has been playing trombone since the age of nine and at 13, studied and attended master classes with the renowned Canadian Brass. During high school, Rachel continued her studies and was a member of the Toronto Symphony Youth Orchestra for three years.





Billie Thomas, Jr. - Classical
USA - Washington DC, WA
Prior to joining the Navy Band in 2003, Petty Officer Thomas received a Bachelor of Music degree from the Curtis Institute of Music. His primary instructos include Nitzan Haroz, Glen Dodson, Blair Bollinger, and Donald Knaub. He has performed with the New World Symphony, Sao Paulo State Symphony Orchestra, to mention a few.





Kenneth Thompkins - All Styles
USA - Detroit, MI
Kenneth Thompkins was appointed Principal Trombone of the Detroit Symphony Orchestra in 1997 by Neeme Järvi. Prior to this appointment he held positions in the Buffalo Philharmonic and the Florida Orchestra. He has also performed with the New World Symphony under the direction of Michael Tilson Thomas.





Chris Thompson - Brass Band
UK - Nantwich, Cheshire
First Trombone: Nantwich and District Band Musical Director: Lions Beginner Brass I started playing trombone at the age of 11, the result of failed attempts on Clarinet and Cornet, and was initially taught by Neil Fryer, a former solo cornet player with the world famous Fodens band.





Frankie J Thompson - All Styles
Frankie J is a trombonist whose funky style of music evolved from R&B, Reggae, Jazz and New Orleans style music. He has travelled the world for 15 years and earned 4 gold albums with the Bar-Kays and has played with other acts such as Cameo, Slave, founding members of Sly and the Family Stone, Clarence Clemons and some of George Clinton's P-Funk All-Stars. His funky bone will make any dog wag his tail. His thoughts and heart makes him a firm believer in music with ATTITUDE.





Kevin Thompson - Classical
Malaysia - Kuala Lumpur
Principal Trb, Malaysian Philharmonic Orchestra. - Canadian euphonium and trombone soloist Kevin Thompson is dedicated to promoting the euphonium as a solo instrument. He has performed in Canada, the USA, England, South Africa, and Malaysia, and has recorded two solo euphonium CDs.





Christina Thompson - All Styles - Christina Thompson [bio at this site]
USA - Raleigh, NC


CG Conn 88H
Christina Thompson is an active musician in th e Raleigh, NC area. She has been playing trombone for 15 years, and holds a Bachelor of Music degree from East Carolina University and a Master of Music degree from the University of North Carolina at Greensboro.





Demondrae Thurman - All Styles
USA - Montgomery, AL


Boosey and Hawkes
Demondrae Thurman is the Instructor of Low Brass and Conductor of the Wind Ensemble at Alabama State University, where he has been on the faculty since 1998. A native of Tuscaloosa, Alabama, Demondrae studied euphonium, trombone and conducting at the University of Alabama.





Jerry Tilitz - Jazz Improv - Jerry Tilitz [bio at this site]
USA - New York, NY
Jerry Tilitz is a american trombonist,vocalist and composer from New York City. In the course of his career Mr. Tilitz has performed and recorded with many exceptional artists including Gerry Mulligan, Horace Parlan, Hank Jones, Roy Eldridge, Benny Golson, Herb Geller, Tommy Flanagan, Al Foster, to mention a few.






Juan Tizol - Jazz Improv 1900 - 1984
USA
Pioneering jazz trombonist, Juan Tizol, was born in San Juan, Puerto Rico on 20 January 1900. His family background had deep roots in music with forefathers that performed with Puerto Rican danza legend, Juan Morel Campos. - By the age of 20, Tizol was performing with the slide and valve trombones in various bands. Because the valve trombone inherently suffers from poor intonation and inferior sound quality compared with its cousin, slide trombone, its popularity declined from its height in the first half of the nineteenth century.





Rick Tolbert - All Styles
USA - San Francisco, CA


Bach Strad. Model 1 / Bach 6 1/2 A Mega Tone
Played trombone professionally for 28 years. Growing up on the East Coast He has gigged in and around many cities such as Pittsburgh, Philadelphia, Washington D.C., He joined the United States Air Force Band in Northern California.





Gary Tole - Swing
USA - Claremont, CA
Born and raised in Pittsburgh, PA, Gary Tole began playing the trombone at the age of twelve. By the age of sixteen, he was working with the all the shows that came into the Pittsburgh area. After attending Duquesne University School of Music, Gary was offered the first trombone position with various orchestra.



California trombonist Gary Tole of Legends of Swing will replace Larry O'Brian as leader of the Glenn Miller Orchestra effective the first of 2011.






Bill Tole - Swing 1937 - May 20, 2017
USA - Chandler, AZ


CG Conn
Born in Pittsburgh, PA., Bill Tole comes from a musical family. His father was a high school band director and a representative for Selmer and King musical corporations for many years and is currently active as a professional trombonist and pianist.





Peter Tombler - All Styles
Canada - Toronto
Holton screw-bell
Toronto Philharmonia, Canada - Head of Music Department at Cedarbr' Collegiate Institute in the east end of Toronto. In his 23rd year as part of the trombone section of the Toronto Philharmonia Orchestra (formerly the North York Symphony). Playing on a 1978 screw-bell Holton and is still loving it after all.






Juan Pablo Torres - Latin 1946 - 2005
Cuba
Juan Pablo Torres was born in Puerto Padre, Cuba, in 1946. He spent most of his life in the island. In 1992 he defected while in Spain. He settled in Miami (Florida, USA). - He recorded solo albums such as Trombone Man (1995), and Cuban Masters, Los Originales. - His last project took place in Spain.





Giovanni Tortola - Classical
Italy - Isernia
Born in Isernia, Italy, in 1971. Giovanni Tortola studied at the Conservatorio di Musica "Lorenzo Perosi" di Campobasso under the guidance of Maestro Carlo Morelli, at Boston University with Ronald Barron and Amsterdam Conservatorium (Hafabra) with Gerrit Fokkema and Jan Schut.





John Towell - All Styles
Canada - Calgary, AB


King 2B / Marcinkiewicz 8H




Jeff Tower - All Styles
USA - Hemet, CA


CG Conn 100H
Received his Bachelor of Arts degree in Music Education from the University of Northern Iowa and his Master of Music Degree in Trombone Performance at the University of Redlands. Mr. Tower has been awarded an Honorary Doctorate degree from Pacific Western University for his accomplishments in Music.





William Townley - Jazz Improv
USA - Detroit, MI


Getzen Deluxe
Birn and raised in Detroit, MI . Played TRrombone since 7th grade. Played in Shool bands. Played with various groups professionally. Worked unde r Marcus Belgrave in various settings. Attended Michigan State University, played in Jazz/Stage Band there.





Jim Tranquilla - Classical
Canada - Coquitlam, BC
Jim Tranquilla is one of Canada's rising young stars of the trombone. Jim has established himself as a vital part of the Canadian brass community in an extraordinarily short period of time. Jim is a member of the Vancouver Island Symphony and the B.C. Chamber Orchestra.







Morty Trautman - Swing - 1926 - 2012
USA - Aventura, FL
Began playing the trombone at age 12 while in elementary school. All his friends played musical instruments at that time as the big band era was just beginning. In high school he played with the marching band, symphony orchestra,and of course the dance band.





Rick Treuting - Swing
USA - New Orleans, LA
The voice of the trombone in the Louisiana Spice horn section as well as the voice of many of the band's arrangements are flavors Rick adds to the band. His contributions come from many years of experience as a music educator and performer.





Jim Trimble - Jazz Improv
USA - Las Vegas, NV
Orchestras Buddy Rich, Mel Lewis, Thad Jones, Stan Kenton, Terry Gibbs, Henry Mancini, Harry James, Lew Brown Orch, for the Jerry Lewis Telethon, Maynard Ferguson. LAS VEGAS, NV., Production Shows Casino De Paris-Dunes Hotel, Folies Bergere-Tropicana Hotel, Johnny Haig and Lew Elias Relief Bands, to mention a few.





Brian Troiano - All Styles - Brian Troiano [bio at this site]
USA - Jackson Heights, NY
Trombonist, Brian Troiano is a versatile musician who is comfortable playing both classical and popular music. His performance experience includes the Broadway production of Hairspray, the Rhode Island Philharmonic, the Vermont Symphony Orchestra, the Ocean State Lyric Opera, the Wayne Chamber Orchestra, to mention a few.





Rick 'Freaky Tea' Trolsen - All Styles - Rick Trolsen [bio at this site]
USA - New Orleans, LA


Edwards T302 / Bach 6 1/2 AL
Trolsen, who studied with Phil Wilson at the prestigious Berklee College of Music, came to New Orleans as a member of the U. S. Navy Band. Shortly after leaving the service, he settled in the city and soon became one of the "first calls" on trombone on the lively local music scene.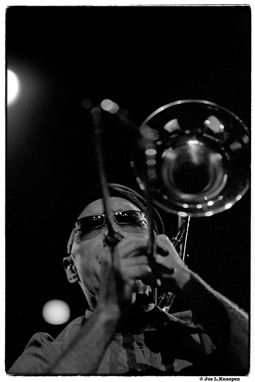 Robert Trowers - All Styles
USA - Durham, NC


Amati ASL-331 / Remington
Robert Trowers is a veteran trombonist whose 23 years in music has seen him performing with such artists as Lionel Hampton, The Count Basie Orchestra, Randy Weston, The Lincoln Center Jazz Orchestra directed by Wynton Marsalis, The Carnegie Hall Jazz Orchestra directed by Jon Faddis, to mention a few.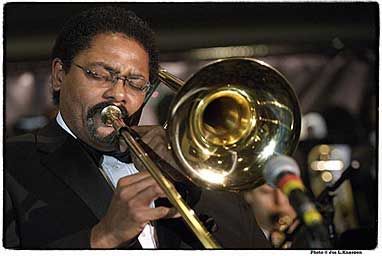 Alain Trudel - Classical
Canada - Montreal, Quebec


Yamaha
Trombonist, conductor, composer, arranger and educator, Alain Trudel is a complete, multi-faceted musician. Today, he maintains an international career in all of these activities but it was a trombonist that his dynamic career began.





Aubrey Tucker - All Styles
USA - Houston, TX


CG Conn
Dr. Aubrey Tucker is one of those rare musicians who has distinguished himself as a jazz, classical and pop trombonist, composer and arranger, conductor and band leader, businessman and educator. As a jazz trombonist and arranger, Aubrey has toured America and the world with the great big bands of Woody Herman.



Turk, Tommy - The remarkable Tommy Turk recorded in 1949





Steve Turre - Jazz Improv - Steve Turre [bio at this site]
USA - Montclair, NJ


Yamaha
Mexican-American parents and grew up in the San Francisco Bay area where he absorbed daily doses of mariachi, blues and jazz. While attending Sacramento State University, he joined the Escovedo Brothers salsa band, which began his career-long involvement with that genre.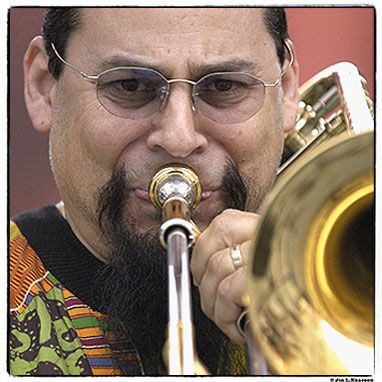 David Tyler - Classical - David Tyler [bio at this site]
Netherlands - Assen, Drente


CG Conn 8H / Bach 5G
David was born in 1965 in Newport, South Wales. He started pla ying the trombone at age 11.Joined the National Youth Orchestra of Wales in 1980 and was principal trombone from 1982-1986. David studied trombone at the Royal Northern College of Music with Terence Nagle and later with Chris Houlding.































Copyright 2022 René Laanen - Trombone Page of the World
Please direct comments and questions about this web site to René Laanen ~ contact