P





Vyacheslav Pachkaev - Classical
Russia - Moscow
Russian National Orchestra





Gerard Pagano - All Styles
USA - Des Peres, MO


Edwards B454
Trombone & Bass Trombone, Saint Louis Symphony Orchestra. Originally from Athens, Georgia Gerry Pagano started playing his fathers trombone at age 11. He studied Music Education at the University of Ga. and later completed his Bachelors and Masters from the Juilliard School, in New York City.





John Palmer - All Styles
Canada - Kingston, Ontario
Kingston Symphony Orchestra, Canada - John played trumpet for 25 years and then saw the light! Bassbone for 9 years now and loving it. John performs with the Kingston Symphony Orchestra, Quintessential Brass Quintet, Greg Runions Big Band, Sounds of Jazz Big Band, shows and other gigs in and around Kingston.






Roy Palmer - Swing 1892 - 1963
USA
Roy Palmer (2 April 1892 - 22 December 1963) was a U.S. jazz trombonist. Palmer was born in the Carrollton neighborhood of uptown New Orleans, Louisiana. Early in his career he also played violin, guitar and trumpet. He worked with brass bands including the Tuxedo and the Onward.





James Pankow - Pop/Rock
USA - Chicago, IL
James Carter Pankow (born August 20, 1947) is an American trombonist and songwriter who is best known as one of the founding members of the rock band Chicago. Born in St. Louis, Missouri, USA, Pankow moved with his family to Park Ridge, Illinois at the age of eight, where he started playing the trombone.





Mark Paquin - All Styles - Mark Paquin [bio at this site]
USA - Derry, NH


King 3B Silver Sonic / Bach 5B
Mark began his professional music career early on, starting on trombone, and playing professionally by the age of 1 5. He earned his BM in Music Education at the University of New Hampshire while maintaining an active performing and touring schedule.





Bobby Parham - Swing
USA - Hillside, IL


CG Conn 60-H / Schilke 59
Tenor and Bass Trombone. Studied briefly at Grand Valley St. Colleges with Ava Ordman and have been playing freelance in the Chicago area for the past 6 years.





Wes Parker - All Styles
USA - Raleigh, NC
Wes Parker is director of jazz studies at North Carolina State University. Park will finish the D.M.A. in Trombone Performance from The University of Southern Mississippi in 2006; he already holds the M.M. in Trombone Performance from the same university, and he has a B.M. in Music Education.





Rick Parker - All Styles - Rick Parker [bio at this site]
USA - New York, NY
Young trombonist Rick Parker is yet another powerful young jazz musician to be reckoned with (Mark Meyers, All About Jazz) Since relocating to New York in August of 2001, Rick Parker has performed at several of the city's major jazz clubs including Blue Note, Birdland, the Jazz Standard and the Jazz Gallery.





Donna Parkes - Classical
USA - Newport News, VA
Australian trombonist Donna Parkes is currently with the Virginia Symphony. Prior to moving to Norfolk Miss Parkes was a member of the New World Symphony in Miami under Michael Tilson Thomas. She has performed with many orchestras including the London Symphony, Chicago Symphony, Sydney Symphony and >>> more





Rick Parmer - All Styles
USA - Powell, Wyoming
Rick teaches private Trombone at Northwest College in Powell. He has a Masters Degree from the University of Wyoming and is the Director of Bands at Lovell High School. Rick is a performer on trombone with the Northwest Civic Orchestra, the Buffalo Bill Wild West Band, the Big Horns Trombone Ensemble and many more.





Craig Parmerlee - All Styles
USA - Indianapolis, IN
In his 37 years playing the trombone, Mr. Parmerlee has performed music of all kinds from classical to rock, Latin, and jazz. He is currently bass trombonist with the Philharmonic Orchestra of Indianapolis, a long-time member of the Indianapolis Symphonic Band.





Edward Partyka - All Styles - Edward Partyka [bio at this site]
Austria - Vienna


CG Conn 62H / Doug Elliott 112L9
Ed Partyka is a bass trombonist/tubist, composer/arranger and conductor. Originally from Chicago Illinois, he received a BA degree from Northern Illinois University before moving to Germany in 1990. He completed a Masters Degree in jazz trombone performance at the Conservatory of Music in Cologne.





Greg Passmore - Classical
Canada - Vancouver, BC
Greg Passmore studied trombone under jazz great Ian McDougall at the University of Victoria. Greg's abilities as an orchestral player par excellence were recognized early as a member of the National Youth Orchestra of Canada.





Brian Pastor - All Styles - Brian Pastor [bio at this site]
USA - Philadelphia, PA


King 4B F/ att. / Benge 6 1/2 AL
Please visit www.brianpastorbigband.com for information about The Brian Pastor Big Band and our new CD release Common Men Brian Pastor Biography Brian Pastor is currently the Principal Trombone with Peter Nero and The Philly Pops as well as Lead Trombone and Musical Director of the Brian Pastor Big Band.





Gregory Pate - All Styles
USA - Anaheim, CA


Kanstul 1662 / Ferguson LS
A native Californian, Greg is an activ e part-time freelance musician in Orange County. he has played a variety of styles, but enjoys playing with local big bands.





Mark Patterson - Jazz Improv - Mark Patterson [bio at this site]
USA - New York, NY


Bach 8, 36 / Bach 11, 7
Trombonist, composer in New York since 1983; grew up near Denver. Father was trombonist/bassist Dick Patterson. Sextet: Convergence, with Greg Gisbert, Paul Romaine...Freelance with the Vanguard Jazz Orchestra, Maria Schneider Jazz Orchestra, Manhattan Jazz Orchestra, Westchester Jazz Orchestra, Clark Terry, and many more.





Ben Patterson - Jazz Improv - Ben Patterson [bio at this site]
USA - Washington DC


Conn 6H
Trombonist, composer, and arranger Ben Patterson has been a member of the USAF Band Airmen of Note since 1997. He is a graduate of the University of North Texas, and former lead player with the One O'clock Lab Band.





Bruce Paulson - Jazz Improv
USA - Las Vegas, NV
Bruce Paulson grew up in Minneapolis, Minnesota and graduated from the University of Minnesota, where he studied trombone with Steven Zellmer of the Minnesota Orchestra. During this time he also studied trombone with Frank Chrisafulli of the Chicago Symphony.





Robert Payne - All Styles
USA - Los Angeles, CA
Bob has been a free lance studio musician in Los Angeles for over 38 years. He has been involved in all forms of recording during that time. Bob has played on over 200 motion picture sound tracks and 100's of TV shows, commercials and records. Recording projects include everything from Blood, Sweat and Tears to Frank Sinatra and Barbara Streisand. Bob is currently in his 20th season as first trombone with the Simpsons TV show.






Bill Pearce - All Styles
USA
Bill Pearce, was a unique gospel artist, is one of the few trombone soloists operating in a genre outside of jazz. He performs traditional hymns under his own name and in the group 16 Singing Men, and in 2002 produced an album for the religious vocal group Men of Standard.





Dave Pearce - Swing - Dave Pearce [bio at this site]
UK - North Somercotes, Louth Lincolnshire
Dave Pearce has been playing tenor trombone and bass trombone since the age of 13. Dave Pearce took up the instrument in his local secondary school being influenced by bandleader Glenn Miller, after hearing Glenn Miller's big band and music on the radio.





Kenneth Pearce - Classical
Canada - Vancouver, BC
Kenneth Pearce brings a warmth, presence and personality to the bass trombone that is reminiscent of virtuoso George Roberts yet all his own. Ken is presently principal bass trombone of the Vancouver Island Symphony and the B.C. Chamber Orchestra.





David Pearce - Swing - David Pearce [bio at this site]
UK - Lincolnshire, Louth


CG Conn 88H / Bach 5G
Dave Pearce started to play the trombone at the age of 14 and was inspired by trombonist and bandleader, Glenn Miller. After attending the local sixth-form college, David went onto study at the Royal Northern College of Music, Manchester England.






Tommy Pedersen - All Styles 1919 - 1998
USA
1919-1998 Hollywood Trombonist - The name Tommy Pederson means great trombone music. Tommy has written hundreds of arrangements and original compositions not only for All My Friends are Trombone Players album, but for the Hollywood Trombones Christmas album and countless others.





Byron Peebles - Classical
USA - Los Angeles, CA
Associate Principal Trombonist Byron Peebles was born in Granum, Alberta, Canada, and moved to Los Angeles in 1941. Educated in California, he received a Bachelor of Arts degree from the UC Santa Barbara and a Master of Music degree from the University of Southern California.





Steve Perdicaris - All Styles
USA - Sacramento, CA


Bach 42G w/ Greenhoe / Bach 4G
Mr. Perdicaris currently performs with the Sacramento Philharmonic. He has performed with the Sacramento Symphony (1984-1996), the City of Birmingham Symphony Orchestra (England), the Houston Symphony, and many orchestras in the San Francisco bay area.





Luiz Augusto 'Lulu' Pereira - Jazz Improv - Luiz Augusto Pereire [bio at this site]
Brazil - Rio de Janeiro


Bach 50GH 10 1/2 (double valve) / Bach GH 9 1/2 (only F attachment.), and the heavy Bach slide - Schilke 60
Luiz Pereira studied with Gilberto Gagliardi in Brasil and with Edwin Anderson (1986/1987) IU/USA. OSB/RJ from 1981 to1988. Globo TV from 1988 to 1995. OSN/UFF from 1994. Lulu Pereira and Maria Teresa Madeira duo (bass trombone/piano) from 1986 to 1994. Playing recitals around the country. Lulu Pereira and many more





Albert Perez - Latin
USA - Miami, FL
Trombonist, Latin Groove, Miami, Florida New World School of the Arts Full-time Freelance Trombonist in S. Florida between 1985-95, now full-time Middle School Band Director and part-time freelancer and adjunct college trombone instructor. Founding member of the Miami Brass Consort.





David 'Colorao' Perez - All Styles
USA - San German, PR


Bach 50B2 / Bach 3G
Bass Trombone, San German, PR Bass Trombonist with the Mayaguez Symphonic Orquestra, Bass Trombonist with the Ponce Municipal Band, over 30 years enjoing one of the most beautiful instruments around, the Bass Trombone!





Max Perkoff - Jazz Improv
USA - Mill Valley, CA
Max Perkoff is a native of San Francisco. Jazz formed the core of his bohemian upbringing courtesy of his father, pianist Si Perkoff and mother, visual artist Sara Goren. His artistry on both the trombone and the piano is sometimes heard on the same concert, something he does increasingly often.





Dani Perpinan - Classical
Spain - Castro Urdiales, Cantabria


CG Conn 88H / Bach 5G
Principal trombone with the Bilbao Symphony Orchestra, Spain - Dani has studied at the Guildhall School of Music and Drama of London with Eric Crees, Simon Wills and Peter Gane. He teaches trombone at the Conservatorio Superior de Musica de Aragon in Zaragoza.





Benjamin 'Ben' Perrier - Classical - Benjamin Perrier [bio at this site]
Canada - Calgary, AB


Yamaha XENO
Described as having "Verve, vitality, and imagination," Ben has performed all across North America as a member of Ben has been a member of Calgary's Foothills Brass Quintet as well as his new group, KeyBrass. He has also held positions with the Thunder Bay Symphony Orchestra, and the Kalamazoo Symphony.





Matt Perrine - Jazz Improv
USA


Yamaha
Born and raised in Sacramento CA, Matt Perrine began his musical career, modestly enough, at the age of 10, playing trombone in his school band. At the age of 11 he began work playing tuba with his first dixieland band. By 12 he had taken up the electric bass, and started writing arrangements for his group.





Ake Persson - Jazz Improv 1932 - 1975
Sweden
Ake was a strong personality who left Hässleholm in the south of Sweden to take the Stockholm jazz scene by surprise in 1951. Bass player Simon Brehms quintet was the first group and in no time Ake went from promising and forward trombonist to a world class jazz soloist. He got the nickname "the Comet".





Dietmar Pester - All Styles - Dietmar Pester [bio at this site]
Germany - Dresden


Courtois Elegance 300B / Yamaha P. Sullivan
Member from Dresden Philharmonic Orchestra, Germany





Andre Pet - All Styles
Netherlands






May Peters - Jazz Improv - May Peters [bio at this site]
Puerto Rico - San Juan


CG Conn Connstellation / Bach 11C
May Peters born in 1964 in Echt, Netherlands and started to play the flute at the age of five. Three years later she became a member of the local brass band. Growing up in the culture of the southern area of Holland she found plenty of opportunity to play at the traditional feasts.





Stanley Pethel - All Styles
USA - Mount Berry, GA


CG Conn 88H / Denis Wick symphonic
Trombonist, Chair of Fine Arts Berry College. Arranger and composer. -Conn 88H and King 3B Degrees: BM and MFA University of Geogia, DMA University of Kentucky. Teachers: Phil Jameson, Henry Romersa, Tom Senff.





Gianluca Petrella - Jazz Improv - Gianluca Petrella [bio at this site]
Italy - Bari
He was born in Bari on march 1975 and he graduated at the Conservatory of Bari in 1994. In 1993 he starts a long collaboration with soprano saxophone player Roberto Ottaviano, recording the project KoinF with Michel Godard (tuba), Tom Varner (french horn), Marcello Magliocchi (percussion).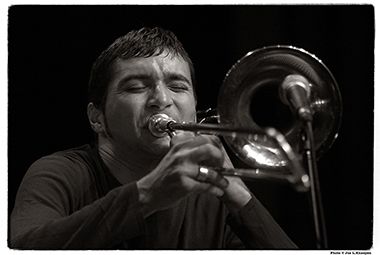 Eric Pettine - All Styles
USA - Westerly, RI USA


Besson 1010 trombone; Stork T1 mouthpiece
Eric has performed with the Rhode Island Philharmonic Orchestra and Brass Quintet, The American Band of R I, Ringling Brothers and Barnum and Bailey Circus Band, Ice Capades, Capitol Records recording artists 'Tavares', Bel Canto Opera Company and Theatre-By-The-Sea, Coastline Swing Band, Nightlife Orchestra, among others. Eric has been a full-time music educator for over twenty years..





Brent Phillips - Classical
USA - Waco, TX


Edwards T350-E
Brent Phillips has accepted the position of Assistant Professor of Trombone at Baylor University beginning in the fall of 2004. Currently Mr. Phillips is a member of "The President's Own" US Marine Band in Washington DC and is also principal trombone of the Harrisburg Symphony Orchestra in Pennsylvania.





Colin Philpott - All Styles
Australia - Sydney


Yamaha YSL 683
After a hugely successful stint in London in the early 90's, Colin has become Sydney's most in demand Trombonist/Doubler (trombone, bass trombone, tuba and euphonium) for theatre, studio work, television and ensembles of various sizes backing Australian and International artists including Frank Sinatra.





David Phy - Funk
USA - Riverside, IL
David Phy received his BA in Music Education from the University of Louisville in Kentucky, and his MM in Jazz Studies Performance from the New England Conservatory of Music in Boston, Massachusetts. His main teachers at NEC included Bob Brookmeyer, Bob Moses, Cecil MacBee, and George Russell.





Michael Pierson - Classical
USA - Bolling, DC
Master Sergeant Michael Piersol is a trombonist with The United States Air Force Concert Band, Bolling Air Force Base, Washington, D.C. Originally from Williamsburg, Iowa, his career in the Air Force began in 1997 as a trombonist with The Air Force Band of the Golden West, Travis Air Force Base.





Massimo Pirone - All Styles - Massimo Pirone [bio at this site]
ITALY -


trombone, bass trombone and tuba.
After graduating from the conservatory started his activities' music playing in the major television programs such: 5 ed.La Corrida, Finalmente Venerdi, 4 ed. Sarabanda, SanRemo 2005,Sabato Italiano, Fenomeni, SanRemo contro SanRemo,50 Canzonissime,Garda che Musical, Alla ricerca dell'arca,David di Donatello,I migliori anni,Sanremo 2011 e 2012 and many other works in the theater for more 'than 18 years.





Tim Pitchford - All Styles - Tim Pitchford [bio at this site]
USA - Weston, FL


King 2B / Warburton 12
Freelance trombonist in South Florida. Dr. Pitchford has just accepted the position of Instructor of Trombone at Southern Illinois University in Carbondale, IL. He is also on tour with K.C. and the Sunshine Band.





Shannon Pittaway - Classical
Singapore - Singapore
Shannon Pittaway joined the Singapore Symphony in 2005. He began playing the cornet at the age of six with guidance from his father who was also a cornet player and grew up playing in Salvation Army brass bands. He holds a Bachelor of Music Performance from the Victorian College of the Arts in Melbourne.





Dale Pittock - All Styles
USA - Pasco, WA


Yamaha 613H / Yamaha DY
Bass Trombonist - Oregon East Symphony (Pendleton OR-Kenneth Woods, Conductor); Mid-Columbia Symphony (Tri-Cities WA); Early musical training provided in The Salvation Army. I played in Salvation Army bands in Canada and the state of California.





Mike Pittsley - Swing
USA - San Antonio, TX


Edwards
Mike Pittsley was the Jim Cullum Jazz Band trombonist from 1978 until 2000 and appears on all Riverwalk broadcasts before 2000. Mike is a Sacramento native. He joined the band in 1978, and took a leave of absence to lead his own band before rejoining the Cullum band in 1980.





Tom Plsek - All Styles
USA - Boston, MA
* B.M., Texas Christian University * M.M., University of Houston * Trombone studies with Al Lube * Performances with Jerry Hunt, the Phil Wilson Trombone Ensemble, the Merce Cunningham Dance Company, the Experimental Intermedia Foundation, and New Music America *





Wagner Polistchuk - Classical
Brazil - Sao Paulo, SP


CG Conn 88H
Born in Santo André, São Paulo of Brazil, he had his first contact with the trombone at age nine, in the Municipal Band of Rudge Ramos, São Bernardo do Campo. A trombone graduate of the Mozarteum Faculty of São Paulo, Mr. Polistchuk taught at the Department of Music at ECA.




Denson Paul Pollard - Classical - Denson Paul Pollard [bio at this site]
USA - New York, NY
Denson Paul Pollard joined the MET as bass/tenor trombonist in September, 2007. Pollard was the bass trombonist of the Hong Kong Philharmonic Orchestra from 2001-2007. Pollard holds a Doctorate of Musical Arts degree from the University of Iowa. Pollard has played with numerous touring shows and has recorded two solo albums entitled "Up From Below" and "Point in Time."





Ian Polster - All Styles
USA - Springfield, OH
Ian Polster taught introduction to music, fundamentals of music, music composition, music education, 20th-century American music, elementary music theory, studio trombone, and jazz styles at Wittenberg University in Springfield, Ohio, until his retirement in 2004.





Carl 'CAP' Posch - All Styles - Carl Posch [bio at this site]
USA - Yuma, AZ


Bach 16M LT / Bach 11C
Originally from Pennsylvania, he moved to California in 1970. Has been the Professor of Instrumental Music at Arizona Western College in Yuma, AZ since 1992. Has done freelance orchestral, band, rock, jazz and studio work in Southern California and Arizona.





Corey Powell - All Styles
USA - Apopka, FL
Corey Powell is a freelance trombonist living in Orlando, Florida who has recorded, toured and performed with many well known artists of R&B, salsa, contemporary Christian and jazz. Corey performed at the 2012 Playboy Jazz Festival as well as the 2014 Bollywood IIFA awards. Corey is also the founder of the APK Horns, a three piece horn section that is well known throughout the Central Florida area. Mr. Powell believes that music is a great gift from God and that is a very powerful, spiritual force that can touch lives of people all over the world.





Morgan Powell - All Styles
USA
Morgan Powell, born in West Texas in 1938, is a composer and jazz trombonist whose works are performed internationally. Powell's primary compositional interests are in the areas of instrumental and vocal music; he explores the rich and complex components of improvisation and the spirit and elements of jazz.





Charlie Powell - Swing
Australia - Melbourne
Charlie Powell - Trombone and Vocals - Extrovert vocalist and tailgate trombone master, Charlie is a veteran of the English and Australian revivalist jazz movement. Originally from Birmingham he moved to Australia in the 60s.






Benny Powell - (1930 - 2010) - Jazz Improv - Benny Powell [bio at this site]
USA - New Orleans, Louisiana
Benny Powell is one of the most versatile trombonists and jazz lecturers on the contemporary music scene. He is a world class musician who draws upon his vast experience, deep roots in the jazz tradition, and a driving creativity to expand his concept of modern music.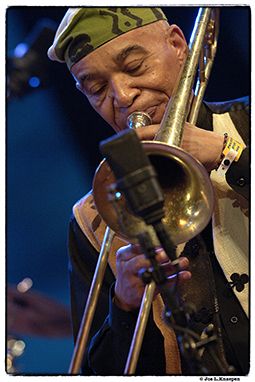 Michael Powell - Classical - Michael Powell [bio at this site]
USA - New York City, NY


Michael Rath
Michael Powell is one of the most sought after trombonists in New York City. Since 1983, Mr. Powell has been a member of the celebrated American Brass Quintet. He performs and records regularly with the Orchestra of St. Luke's, The Orpheus Chamber Orchestra, Little Orchestra Society, and Aspen Festival.





Raymond Premru - All Styles 1934 - 1998
USA
Raymond Premru, professor of trombone died at the age of 63 on Friday, May 8, 1998, at the Cleveland Clinic. He had been fighting esophageal cancer for a year. Recipient of a 1997 Cleveland Arts Prize and an Oberlin faculty member since 1988, Premru enjoyed an accomplished international career as a composer.





Jake Pressly - Jake Pressly [bio at this site]
- Jazz Improv
South Africa - Johannesburg, Gauteng


Olds Recording / Bach 12C
Jake Pressly was born in Scotland but moved to live in England while in his 'teens. Ian Menzies, of the Clyde Valley Stompers, had already come to rescue and guide Jake through his struggle with the trombone and when he arrived in Northamtonshire he started playing with bands in the New Orleans Jazz circle.






Julian Priester - Jazz Improv
USA - Chicago, IL
Julian Priester is a jazz trombonist who has played with a considerable range of more widely known artists including Sun Ra, Max Roach, Duke Ellington, John Coltrane and Herbie Hancock.






Larry Priori - Swing
USA - Downingtown, PA
Larry Priori, a fine trombonist from Jazz Explosion, BB from the Valley, West Chester, PA Philadelphia, Pa. area freelance trombonist Lead trombone, West Chester Swing Kings; Bass trombone, Audubon Jazz Explosion; Lead trombone, 2002 Escapade Dream Band.





Ronald Prussing - Classical
Australia - Sydney, New South Wales
Ronald Prussing: NSW Department of State & Regional Development Chair of Principal Trombone, Sydney Symphony Orchestra Ronald Prussing graduated from the Sydney Conservatorium of Music in 1974.





Katy Pryce - Classical
UK
Katy Pryce was born in 1979. She started playing the trombone aged 6 at Kirkby Lonsdale Brass Band and went to Chethams School of Music at 13. After studying Pharmacy at Manchester University, Katy joined the BBC National Orchestra of Wales on second trombone in 2001.





Arthur Pryor - Classical 1870 - 1942
USA
Arthur Willard Pryor (September 22, 1870 to June 18, 1942) trombonist, band leader and soloist with the Sousa Band. Pryor was born on September 22, 1870, on the second floor of the Lyceum Theater in Saint Joseph, Missouri. He first took up music at a very young age and was playing the valve trombone. >> Find-A-Grave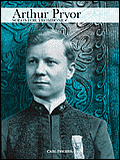 Jim Pugh - All Styles
USA - New York, NY


Presently playing Shires horns
Jim Pugh is a distinguished trombonist, composer, and educator. The inspiring virtuosity and wonderful versatility he has demonstrated during the course of his career has caused Jim to be often honored as the "musician's musician".






Randy Purcell - Jazz Improv
USA - Mifflin, PA
Randy Purcell was one the best trombonists in the Pittsburgh's music scene. Period. His lead trombone and solo work on Maynard Ferguson's band and the Glenn Miller band is legendary.





Michael 'Mike' Purdy - All Styles
USA - Pottstown, PA


Bach Canadian Brass / Bach 5G
Michael W. Purdy 1047 Spruce Street Pottstown, PA 19464 610-223-6631 Member Musicians Union Locals: 77, 78, 135/211 1991 - Present Freelance player in Philadelphia: Many performances with Al Raymond Orchestra including shows at the Philadelphia Civic Center, Carmen Dee Orchestra including shows.






Doug Purviance - Jazz Improv
USA - South Orange, NJ
Douglas Purviance has worked professionally in the United States and abroad for well over three decades. After raduating from Towson State University in 1975, he established himself during a two-year engagement, touring extensively and recording three albums, with the highly acclaimed Stan Kenton Orchestra. Douglas Purviance is the Orchestra Manager from the Village Vanguard Jazz Orchestra.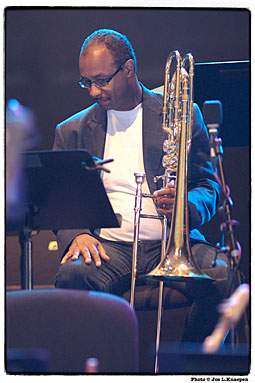 Copyright 2022 René Laanen - Trombone Page of the World
Please direct comments and questions about this web site to René Laanen ~ contact