E





Alois 'Lois' Eberl - All Styles - Alois Eberl [bio at this site]
Austria - Oberndorf, Tirol


Bach 42 G / Klier 4 F
Had 5 years classical trombone education and on the accordion "musical high school in Innsbruck", Tirol. Since the age of 19 he took jazz education.





Matthew 'Matt' Echols - All Styles
USA - Maryland, VA


Schmelzer
Matthew started playing the trombone at age 7. Upon graduating from High School he entered the U. S. Marine Corps. His musical training continued at the Armed Forces School of Music at Little Creek Naval Amphibious Base, Norfolk, Virginia, from where he graduated in May 1987.






Eddie Edwards - Swing 1891 - 1963
USA
b. May 22, 1891 - d. April 9, 1963 Edwin Branford "Eddie" Edwards was an early jazz trombonist, best known his pioneer recordings with the Original Dixieland Jass Band. Eddie Edwards was born in New Orleans, Louisiana, started playing violin at age 10, and took up trombone in addition at 15.





Brad Edwards - Classical - Brad Edwards [bio at this site]
USA - Phoenix, AZ
Brad Edwards teaches trombone at Arizona State University and continues as Principal Trombone with the South Carolina Philharmonic. Previously he taught at the University of South Carolina and the University of Northern Iowa. He has performed with the Air Force Band. He is best known for his pedagogical books including Lip Slurs, Lip Slur Melodies, The Trombone Craft series, the Simply Singing series and the Intermediate Trombonist.


USA - Phoenix, AZ





Dave Elford - All Styles
Canada - Toronto, Ontario


Yamaha YSL-697z / Bach 7C
After graduating with honours from Toronto's Prestigious Humber College, Dave spends most of his time performin g with the Royal Regiment of Canada military band. Playing with the Royals allows him to perform all over North America and overseas.





Peter Ellefson - Classical - Peter Ellefson [bio at this site]
USA - Bloomington, IN


CG Conn / Greg Black
Peter Ellefson joined the faculty of Indiana University in August 2002. Since his arrival in Bloomington, Mr. Ellefson has performed with the Indianapolis Symphony, the Chicago Symphony, the New York Philharmonic and the New York Philharmonic Brass Quintet.





Zachary 'Zach' Ellerbrook - All Styles - Zachary Ellerbrook [bio at this site]
USA - Norfolk, VA


Bach LT36BO / Giddings & Webster Chubasco
Trombonist, arranger, composer, bassist, euphonium(ist?), keyboardist, and trumpeter (but mostly just trombonit), Zach Ellerbrook has had quite an interesting career in music. A graduate of Southern Illinois University of Edwardsville with a Bachelor of Music in jazz performance/studio music.





Doug Elliott - Swing
USA - Silver Spring, MD


Schmelzer 1 (.500) / Doug Elliott XT LN104
Doug Elliott is a professional tenor and alto trombonist, brass teacher, clinician, and mouthpiece maker. A native of Silver Spring, Maryland, Doug was solo jazz trombonist with the USAF Airmen of Note from 1989 to 1996. He has recorded with the Bill Potts Big Band, the Bruce Gates Big Band, and the Airmen of Note.






Bob Enevoldsen - Jazz Improv 1920 - 2005
USA
Bob Enevoldsen has long been the perfect jazz player. Although best known as a valve trombonist, Enevoldsen is also a talented tenorman and has filled in on string bass too. He had mostly been a music teacher when he moved to Los Angeles in 1951 and became a busy studio musician, appearing on West Coast jazz.





John Engelkes - Classical
USA - San Anselmo, CA
A native of Iowa, bass trombonist John Engelkes joined the San Francisco Symphony in 1981. Prior to his arrival in San Francisco, Mr. Engelkes was a member of the Baltimore Symphony Orchestra and has also performed with the Minnesota Orchestra.





Caren Enloe - All Styles
USA - Fuquay-Varina, NC
Caren originally hails from Florida, and now lives in Fuquay Varina. She graduated from Appalachian State University with a BM in Music Performance. Caren won the Greensboro Young Artist Competition in 1986. She is also an alumnus of Campbell University, earning a JD (cum laude) in law.





Alexander Erbrich-Crawford - All Styles
Germany - Hamburg
Alexander Erbrich-Crawford has come to play the second of the two, in a sense, first voices in the trombone dialogue, including in Enrique's show-piece "Fogo da Mulata". As a new member of GERMAN BRASS.





James 'Jim' Erdman - Classical
USA - Mt Gretna, PA


Benge 190F / Schilke Witser
Principal trombone and soloist with "The President's Own" United States Marine Band, 1956-1976. Accepted into Marine Band at age 17 (second in age only to Sousa) succeeded Robert Isele as principal in 1961.





Matthew Erickson - All Styles
USA - Bellevue, NE


Shires Double Valve Bass / Griego .25 Deco
BME 2000 - University of South Dakota, Vermillion, SD Bass Trombonist with the USAF Heartland of America Band, Offutt AFB, Nebraska Performed with: Omaha, South Dakota, Sioux City, & Lincoln Symphonies, Nebraska Jazz Orchestra, Omaha Big Band, "Trombonisti" Trombone Quartet Guest Soloist with, UNL Trombones.





Tom Ervin - All Styles - Tom Ervin [bio at this site]
USA - Tucson, AZ


Yamaha
As one of the world's premiere trombonists in both the jazz and classical realms, Tom Ervin is a unique musical commodity. He travels widely as a sought-after clinician and soloist and has performed extensively world-wide. At The University of Arizona, Prof. Ervin is Professor of Trombone.





Dave Eshelman
- Jazz Improv
USA - San Diego, CA
Dave Eshelman (Director of Jazz Studies) B.S., University of Miami; M.A., CSU, Northridge For over three decades Dave Eshelman has been active as a trombonist, composer, arranger, big band leader, recording artist and jazz educator. Dave resides in the San Francisco Bay Area and founded the Jazz Garden Big Band.





Mattias Eskilsson - Jazz Improv [piano & trombone]
Sweden - Malmo
At age of 17 he started to join a number of big bands including the finest Swedish musicians and accompanying many world class soloist like f ex trumpeters Benny Bailey (member of Dizzy Gillespie and Clark-Boland big bands) Leif Ericsson (Duke Ellington) and famous singer and organ player Georgie Fame, gospel/jazz singer Etta Cameron and several Swedish stars. At the same time he begun education at Malmö Academy of Music, where he was graduated as teacher of brass instruments, classical trombonist and jazz pianist, -trombonist. Has been working in different bands like salsa bands and Brazilian band including the Brazilian singer Zandra Mara and also some classical/contemporary work at the Operahouse in Malmö, theaters, as a studio musician, pianoentertainer etc. Working nowdays as a freelancing musician playing the piano, keyboards, trombone, electricbass.





Dennis Esson - Jazz Improv
Canada - Vancouver, BC


Yamaha YSL697Z
Since moving to Vancouver in 1980, Dennis Esson has established himself as a highly respected and sought after trombonist for a wide variety of musical endeavors.





Robin Eubanks - Jazz Improv - Robin Eubanks [bio at this site]
USA - New York, NY


Yamaha
Robin Eubanks is a musician that is always looking to express and communicate his life through music. Currently, his primary means of doing this is by leading his band, Mental Images, performing with the critically acclaimed, multi-award winning, Dave Holland Quintet.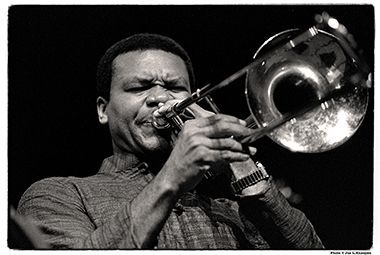 Edward Evans - Classical
USA - Atlanta, GA
Edward Evans is an award-winning trombonist who currently works as a freelance performer and private teacher in and around Atlanta, Georgia. He supports his music career with a day job as Technical Account Manager for Internet Security Systems.





Nick Evans - Jazz Improv
UK
Nick Evans has been one of the major exponents of the trombone on the British and European jazz scene during the last three decades. Of course, his main claim to fame in strictly Canterbury terms is his short stint in the legendary augmented line-up of Soft Machine in late 1969.





Steve Evens - All Styles
USA - New Braunfels, TX


Bach 42B / Yamaha 48
Played in Sinton High School Band 1971-1972. Played in New Braunfels High School Band from 1972-1975. Member of the Comal community Band June 1996-December 2004. Joe Rogers Big Band October 2003-Present Great Hills Baptist Church Orchestra July 2004-Present Our God Reigns (Praise Band).





Micah Everett - All Styles
USA Monroe, LA


CG Conn 88H
Doug Elliott XTGN105H8
Micah Everett, Assistant Professor of Low Brass at the University of Louisiana at Monroe, holds the Doctor of Musical Arts and Master of Music degrees from the University of North Carolina at Greensboro, and the Bachelor of Music Education degree from Delta State University. His primary teachers include Randy Kohlenberg, Dennis AsKew, and Edward R. Bahr. Before joining the ULM faculty in 2005, Everett held teaching positions at the University of Northern Iowa, Elon University, and UNCG.





Michael Eversden - Classical - Michael Eversden [bio at this site]
Netherlands - Groningen


Conn (Elkhart) 62H, 72H, 73H. Throja
Michael Eversden was born in England and studied bass trombone at the Royal College of Music under Gerry McElhone, bass trombonist with the Royal Opera, Covent Garden.





Thomas 'Tom' Ewigleben - Pop/Rock - Thomas Ewigleben [bio at this site]
USA - Brownsburg, IN


Bach Strad 36 / Parduba






























Copyright 2021 René Laanen - Trombone Page of the World
Please direct comments and questions about this web site to René Laanen ~ contact