O




Ben Oakley
- All Styles 1899 - 1980
UK
1899 Ben Oakley, trombone, b. Newcastle upon Tyne, U.K., d. Jan. 1980, Clapham-London, U.K. Henry Percival Benjamin Oakley. Ben played trombone with Jack Payne's Orchestra, and with Jack Hylton's Band - the 'Barnstormers', and others! He also played trumpet.



Ulrich Oberschelp - Classical
Germany - Wuppertal

Laetzsch Bass Trb. / Klier 1 1/2 G
Bass trombonist, Sinfonieorchester Wuppertal, Schwelm, Germany - Born 1969, since 1992 Bass Trombonist with Wuppertal Symphony Orchestra, several recordings on MDG, Bass Trombonist with Brass Partout, BIS-recording, Student of Heinz Fadle, Detmold, Germany.



Dean Olah
- All Styles
USA - Raleigh, NC
BA and MA in music education from the University of Toledo. Master of School administration from Campbell University. Currently performs with the Raleigh Symphony, Durham Symphony, the Fayetteville Symphony, the Raleigh Jazz Orchestra and the North Carolina Brass.



Robert 'Rob' Olds
- All Styles
USA - Denver, CO

Bach LT16M / Marcinkiewicz 11
Freelance Trombonist, Denver, Colorado.



Paul Olenick
- Jazz Improv
USA - New York, NY
Paul Olenick began playing the trombone when he was seven years old. Paul's teachers have included Jack Gale, Dave Taylor, Conrad Herwig, Steve Turre, Doug Elliot and Garry Dial. He has performed with Aretha Franklin, Robin Eubanks, Nelson Riddle Orchestra, Tommy Dorsey Orchestra, Les Elgart, Ray Anthony, and many more



James Olin
- Classical
USA - Baltimore, MD
James Olin was born in Schenectady, New York and began his musical studies on the piano at the age of five. Upon entering college, Olin had performed professionally within the diverse musical genres of symphonic, jazz, rock, soul/blues and country-western. Olin holds degrees from Interlochen Arts Academy.



Jerry Olson
- Classical
USA - Cheney, WA
Olds George Roberts / Bach 1GP
Grew up near Cleveland Graduated University of Cincinnati 1974 (BSEE) Always strive for the sound; if that's not there, there's nothing else. And my favorite, " The right note at the wrong time is the wrong note."



John Olsson
- All Styles
USA - New Philadelphia, OH
John Olssen is Artist-In Residence Instructor of Low Brass at Kent State University-Stark Campus and is the Instructor of Trombone/Euphonium at West Liberty State College, Malone College, Mount Union College and Youngstown State University?s Dana School of Music. Mr. Olsson holds the Bachelor's Degree in Music.



Takahiro Ono
- Classical -
Takahiro Ono
[bio at this site]
Japan
Takahiro ONO was born in 1977 in Fuji city / JAPAN. He started to play the Piano when he was 3 years old under Mrs. Takatsuka Haruko, then after that he learned under Prof. Ichida Gichiro. At his age of 16, he started to play the trombone. In 2000, he graduated from Tokyo College of Music.



Barry Oosterwaal
- All Styles
USA - Milwaukee, WI
Barry Oosterwaal, is originally from The Netherlands. He studied music at the "HAVO for music and dance" and general psychology at LOI Institute, the Netherlands. He came to the United States in 1991.



Jan Oosting
- All Styles -
Jan Oosting
[bio at this site]
Netherlands - Hilversum
Lead Trombonist, the Metropole Orchestra [and the Baileo Big Band], the Netherlands.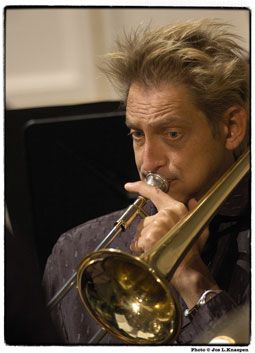 Nicholas Orovich
- Classical
USA
Nicholas Orovich holds the rank of Professor of Music at the University of New Hampshire, Durham, NH where he teaches trombone, euphonium, tuba, theory, and is the conductor of the Symphonic Band. Since 1979, he has held the position of principal trombonist with the Portland Symphony Orchestra.




Edward 'Kid' Ory
- Jazz Improv 1886 - 1973 -
Kid Ory
[bio at this site]
USA
Kid Ory was one of the great New Orleans pioneers, an early trombonist who virtually defined the "tailgate" style (using his horn to play rhythmic bass lines in the front line behind the trumpet and clarinet) and who was fortunate enough to last through the lean years so he could make a major comeback.




Keith Oshiro - All Styles
USA - Minneola, FL


King / Warburton
Keith Oshiro is originally from the San Francisco Bay Area, and currently resides in Central Florida. He received his Bachelor of Music degree form the University of North Texas, where he was a member of the internationally renowned One O'clock Lab Band. Aside from performing regularly at Walt Disney World.





Allan Ostrander - Classical
USA
Allen Ostrander (Former Bass Trombonist, New York Philharmonic)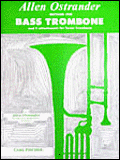 Olaf Ott - Classical
Germany - Berlin





Tom Otto - Classical
USA - Long Island, NY
Tom Otto was born in Milwaukee, WI and began studying the trombone at age 11. Tom actually began his musical studies on the cello at age 6, but decided to focus on trombone during his undergraduate studies at Wisconsin Lutheran College in Milwaukee, WI . In 2002, Tom received his BA degree from Wisconsin.






Bruce Otto - All Styles 1961 - 2011
USA - Studio City, CA
Bruce Otto began his career in his hometown of Chicago when he was 15. By the time he was attending DePaul University he was very much in demand playing radio and T.V. commercials and backing up performers such as Mel Torme, Tony Bennett and Nancy Wilson.





Yaron Ouzana - All Styles
Israel - Ramat-Gan


King 3B Silver Sonic / Stork T3
Jazz/Funk/Latin trombonist from Ramat-Gan, Israel - Studied at Amsterdam Conservatory and the Jerusalem Rubin Academy Plays jazz, world, funk and l atin.- Played in festivals in Holland and Belgium and Israel. Plays with trombonist/composer Avi Lebovich's Orchestra. Leads his own septet: Ouzana Afro-Jazz.





Carlos Ovejero - Classical
Argentina - Buenos Aires


Laetzsch Tenor / Denis Wick 4 Bl
At present, he performs as Principal Trombone in the Argentine National Symphonic Orchestra and in the Resident Orchestra of the Argentine Theater, position he held previously in the Symphonic Orchestra of Bahía Blanca, the Symphonic Orchestra of the University of San Juan.





Michael 'Michaelo' Overholser - All Styles
USA
New York, NY


Holton MF Superbone / Monette Prana TS11
Michaelo - a dynamic performer known for his stage presence and ability to wow crowds the world over, plays an MF Holton Superbone exclusively. Michael oddly enough never listened to trombonists growing up, rather, Maynard Ferguson. This contributes to his bold style of playing.





Roger Oyster - Classical
USA - Kansas City, MO
Roger Oyster, principal trombonist with the Kansas City Symphony. Oyster has also performed as principal trombone with the Atlanta Symphony, Detroit Symphony, Grant Park Symphony, Lyric Opera of Chicago, National Symphony, St. Louis Symphony and Grand Teton Music Festival Orchestra.






























Copyright 2021 René Laanen - Trombone Page of the World
Please direct comments and questions about this web site to René Laanen ~ contact