V





Gary Valente - All Styles
USA - New York, NY
Born in Worcester, Massachusetts in 1953, Gary Valente began trombone studies at age 8 with instruction from his father, Frank Valente. He attended New England Conservatory of Music in Boston, Massachusetts on a scholarship and studied trombone with John Coffey and composition with Jaki Byard.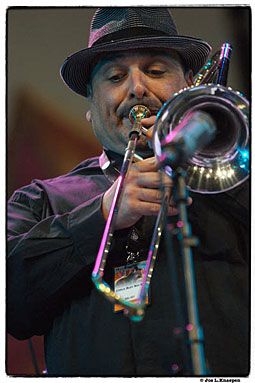 Martin Van Den Berg - All Styles
Netherlands - Hilversum
Martin is playing the bass trombone in The Metropole Orchestra in The Netherlands.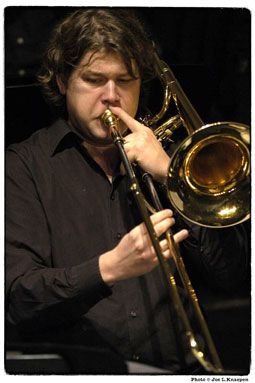 Patrick Van Den Hoven - All Styles
Netherlands - Assen


Laetzsch 242 / Laetzsch T4
Studied in Rotterdam with George Wiegel and Gerard Veldhuijsen. Graduated in 1994 and 1996 and started playing with the JWF millitary band as prinicipal in 1996. Since january 2005 principal of Royal Millitary Band" Johan Willem Friso".





Friedericke Van Der Meer - All Styles
Germany - Berlin, Berlin


King 6B / Marcinkiewicz 105
Freelance Bass Trombonist, Leader, Producer, Berlin, Germany - Member of Compass Big Band, Jazzorchester Prokopätz, wellBlech-Trombonequartett, and others (great artist, webmaster).





Rudolf Van Der Meulen - All Styles - Rudolf Van Der Meulen [bio at this site]
Netherlands - Delft


Willson 411TA / Bach 5G
His first teacher was Michael Woldinga.





Leo Van Der Steen - Swing
Netherlands - Maassluis, ZH


CG Conn 48H / Denis Wick 7cs





Greg Van Der Struik - Classical - Greg Van Der Struik [bio at this site]
Australia - Sydney, New South Wales


CG Conn 88 H, 75 H, 36 H / Schilke Tenor
Gregory van der Struik has been Principal Trombone with the Australian Opera and Ballet Orchestra since 1987 and a part time member of the brass faculty at the Sydney Conservatorium from 1993-2004. He studied trombone with Geoffrey Bailey and Arthur Hubbard at the Sydney Conservatorium.





Bas Van Der Werff - Classical
Netherlands - Huizen


Bach 50BG Thayer / Thein BB
Rotterdam Conservatory DM, UM, masterclasses by Lindbergh, Slokar, Bequet, Barron. Now playing in various ensembles in choir-accompagnieing, mostly RBO Sinfonia, also many Barok ensembles.






Frans Van Dyck - Jazz Improv 1923 - March 17, 2018
Antwerp - Belgium
Frans Van Dyck, aka 'Frankie Dake', is a Belgian jazz trombone player.



Ben Van Dijk - Classical






Piet Van Dijk - Classical 1920 - 2003
Netherlands
Piet van Dijk, former solo trombonist of the Marine Band of the Royal Netherlands Navy and the 'The Hague Philharmonic Orchestra'. - Van Dijk joined the Marine Band of the Royal Netherlands Navy in 1945 as solo trombonist and achieved the rank of Major before he went to the The Hague Philharmonic Orchestra as their solo-trombonist in 1957.. [René Laanen's former trombone teacher]





Jeremy Van Hoy - All Styles
USA - Colorado Springs, CO


Edwards Bass / Black and Hill 0
Bass trombone, Colorado Springs Philharmonic, Denver Brass, Irrational Exuberance.






Erik Van Lier - All Styles
Netherlands - Soest


CG Conn Hagmann dep. / Bach 1 1/2 G - CG Conn Pfeiffer Bb/F/D/B / CG Conn 88H
Erik van Lier ( born April 6 1945 in Haarlem, The Netherlands) started playing professionally at the age of seventeen in the Dutch Radio Big Band The Skymasters. As a representative of the Dutch radio company N.O.S. he played three times at the jazz workshop of the European Broadcast Company (EBU) in Germany.






Bart Van Lier - Jazz Improv
Netherlands - Huizen


Kuehnl & Hoyer
Bart has been teaching trombone at the Jazz-Light Music Department of the Conservatory Hilversum in the Netherlands, since 1980 and is teaching since September 1998 at the Jazz-Light Music Department of the Rotterdam Conservatory of Music. Since the 1970's Bart has worked with various jazz ensembles and orchestras.





Jasper Van Pelt - Jazz Improv - Jasper Van Pelt [bio at this site]
Netherlands - Lelystad, Flevoland


King Sonorous SB / Benge 61/2 AL-L





Jorgen Van Rijen - Classical - Jorgen Van Rijen [bio at this site]
Netherlands - Amsterdam


Courtois
Jörgen van Rijen is Principal Trombone at the Royal Concertgebouw Orchestra in Amsterdam. He is Professor of Trombone at the Rotterdam Conservatorium where he studied as a teenager.





Jos Van Den Heuvel - All Styles - Jos Van Den Heuvel [bio at this site]
Netherlands - Amsterdam
Jos worked with: Chuck Findley, Georgie Fame, Justin DiCioccio, John Clayton, Dick Oats, Ruud Breuls, Cor Bakker, Denise Jannah, Kenny Werner, NY Voices, Ed Partyka, Angelo Verploegen, John Ruocco, Charli Green, Erik van Lier, Peter Guidi, Henk Meutgeert, Bert Boeren, Jan Wessels, Rob Horsting, Rik Elings. Michael Abene, Lydia van Dam, Martijn Sohier, Travassi, Rene Laanen, ea.





Ronald Vandoninck - All Styles
Belgium - Oelegem
Ronald Vandoninck, studied trombone at the Royal Flemish Conservatory of Music , Antwerp, Belgium. He obtained first prices for solfege, trombone, chamber-music, harmony and music analyses. He is certificated for Art an Culture-management at the KU Leuven, Belgium.





Raphael Vang - All Styles - Raphael Vang [bio at this site]
Germany - Cologne


Bach 34 Mt.V + 42B / Bach 6 1/2 AL
Alto & Tenor Trombones, Cologne, Germany - Free lance Trombonist. Active in Ben elux. Born 1971 in Link÷ping, Sweden. Studied with Michel Becquet. At the moment active in several period- instrument ensembles in Europe. Plays mainly Alto trombone, but also tenor and Bass.





Jose Vasquez - Brass Band
USA - Vineland, NJ
Jose Vazquez, a resident of Vineland, NJ, is a December 2002 graduate from Rowan University with a degree in Music Education and a NJ certification for Teacher of Music K-12.





Matt Vaughn - Classical
USA - Haddonfield, NJ


Edwards
Matthew Vaughn joined the Philadelphia Orchestra in September 1999 as Associate-Principal Trombone. He was Assistant Principal and Acting Principal trombone of the San Antonio Symphony from 1997 through 1999. Prior to joining the San Antonio Symphony, Mr. Vaughn served in the United States Air Force Band.





Nark Vaughn - All Styles
USA


Yamaha
Nark is a critically acclaimed Trumpeter, Flugelhornist, Trombonist and exclusive Yamaha clinician from Washington, DC. With a career that includes nearly two decades as a member of the United States Air Force premiere jazz ensemble, the Airmen of Note, Vaughn has performed with many of the worlds finest orchestra.





Mario Vavti - Jazz Improv - Mario Vavti [bio at this site]
Austria - Vienna
Mario Vavti, born 1973 in Klagenfurt, Austria. At the moment living in Vienna, Austria. Working as freelance trombonist, composer and arranger.





Papo Vazquez - All Styles - Papo Vazquez [bio at this site]
USA - Bronxville, NY


King 3B / Bach 6 1/2 AL
Trombonist, composer, arranger Papo Vazquez has continued to write for big band orchestras, when not performing with his small group Pirates Troubadours. Papo, originally from Philadelphia, recently received a grant from the Painted Bride Art Center, in Philadelphia, to write music for an Afro Puerto Rican Band.





Vergère, Cédric - All Styles
Switzerland - Vétroz VS
Trombone and bass trombone soloist. Brass Band 13 Etoiles' bass trombone.
Study by Géo-Pierre Moren, and David Bruchez at Conservatoire de Lausanne. Then proficiency courses with Dany Bonvin, Armin Bachmann, Jacques Mauger and Christian Lindberg.





Jarod Vermette - Classical
Hong Kong - Hong Kong
Principal trombonist Jarod Vermette joined the Hong Kong Philharmonic Orchestra in 1996 at the age of twenty and soon afterwards performed Frank Martin's Ballade in a subscription concert. Vermette has also performed with the Boston Symphony Orchestra, Kyushu Symphony (Japan), Chautauqua Symphony to mention a few.





Charles Vernon - Classical
USA - Chicago, IL
Charles "Charlie" Vernon joined the Chicago Symphony Orchestra in 1986 as bass trombonist, coming from the Philadelphia Orchestra, where he had served in that same position since 1981.







Bill 'Billy' VerPlanck - All Styles
USA - Clifton, NJ


Bach Strad. 6 / Bach 15C
Producer, Composer, Conductor, Arranger and X-trombonist, Clifton, NJ





Teppo Viljanen - Classical
Finland
Bass trombone, Finnish Radio Symphony Orchestra, Finland





David Vining - Classical
USA - Cincinnati, OH


Selmer
Trombonist David Vining is a dynamic teacher and performer who has delivered hundreds of recitals and masterclasses nationwide to critical acclaim. Currently professor of Trombone at Northern Arizona University in Flagstaff, Arizona, Mr. Vining has also served on the faculties of the University of Kansas, the University of Cincinnati's College-Conservatory of Music and Temple University.





Fayyaz Virji - All Styles
UK - London, Aylesbury


Michael Rath / R1 Prototype - Bach 42 B / Monette - TS6
Trombone, Euphonium, Piano composer and arranger Fayyaz Virji is a well respected performer, composer, producer and teacher best known for his exceptional Trombone playing. Fayyaz Virji's touring, recording and performing credits include Tina Turner, Annie Lennox, Chaka Khan, Joe Cocker, Ray Charles, Paul Young, George Michael and Lauryn Hill. -Fayyaz's T.V, Radio and Film performances are extensive, including reputable performances on Top of the pops, The Tube and Radio One. -Fayyaz Virji continues to compose and arrange for radio, television and film along side his work with LCCM..




Michael Pierre Vlatkovich - All Styles
USA - Los Angeles, CA
Michael Vlatkovich, trombonist, composer, and arranger, is one of the leading talents among Los Angeles improvisational players. Located on the West Coast since 1973, he is an emotionally charged performer, comfortable in a variety of jazz and world music styles.





Jaap Voeten - Jazz Improv - Jaap Voeten [bio at tis site]
Belgium - Liege


King 3B / Bach 8C
Trombone player Jaap Voeten (NL, 1963) is specialized in various styles of bop, jazz dance and funk. Being an autodidact, he developed very much his own style. Living an Amsterdam and Hanoi in the past years, he now set base near Liège (B)/ Maastricht (NL). His current band is Don't Git Sassy!





Robert Vogelsang - Jazz Improv - Robert Vogelzang [bio at this site]
Canada - Ottawa, Ontario


Shires Jazz 500-508 Dual / Marcinkiewicz Whigham
Favourite Trombone of Choice: Shires Jazz Trombone made by Steve Shires at S.E. Shires Co. Custom Brass Instruments, 4A Spaceway Lane, Hopedale, MA 01747 (special thanks to Gabe Langfur for his incredible patience)





Reto Vogt - Classical
Switzerland - Nunningen
Reto Vogt (Tenor) studied trombone with Heinrich Huber at the Musikhochschule der Musik-Akademie der Stadt Basel. Besides teaching trombone at the Music School Binningen and the Basle Boys Band, he conducts the Regional Youth Band in Reigoldswil, and the community bands in Reigoldswil and Binningen.





Pierre Volders - Classical - Pierre Volders [bio at this site]
Netherlands - Rotterdam, ZH


Courtois Challenger II / Courtois Bequet 5 L
Studied from 1990 till 1998 at the Rotterdam Conservatory with Georg Wiegel. Followed masterclasses with Michel Bequet, Roger Bobo, Victor Sumerkin, Philip Jones. Became prinipal trombone from the Dutch Ballet Orchestra in 1995. In 1997 I became principal trombone of the Rotterdam Philharmonic.





Helen Vollam - Classical - Helen Vollam [bio at this site]
United Kingdom


Conn 88H Rose Brass Bell / Standard Slide Denis Wick 5ABL


King 608F Rose Brass Bell Lightweight Slide Denis Wick 6BS
In 2004 Helen was appointed Principal Trombone of the BBC Symphony Orchestra, and is the first female trombonist ever to hold the position of principal trombone with a London Orchestra. She is also a member of the Chamber Orchestra of Europe and often works as a guest principal with orchestras across the UK..





Jonathan Voltzok - All Styles
USA - New York, NY
Born in Israel in 1983, Jonathan Voltzok started playing the trombone and euphonium when he was 6 years old. At 15, Mr. Voltzok has already worked professionally with some of the major names in the Israeli music scene. Mr Voltzok has been a scholarship recipient from the America-Israel cultural foundation since 1994.Currently Mr. Voltzok performs and tours with the legendary trombone player Slide Hampton and is one of the must in demand trombone players in the New York scene.
In addition Mr. Voltzok is dedicated to leading his own group joined by today's leading musicians. Mr Voltzok has recently released his debut album "More to Come", featuring Aaron Goldberg, Barak Mori, Ali Jackson, and special guests Slide Hampton and Antonio Hart.





Jay T. Vonada - All Styles - Jay T. Vonada [bio at this site] - Jay T. Vonada [CD Baby]
USA - Aaronsburg, PA
Jay, who is a musician in the central region of Pennsylvania, plays in several bands. They are all diverse in their musical styles. Although music is not his full time profession, he spends hours practicing and performing in a variety of settings, from pit orchestras, to jazz combos, to big bands. The CD will feature 8 original compositions, from Swing to Latin to Funk.
Jay has had the privilege of playing with vocalist Catherine Dupuis, pianist Russ Kassoff, bassists Martin Wind and Jay Anderson, and drummers Tim Horner and Dennis Mackrel at the PA Jazz Festival from 2005-2008.





Alex Voros - All Styles
Canada - Toronto
Alex Voros has held the Bass Trombone chair with the Toronto Philharmonia since 1980. He holds a B.F.A. (Music) from York University and a Bach.Ed. from F.E.U.T. Toronto. His principal teachers were Donald Miller, and Fred Boyd. Alex has also performed with the Ice Capades Orchestra.





Jacques Voyemant - All Styles
USA - Los Angeles, CA
Jazz trombonist Jacques Voyemant is currently in his eighth year as adjunct professor in the areas of jazz trombone, improvisation, jazz chamber music and jazz brass master classes. Establishing himself as a leading trombone soloist, educator and composer.






























Copyright 2021 René Laanen - Trombone Page of the World
Please direct comments and questions about this web site to René Laanen ~ contact