CLIFF STARK



This page is updated: October 14, 2020 9:29 AM

(Retired) Lead/Jazz Trombonist, Las Vegas, Nevada.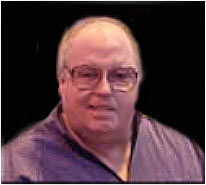 Cliff Stark was born in Riverside, California ( USA ) on December 21st, 1937.
After studying piano and violin (neither of which he was fond of) he was playing string bass in the Central Junior High School Orchestra. While in Junior High, he went to see a concert by the Riverside Polytechnic High School Concert Band, and he knew his destiny.
His Junior High Orchestra teacher, Bernice Richmond, stopped by Cliff's house with a trombone in a case. She took it out, showed Cliff how to put it together, and went over to the piano and played an F above middle C. She asked Cliff if he could play that note. That F was the first note Cliff played, and he never looked back until January of 1976 when he was stricken with a left facial neuroma that required an operation which permanently paralyzed the left side of his face, but saved his life. In the intervening time, he became first chair of the Riverside Poly High School Band, and won a music scholarship to Arizona State University, which he turned down because he wanted to be a trombone player rather than a music teacher.

Cliff Stark worked (for years) at:
Caesars' Palace, The Desert Inn, Flamingo Hotel, Tropicana hotels in Las Vegas.

Cliff worked with: Airmen of Note, USAF Band, Frank Sinatra, Tommy Turk, Bennie Green, Carl Fontana, Bill Harris, Bob Fitzpatrick, Frank Rosolino, Jim Trimble, Dave Wheeler, Bill Rogers, Bill Smiley, Marty Harrell, Dick Nash, Bill Tole, Bobby Shew, Archie LeCoque, Sammy Nestico, Milt Bernhart, and with with Si Zentner at the Tropicana Hotel.
While still in his teens, he worked professionally with a Pee Wee Hunt style Dixieland Band at a night club in San Bernardino, California called The Bankers' Club. He had to obtain permission from the vice squad in San Bernardino to work in the club because he was underage for a liquor establishment. While in High School, Cliff studied with the lead trombone player at Paramount Studios, Tommy Bassett, who had a ranch in Riverside. Tommy would let Cliff go along on some of the studio dates to watch. Cliff also worked in a Latin band, "The Raul Sanchez Orchestra" with players like Dominic Felicetta, Louis Valizan, and Ray Ashe.
Cliff worked in a music store in San Bernardino and was responsible for ordering some of the records.
He heard an album called, "The Brothers Nash" featuring Ted Nash on all the woodwinds, and Dick Nash on trombone.

He also ordered the Dick Nash recording of "Nirvana" with the Ken Hanna orchestra.
Cliff then looked up Dick's name in the Los Angeles Musicians' Union directory and called Dick and asked if he could possibly study with him. Dick accepted Cliff as a student, and every week, Cliff would put his trombone on his motorcycle and ride in to Tarzana, California where he and Dick would play duets, swim, and then play some more. One of the very highest points in Cliff's life was when Dick Nash invited Cliff to a private party at Dick's house where the guests were:
Frank Rosolino, Urbie Green, Billy Byers, Dave Wells, Bob Fitzpatrick, Gil Falco, Lew McCreary, Paul Tanner, Harold Diner, Jim Priddy, Tommy Pederson, Vern Friley, John Halliburton, Pete Carpenter, Dick Lief, Lloyd Ulyate, Ray Kline, Tommy Shepard, Hoyt Bohannon, Barney Liddel, Kenny Trimble, and Bill Moffitt.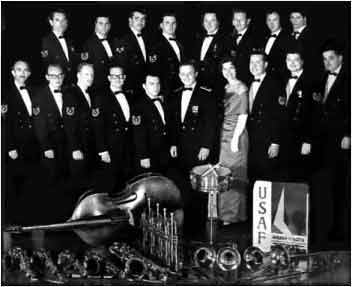 Cliff Stark (top row 4th from the right) with the Airmen of Note

Being still too young to play professionally, Cliff was watching Dick Nash playing in the band of a local TV show.

Cliff walked across the street to an Air Force recruiting office and signed up. When he returned to the TV studio where Dick was playing, the whole band played "The Air Force Song" for him. Cliff was sent to the Strategic Air Command Headquarters Band in Omaha, Nebraska upon completion of his basic training. He was featured with that band with his solos of "Night Train" and "Street Scene" which were arranged especially for him. After a couple of years with that band, a vacancy in the lead chair of "The Airmen of Note", the official United States Air Force Dance Band opened up and a guitar player with that band, David Mendenhall, who knew Cliff, recommended him for the job.Cliff was flown to meet the band at a performance in the midwestern part of the country where he auditioned "live" and was accepted.

This was in 1960. Cliff later occupied both the lead and jazz chairs of The Airmen of Note.
Tired of the endless traveling schedule, Cliff decided to not make a career out of the Air Force, but to try his luck in Las Vegas, Nevada, where some previous members of The Airmen of Note were already making a good living in the house orchestras.



After moving to Las Vegas, Cliff found work at The Desert Inn Hotel with the Carlton Hayes Orchestra playing in the main showroom. There, in addition to working in the production show, "Hello America", he also worked with Jimmy Durante, Rosemary Clooney, Debbie Reynolds, Danny Kaye and Phil Harris. Phil Harris carried his own Dixieland group with him consisting of Nick Fatool on drums, Clyde Hurley on trumpet, Matty Matlock on clarinet, Eddie Miller on Tenor Sax, and Cliff got to take the trombone spot! Cliff's first love was Dixieland Jazz, and here, he was in heaven.
After Caesars' Palace opened, the Desert Inn was preparing to go into another production show, and Charlie Loper, the lead trombone player at Caesars' was moving to Los Angeles. Cliff was selected to replace Charlie, and it was at Caesars' that Cliff got to play with almost everyone he had every heard of. Cliff never wanted to try the studios, because he had always enjoyed live performing. Studios didn't interest him, and he never considered himself so much of a contemporary jazz player that he would ever make much of a contribution to the recording industry.
Las Vegas was made to order for Cliff. Below is a partial list of the performers that Cliff Stark worked for and with, including some Broadway shows that were brought to Las Vegas for six month runs at Caesars' Palace:
"Fiddler On The Roof" Theodore Bikel, Luther Adler
"Mame" Celeste Holm, Susan Hayward
Ed Sullivan TV shows live from Caesars Palace and live from Circus Circus
Nancy Sinatra TV Special
The Carol Burnett Show from Caesars Palace
"Lido de Paris" at the Stardust Hotel
"Casino de Paris" at the Dunes Hotel
"Folies Bergere" at the Tropicana Hotel
"Music Man", "Promises, Promises" and "Hello, Dolly" at the Union Plaza Hotel
Frank Sinatra, Nancy Sinatra, Andy Williams, The Osmond Brothers, Shirley MacLaine, Juliet Prowse, Milton Berle, Judy Garland, Ella Fitgerald, Tony Bennett, Sammy Davis Jr. Billy Eckstine, Anthony Newley.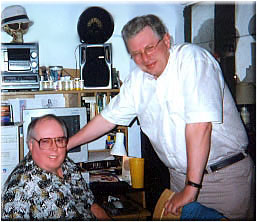 Cliff Stark with René Laanen (Las Vegas, June 2001)
-

Copyright 2020 René Laanen - Trombone Page of the World
Please direct comments and questions about this web site to René Laanen ~
contact