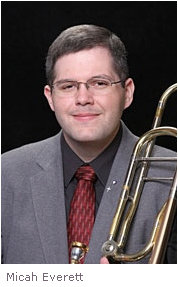 Micah Everett, Assistant Professor of Low Brass at the University of Louisiana at Monroe, holds the Doctor of Musical Arts and Master of Music degrees from the University of North Carolina at Greensboro, and the Bachelor of Music Education degree from Delta State University. His primary teachers include Randy Kohlenberg, Dennis AsKew, and Edward R. Bahr. Before joining the ULM faculty in 2005, Everett held teaching positions at the University of Northern Iowa, Elon University, and UNCG.
An active recitalist, orchestral, and chamber musician on alto, tenor, and bass trombones, and euphonium, Everett is Principal Trombonist in the Monroe Symphony Orchestra and trombonist in the Chamber Arts Brass. He was previously Principal Trombonist in the Waterloo-Cedar Falls Symphony Orchestra and trombonist in the Northern Brass Trio, and has also performed with the Louisiana Lyric Opera, the Shreveport, South Arkansas, Delta, Mississippi, Cedar Rapids, North Carolina, Greensboro, and Fayetteville Symphony Orchestras, the Choral Society of Greensboro, the Nelson Riddle Orchestra, the Bill Shepherd Big Band, the Equinox Jazz Orchestra, the Louisiana Big Band, the Twin City Concert Band, the Russ-Town Band, the Waterloo Municipal Band, the Market Street Brass Quintet, and pit orchestras for numerous shows and other programs.
As a soloist Everett won the National Solo Competition (Tenor Division III) at the 2003 Eastern Trombone Workshop, and was a finalist in the Frank Smith Solo Competition at the 2003 International Trombone Festival in Helsinki, Finland, and the 2003 Houston Symphony-Ima Hogg Young Artist Competition. He has appeared as a featured soloist with the Monroe, Raleigh and UNCG Symphony Orchestras, the UNCG Symphonic Band, the UNI Wind Symphony, the Waterloo Municipal Band, the ULM Jazz Ensemble, the ULM Wind Symphony, and the Twin City Concert Band. He has appeared as soloist, clinician, and/or conductor at the Mid-South Regional Tuba-Euphonium Conference, the Big XII Area Universities Trombone Conference, the South Central Regional Music Conference, and the Eastern Trombone Workshop. His arrangements for low brass have been published by Cimarron Music Press and TAP Music.
Everett is an active member of the International Trombone Association, currently serving as Editor of Audio/Video Reviews for the ITA Journal. He is also a member of the International Tuba-Euphonium Association, the Historic Brass Society, MENC, the National Association of College Wind and Percussion Instructors, the Christian Performing Artists' Fellowship, and the Pi Kappa Lambda, Phi Kappa Phi, and Phi Eta Sigma National Honor Societies. In June 2007 he was awarded the Roger DiGiulian Lifetime Musician Award by the Monroe Symphony Orchestra.
In addition to his many and varied professional activities, Everett attends Providence Reformed Bible Church in West Monroe, and serves as President of the Ouachita West Camp of The Gideons International.
Micah Everett is an Artist/Clinician for Conn-Selmer, makers of his Conn, King, and Benge trombones.