BRIAN RABY



This page is updated: October 15, 2020 1:07 PM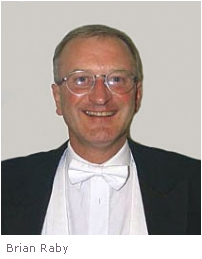 Brian Raby studied with Denis Wick, was principal trombone with the Orchestra of Welsh National Opera for over twenty years and was Musical Director of the Welsh Brass Consort. From 1994 until 2006 he was a member of the trombone section of the world-class London Philharmonic Orchestra, playing on countless recordings and films, including The Lord of the Rings trilogy. He left the LPO in 2006 to concentrate on chamber music, freelancing, teaching, writing, publishing, cycling and his directorship of Alaw Music Publishing.
As a freelancer Brian has worked extensively with the Chamber Orchestra of Europe, the London Symphony Orchestra, the Philharmonia Orchestra, the BBC National Orchestra of Wales and the Orchestra of the Royal Opera House, Covent Garden, playing the bass trumpet in numerous cycles of Wagner's Ring as well as other operas. In addition he plays at the prestigious Longborough Festival Opera, which is currently unfolding the Ring, conducted by the great Wagnerian, Anthony Negus.
Brian has coached at numerous youth orchestra courses, including the National Youth Orchestra of Great Britain and the National Youth Orchestra of Wales. He is a prolific arranger for brass and his work has received the highest critical acclaim.

-

Copyright 2020 René Laanen - Trombone Page of the World
Please direct comments and questions about this web site to René Laanen ~
contact