Erik Van Lier -



Erik van Lier (born April 6 1945 in Haarlem, The Netherlands) started playing professionally at the age of seventeen in the Dutch Radio Big Band The Skymasters.
As a representative of the Dutch radio company N.O.S. he played three times at the jazz workshop of the European Broadcast Company (EBU) in Belgrade, Sarajevo and Pori and once at the European broadcast competition 'Nordring' in Dublin.
During the Loosdrecht Jazz Festival in 1970 he participated in a 'trombone battle' with Slide Hampton, Ake Persson, Urbie Green, Kai Winding and Frank Rosolino.
In 1974 he received a grant from the Dutch government to study with George Roberts 'Mr. Bass trombone'. During his stay in the U.S.A. he also studied with Paul Faulise, Phil Teele, Alan Raph and Edward Kleinhammer, the bass trombonist of the Chicago Symphony. Ed Kleinhammer liked Erik's custom-made bass trombone (Bflat-F-D-B) so much that he had a copy made by Shilke, which he played till the end of his career.Currently Erik is playing a 1962 Conn72H converted by Rene Hagmann with his valves and the vibrant bell set up.
Erik was the bass trombonist of the legendary Kenny Clarke-Francy Boland big band. He played in the Slide Hampton- Joe Haider big band (bass bone and F-tuba), the Mel Lewis-Joe Haider big band and with Thad Jones' 'A Ball of Fire'.
Currently he is playing with the Peter Herbolzheimer big band and 'Bart's Bones', the trombone quartet of his brother.
Erik was featured with his brother Bart at the workshops of the International Trombone Association (I.T.A.) in Nashville (1987), Eton (England) in 1989 and in Utrecht (the Netherlands) in 2000.
At the Amsterdam Conservatory, which has the largest jazz department in Europe, he teaches bass trombone, leads some combo's, an octet and the two big bands and teaches all first year students how to swing.
Erik is a frequent guest teacher with the Bujazzo, led by Peter Herbolzheimer, the Landes Jugend Jazz Orchester Hessen led by Wolfgang Diefenbach and the big band of the Graz University led by Sigi Feigl. He did also a workshop with the Royal Airforce Band and performed as a soloist with the Royal Marines Band.
Erik can be heard on recordings of the Kenny Clarke- Francy Boland big band, the Peter Herbolzheimer big band and on the special brass album First Brass, M-A music, Hamburg.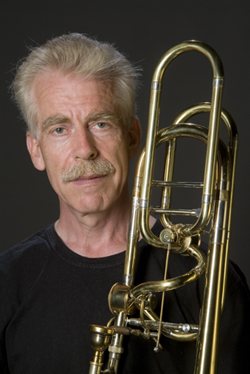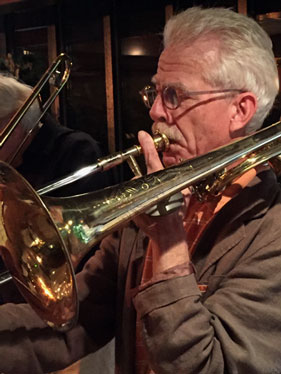 Dear Bass Bone Brothers, I would like to share some experiences with you.
When I started to play bass trombone professionally in 1962, there was only one double valve horn on the market: 'the Reynolds.' It had a very large bell which was made of red brass. For big band playing both (large bell and red brass) are not ideal for blending with small bore tenor trombones that are used most of the times in big bands. Therefore I didn't care to buy one.
In 1969, I was corresponding with Tony Studd, a great bass trombone player who developed, together with another great bass bone player, Paul Faulise, the Conn double-valve bass trombone. I remember he was observing that the D horn was a bit stuffy. When I received my Conn double valve, the D plug had a very sharp bend at the end which was indeed making it stuffy. Larry Minnick, who converted many bass trombones in an excellent way, made a D plug for me with a much wider loop that really improved the horn, but I was not still satisfied with my low B.
After noticing that Larry's wide loop made such a big difference, my conclusion was that in order to achieve a better B, I had to take out as many sharp bends as possible. I went to my repairman, Ruud Pfeiffer, who's father had been making French horns for The Residence Orchestra of The Hague. My idea was to be able to play the low B going through just one valve and therefore cutting out at least two bends for going in and out of a (second) valve. So the second valve should be D by itself. Ruud built the horn, using old sketches from his father, in the style of the German trombones: the tubing is going backward and forward like the shape of an 8 on its side (the Reynolds had that too). All in all I had 5 bends less in comparison with my normal set up and it resulted in a much better low B.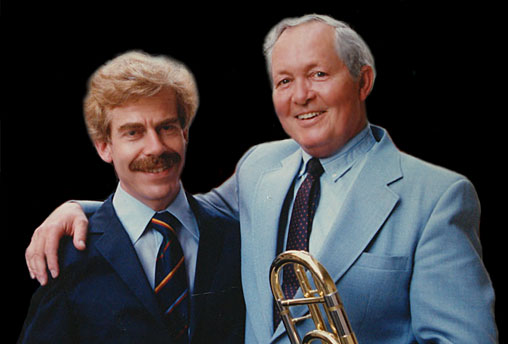 Erik van Lier | George Roberts

In 1974, I received a grant from my government to study with my great inspirator, Mr. Bass trombone, George Roberts. First I went to New York and was able to meet some very fine bass trombone players: Tommy Mitchell, Dick Lieb, Tony Studd, Allen Ostrander and I had a lesson with Alan Raph who designed the King 7 B, a good horn with unfortunately a bit too small bore in the valve section to enable a fat sound in that register. I also took lessons with Paul Faulise who has the fantastic ability of playing the whole range of the instrument using one embouchure, producing a very good sound without shifting. The lessons with Carmine Caruso were very interesting too.
My good friend Bobby Burgess had arranged the contact with Edward Kleinhammer of the Chicago Symphony for me. What an inspiring man! Ed had developed years ago the forerunner of the double-valve bass trombone and he completely flipped when he saw my horn. Because my second valve in D was tuned a bit sharp I could play a low B also in first position with two valves. That knocked him out. He asked me for permission to copy my design, and after my approval he said: "We, bass trombone players, we should stick together." I took many pictures of my horn and left them with Ed in order to show the workmen of the Shilke shop the configuration of my tubing.
After my lessons with Ed, I moved to California, where I had the chance to meet more great bass trombone players: Barrett O'Hara, Ernie Tack, Kenny Shroyer, Jeff Reynolds, Don Waldrop, and where I had a very interesting lesson with Phil Teele, and most enjoyable and inspiring encounters with George Roberts.
On my way back to Holland I made a stopover in Chicago in order to see Ed's new horn. The double valve in line had made the open horn a little brighter in sound and Ed had the bell gold plated to make it a bit darker because he would like to have a good blend with the big York tuba of Arnold Jacobs. He has played this copy of my instrument till the end of his career. The drawback of the double-valve in line, as also noticed by Ed, is that you really intrude on the conical shape of the "gooseneck" (the taper that starts right after the slide).
The famous René Hagmann Valve
[move mouse arrow over picture]
So my next conversion, in order to have a better airflow, was a double-valve bass bone with two Thayer valves made in very nice way by Franz Mondschau, the master craftsman that nowadays works with Haag. Franz did a great job, but the Thayer valves created a rather spread sound that was not suitable for blending in with the small bore tenors in the big band. So I thought I would give it another shot and asked Franz to convert another old Conn in such a way that my first valve was the original valve and the second valve was a dependent (not in line) Thayer valve. Although Franz delivered superb work again, I did not like it. But finally I found what I have been looking for for many years. I went this week to Geneva and had a great time with a superb craftsman with a great imaginative mind who is only satisfied with the very best solution: René Hagmann.

Because René was aware of the negative effect of a valve on the taper of the gooseneck he came up with a splendid, yet very logical and "simple" solution. He made a taper in the tubing of the valve that goes through the open horn, thus enabling a continuing taper of the gooseneck. René made for me the dependent version because I want to affect the open horn as little as possible. He can, however, make the second valve with an even more progressive bore in the open horn section so that the taper also stays consistent with two valves in line. It takes at least seven steps with different steel balls to make this progressive bore in the valve, and all this work is done in the same way that is also characteristic of the famous Swiss watch industry: with patience, perseverance, precision and perfection. The result is a very good open horn section and a very good valve section, even with both valves because his great valves have no distortion at all in the air column. On top of this he installed the vibrant bell system on my horn, a system that enables the bell to vibrate more freely but yet is flexible in its use because you can adjust it different ways. So you can also make it as sturdy as a fixed bell support and yet have the advantage of trying out different bells on your horn. My experience is that the vibrant bell is indeed more vibrant. I like it!
So with many years of experience in playing in trombone sections with people like my brother Bart and Jiggs Whigham, I could advise bass bone players that play big band music: Get an old Conn and convert it the same way I did and you will make the members of the trombone section and the bandleader very happy, and at the same time, you will have much fun with the ease with which you can play this instrument, and your ears will be very pleased with the sound you are producing.
I wish you good luck!
Your bone brother,

Erik van Lier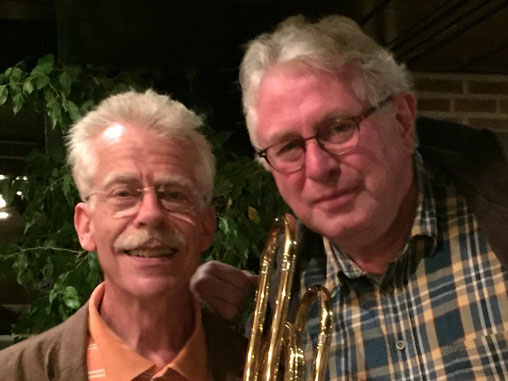 Erik van Lier & René Laanen - October 2015



|


Copyright 2022 René Laanen - Trombone Page of the World
Please direct comments and questions about this web site to René Laanen ~ contact