RODGER FOX



This page is updated: October 17, 2020 11:36 AM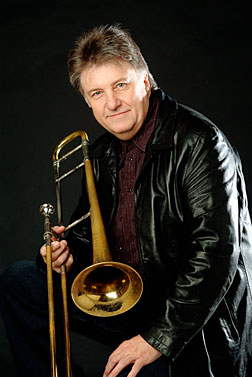 Rodger Fox
New Zealand's foremost Jazz Trombonist, Big Band Leader, Jazz Educator, Arranger and Producer.
Performance History
He has performed in concert with some of the biggest names in the business, from the jazz and entertainment world, including Michael Brecker, Bill Reichenbach Louie Bellson, Jim Pugh, Irv Wagner, The University of Oklahoma Trombone Ensemble, Tom Warrington, Joe LaBarbera, Larry Koonse, Chuck Findley, Randy Crawford, Bobby Shew, Lanny Morgan, Bruce Paulson, Diane Schuur, Arturo Sandoval, David Clayton - Thomas, Joe Williams, The Four Tops - Temptations, Gary Grant, Jon Papenbrook, Bill Cunliffe, Holly Hofmann, Kevin Mahogany to name but a few.
Rodger has promoted live concerts with his Big Band in the Global Festival arena, Montreux Jazz Festival, Monterey Jazz Festival, Manly Jazz Festival, Wichita Jazz Festival, The International Association of Jazz Educators Concert 1997 & 1999 and concerts in London, Singapore, Australia, Poland and the USA
Recording History
Recorded some 27 albums/CDs including two live recordings at the Montreux Jazz Festival, one at the Vanguard Studio's in New York City which featured premier jazz artists Guitarist John Scofield, Bassist Ron McClure and Trumpeter Tom Harrell. Other recordings have featured performances by Bobby Shew, Bill Reichenbach, Gary Grant, Bill Cunliffe, Jon Papenbrook, Tom Warrington and Steve Houghton, Randy Crawford, Bill Cunliffe, Tom Warrington, Joe LaBarbera, Larry Koonse plus a host of New Zealand stars.
International Releases:
All 24 CD's have been released into Australia.
Rodger Fox and Bill Reichenbach CD - Released into the USA on Summit Records
The Rodger Fox Big Band - "Ain't That the Truth" - Released into the USA on Cadence Records.
The Rodger Fox Quartet - "Back To Being One" - Released into the USA , UK and Australia - on Cadence Records
The Rodger Fox Big Band - "A Rare Connection" Released in the USA on Tap Records.
The Rodger Fox Big Band - "Warriors" Released into the USA on Tap Records
The Rodger Fox and Midge Marsden - Released into the USA on Tap Records
Winner of the New Zealand Jazz recording of the years in 1981 2000 and 2004. Finalists 1984, 2001 and 2008

Contact:
RodgerFox,POBox78-094,GreyLynn,Auckland,NEW ZEALAND.
Email: rdfox@ihug.co.nz
Phone 64 - 9- 376 2552, Fax 64 - 9- 376 4336
Website: www.rodgerfox.co.nz




Copyright 2020 René Laanen - Trombone Page of the World
Please direct comments and questions about this web site to René Laanen ~ contact