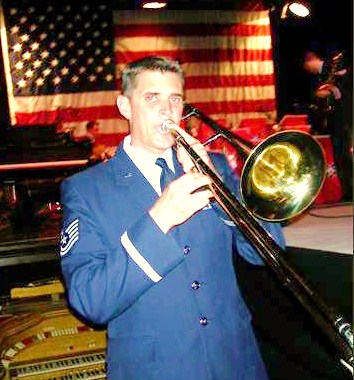 Leader (NCOIC) of the USAF Shades of Blue Jazz Ensemble, Scott AFB, IL
Steve Frioux was born in 1965 and began playing trombone at the age of 10 in New Iberia, LA. He entered the USAF in 1990 after earning a BM at University of Louisiana, Lafayette. After joining the AF he was stationed at Scott AFB, IL and was prominently featured as principal trombonist with the Concert Band, lead/solo trombonist with the Shades of Blue Jazz Ensemble and Starlifter Rock Band.
Steve was assigned to the USAF in Europe Band in Germany from 2001-2003 where he performed exclusively with the USAF Jazz Ambassadors as lead trombone and soloist. While performing with the Jazz Ambassadors, he toured Italy, Germany, France, Austria, Switzerland (Jazz/Band Fest), Luxembourg, Belgium, Denmark, Norway, Netherlands, UK, Ireland (Cork Jazz Fest), Azores, Bosnia, Kosovo, Macedonia, Croatia and Azerbaijan (Baku Jazz Fest).
After returning to Scott AFB, Steve deployed as trombonist with the USAF Academy Rock band Blue Steel, performing in Qatar, Kyrgystan, Bahrain, Djibouti, Afghanistan and Iraq. Shortly after returning to the US, he was charged with leading and the groundbreaking group "Hot Brass" which incorporated brass instruments with a rhythm section to perform the most current commercial musical format. Steve also shifted his energies to arranging for the group to best exploit each individuals strengths/experiences. The result produced a group capable of performing a
vast array of musical genres in the jazz/latin/commercial/classical/folk/brass band realm - a musical 'gumbo' of
the various talents of the USAF.
He has performed with Buddy DeFranco, Butch Miles, Bobby Watson, Maynard Ferguson, Ed Shaughnessey, Bobby Shew, Mike Vax, Tom Kennedy, Steve Smith, Tom Coster, Jerry Coker, Jeff Jarvis, Jamie Aebesold, Jimmy Dorsey Orch, Michael Feinstein, Tony Orlando, Clint Black, Martha and the Vandellas, Tito Rojas, and Anacani.
Steve's personal jazz style is a result of his Cajun/Creole/Funk/Zydeco/Soul/Rhythm and Blues environment in south
Louisiana. He can be heard with groups throughout the St Louis, MO area, the Mid-West and South Louisiana and has recorded extensively with the USAF Bands. He has studied with Kenny Brantley and Bob Schmalz.
He currently serves as NCOIC and Musical Director of the USAF Shades of Blue Jazz Ensemble at Scott AFB, IL.