RICHARD LOPEZ



This page is updated: October 16, 2020 1:52 PM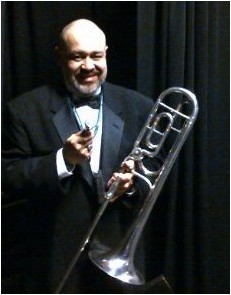 Richard began his start in the Denver Public Schools music program, playing trombone in such groups as the prestigious C.E.C. Honor Jazz Combo and the Colorado All-State Jazz Ensemble. As a teenager he played with jazz contemporaries Greg Gispert and Javon Jackson and studied jazz under the direction of trombonist Jerry Barnett, jazz educator Dr. Willie Hill (IAJE) and jazz pianist Neil Bridge.

Above all the great musical influences that Richard had over his childhood, his father, Lou Lopez (1927 to 1999), who actively played the tenor sax, flute and bass, carried an important role along with tons of encouragement from his mother, Irene Lopez (Denver, CO). After high school, Richard received a music scholarship to study music at the University of Nevada, Las Vegas and studied under the teaching of Professor Frank Gagliardi and renowned world trombonist Bobby Scann.

As a student, Richard was fortunate to play with many entertainers and musicians from both Las Vegas and Los Angeles. These entertainers include such artists as Joe Williams, Marlena Shaw, Carl Fontana, Gus Mancuso, Walt Blanton, Bobby Shew, Carl Saunders, Chuck Findley, Sal Marquez, Santo Savino, Carson Smith, Scott Tibbs, Louie Belson, Don Menza, Jimmy Cook, Buddy Yeager, Raoul Romero, Bobby Shew, Si Zentner Big Band, Tony Orlando and Dawn, Wayne Newton, Rich Little, Del Shannon, Mary Wells, Sam and Dave, Pete Barbutti, Jimmie Walker, Robert Guillaume, Tex Richardson, Nancy Wilson, Pieces of Dreams and the Solid Gold Dancers. He also performed for the nationally broadcast show Alan Grant's Monday Night Jazz at the Las Vegas Four Queens Hotel and was invited to guest perform at the 76 Trombones +4 annual concert in 2002.

During the early-mid eighties, one of his greatest experiences as a young and up-coming musician was going to the Las Vegas Musician's Union on weekend nights until the early morning hours and listening and playing with the greatest jazz musicians in the world.

Since moving to the Northwest in 1996, Richard has continued to perform with such great national and local artists such as Natalia Cole, Jerry Lewis, Frank Sinatra Jr., Bob Newhart, the O'Jays, William Kennedy (Yellowjackets), Pete Christlieb, Larry Harlow, Julian Priester, Joe Baque, Bob Nixon, Frank Minear, Ramsey Embick, The Nelson Riddle Orchestra, Ramsey/Kleeb Band, Jay Thomas Usual Suspects Big Band, Joe Koplin's Joy of Sextet, the Pierce College Jazz Ensemble, the Solomon Douglas Swing Dance Big Band, Obrador, Bert Wilson and Rebirth Octet, Trombanga!, Cambalache, Centrum Port Townsend All-Star Big Band, Rich Wetzel's Groovin' Higher Orchestra, cruiseship musician on the Queen Mary 2, guest artist and clinician at the Poulsbo, WA Viking Jazz Festival and the Seattle Repertory Jazz Orchestra.
He has been leader of NW jazz bands such as the Olympia Jazz Initiative Big Band, Native Blue Jazz Sextet, Bob Nixon Tribute Big Band, Momenti Rubati, Caliente Latin Jazztet and the Richard Lopez Jazz Express.
Richard has been on faculty staff as a trombone and jazz music instructor at St. Martin University, Pacific Lutheran University, South Puget Sound Community College (SPSCC) in Olympia and Centralia College in Washington State. Richard also doubles on Alto Flute.
He is a graduate of The Evergreen State College in Trombone History and Music Performance and holds a masters degree from Northwest Nazarene University. Richard now lives in Olympia, WA with his wife Joanna and three sons Abraham, Asaph and Felix.
Richard Lopez is an endorsing artist and clinician for King Trombones.
Richard Lopez Olympia, WA USA
rlomusic11@gmail.com
(360) 561-8351




Copyright 2020 René Laanen - Trombone Page of the World
Please direct comments and questions about this web site to René Laanen ~ contact