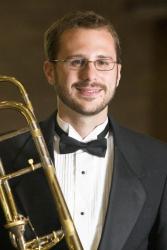 Dr. Drew Leslie, a native of Ann Arbor, MI, joined the faculty of the Hayes School of Music at Appalachian State University in the fall of 2011 and is currently the Assistant Professor of Trombone.
Active as a solo, chamber and orchestral musician, Drew Leslie has performed with a wide variety of ensembles. He has played with the symphony orchestras of Kansas City (MO), Austin (TX), Toledo (OH), Kalamazoo (MI), Lansing (MI), and Plymouth (MI) as well as the Santo Domingo Festival Orchestra of the Dominican Republic and the Aspen Festival Orchestra and Chamber Symphony. Dr. Leslie has also performed at the Jungfrau Music Festival (Switzerland), the Mid-Europe Festival (Austria), the Wiltz Open-Air Festival (Luxembourg), the Festival Veranos de la Villa (Spain), and has been featured in performances at the International Trombone Festival, the Eastern Trombone Workshop, and the International Association of Jazz Educators Conference. In 2001, he played a four-city tour with Yo-Yo Ma and the Silk Road Ensemble and has accompanied a variety of other artists including Ray Charles, Bernadette Peters, Michael Brecker, Slide Hampton, John Clayton, Conrad Herwig, Steve Turre, and Grady Tate. Dr. Leslie has also given numerous recitals and master classes throughout the country and has been a featured soloist with the ASU Wind Ensemble, the MU University Band, the University of Texas Wind Symphony, the Longhorn Summer Band and the Ann Arbor Concert Band.
Equally as passionate about music education, Drew Leslie has maintained active private studios in Michigan and Texas and has served on the faculty of the Longhorn Summer Music Camp. In addition, he worked as a teaching assistant at the University of Texas at Austin and was the Visiting Assistant Professor of Trombone at the University of Missouri for two years.
Dr. Leslie received his Doctor of Musical Arts degree in trombone performance from the University of Texas at Austin, his M.M. from the Manhattan School of Music in New York City, and his B.M. from the University of Michigan. Additionally, he spent four summers studying and performing at the Aspen Music Festival and School, including two as a fellowship student. His primary instructors include Nathaniel Brickens, Per Brevig, Michael Powell, David Jackson, H. Dennis Smith, and Jonathan Holtfreter. He is a member of the International Trombone Association, the Music Teachers National Association, the College Music Society and the Phi Mu Alpha Sinfonia music fraternity.