PETER BASSANO



This page is updated: October 18, 2020 11:31 AM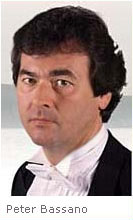 Peter Bassano is Music Director of the Oxford University Sinfonietta and Brass Band, the City of Rochester Symphony Orchestra, the professional choir The Gentlemen of the Chappell and Wendover Choral Society.
He is descended from a family of Venetian musicians brought to England by Henry Vlll. He studied trombone and singing at the Royal College of Music, where until 2004 he was Professor of Trombone and Sackbut and Head of Brass. He has studied conducting with Sir John Eliot Gardiner, Nikolaus Harnoncourt, Elgar Howarth, Sir Charles Mackerras, Sir Roger Norrington, Jorma Panula and Bramwell Tovey.
In 1973 he joined the Philharmonia Orchestra as a trombonist, five years later he formed and was Artistic Director of the brass quintet, Equale Brass. This ensemble made seven records, toured world-wide, and commissioned twenty seven new works from composers as diverse as David Bedford, Peter Skellern, Roger Smalley and John Tavener. He was a member of His Majesties Sagbutts and Cornetts, the Gabrieli Consort and Players, and principal trombone for Sir John Eliot Gardiner's orchestras for 25 years. He has given trombone masterclasses in the Sibelius Akademy, Helsinki, Royal Swedish Academy, Paris Conservatoire, Canberra, Melbourne and Sydney Conservatoires and has lectured at the Cambridge, Duke, Hong Kong, Indiana, Open, Oxford, Queen's (Belfast), Salford, Trinity and York Universities
He was assistant conductor conductor to Paul McCreesh and his Gabrieli Consort and Players on his award winning Venetian Coronation and Music at San Rocco and Sir John Eliot Gardiner for his Berlioz Romeo and Juliet recording. He has conducted at the Royal Festival Hall in the Royal Philharmonic Orchestra's International Series and at the Royal Albert Hall in a BBC Promenade Concert and at Symphony Hall, Birmingham. In addition he has made several Festival appearances at Aldeburgh, Chester, Greenwich, Nottingham, the Three Choirs (Worcester Cathedral), as well as performances abroad with the Helsinki Philharmonic, Royal Danish Academy Symphony and Royal Oman Symphony.
He has conducted a number of concerts with the RCM Chamber Choir
(including the first performance in modern times of Beethoven's Trauerklange), introduced a standing RCM Symphony Orchestra to an historically aware performance of Berlioz and directed the Baroque Orchestra in performances of three of Bach's Brandenberg Concertos at Buckingham Palace. In January 1995 he was one of the first conductors to appear at the newly built Paris concert hall, Cité de la Musique. He returned to this major Paris venue in July 1998 to conduct two concerts with the Grimethorpe Colliery Band to ecstatic reviews and high profile TV coverage. He has conducted Eton College Orchestra, the Redhill Sinfonia, the Imperial College Symphony Orchestra, the Warwick University Symphony Orchestra and Ulster Youth Orchestra and the National Youth Wind Orchestra.
A champion of new music he has commissioned and conducted the first performances of Tim Souster`s Echoes (Manchester/BBC Radio 3), Joseph Horovitz`s Tuba Concerto (Nottingham Festival) and Andrew Powell's 'Falstaff: Theme and Episodes' (Paris, Cité de la Musique), Chris Batchelor's Weasel Words & Winning Ways, Max Charles Davies's Trinity- Credo, Simon Dobson's Four Britten Sketches, Gabriella Swallow's Spit, Esa-Pekka Salonen's Stockholm Diary and Ivor Bonnici's Three Movements for Chamber Orchestra.
He has been an external brass examiner for Birmingham Conservatoire, the Royal Academy of Music, the Royal Northern College of Music, the Royal Scottish Academy of Music and Trinity College of Music and adjudicated for the BBC Young Musician of the Year, the Royal Philharmonic Society and the Royal Over Seas League competition.
Peter Bassano is a regular contributor to a number of music journals and has published research on topics as diverse as Beethoven, Byrd, Shakespeare and Veronese and is currently writing a book on the trombone for the Menuhin series of orchestral instruments.




Copyright 2020 René Laanen - Trombone Page of the World
Please direct comments and questions about this web site to René Laanen ~ contact