SCOTT BEAN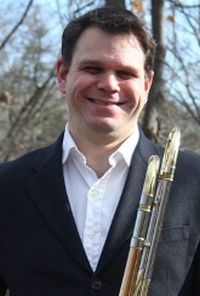 Scott Bean has performed in venues around the world, from The Knitting Factory (NYC) to Seattle's Benaroya Hall to the Forbidden City Hall in Beijing, China. He enjoys a busy playing schedule as a freelance musician, on the east coast, throughout the Mid West and West and has performed with the Goodspeed Opera House, Orchestra New England, The Hartford, Springfield, New Haven, Colorado, La Crosse Symphonies, the Boulder Philharmonic, The Connecticut Opera, The Coast Guard Academy Band and the Denver Brass to name a few. Nationally and internationally, he has toured with The New Sousa Band for over fourteen years. Scott also plays lead and bass trombone in the Colorado Repertory Jazz Band, led by Steve Wiest.
Considered a highly sought after interpreter of new music, Scott has premièred new works at festivals and concerts nationwide, recently performing a U.S. Premier at the Kennedy Center in Washington D.C. As a soloist, Scott has been a guest soloist for many University and Wind Ensembles and Orchestras, most recently performing at the National Band Association Convention in 2013.
Mr. Bean is currently Professor of Trombone and Euphonium at the University of Denver's Lamont School of Music. Prior to moving to Denver, Scott was Professor of Low Brass and Music History at the University of Wisconsin-La Crosse, was on faculty at Central Connecticut State University from 2002-2012 and The Hartt School (University of Hartford) from 2003-2010. In addition, Mr. Bean is on faculty at the Yale School of Music, Norfolk Chamber Festival as a teacher and artist.
In his own educational pursuits, Scott is the proud recipient of the prestigious Bessie Pappas Scholarship at New England Conservatory where he is completing his Doctorate of Musical Arts. He has had the privilege of studying with Norman Bolter, Ronald Borror, Joseph Alessi and John Swallow. As a member of the Freelance and Talcot Brass Quintets, Scott has had the opportunity to play and give masterclasses at many major universities in the United States.
Scott Bean has recorded on the Mode, Ashmont Records, Redeye, Innova and Novisse labels.
trombean@gmail.com

http://www.du.edu/ahss/lamont/faculty-staff/faculty/bean-scott.html

This page is updated: October 18, 2020 11:30 AM



Copyright 2020 René Laanen - Trombone Page of the World
Please direct comments and questions about this web site to René Laanen ~ contact