B. Dec. 1, 1948 lives in Mahopac, N.Y. e-mail: musicandmuscles@verizon.net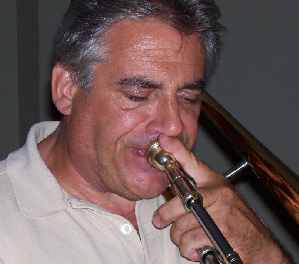 Paul Bernardi has done on and off-Broadway shows; composed and arranged scores for radio and t.v. commercials,concerts and orchestrated and arranged "Ahm Yisroel Chai " for the Holocaust Remembrance in Phila. Pa. in 1985...narrated by Robert Merrill and Tovah Feldshuh; composed and arranged scores for R.F.T. Music Publishing Corp. for library and background music for t.v. and radio specials and for the hit English comedy " Love and Human Remains "; the author of " Ten Original Jazz Duets published by Columbia Pictures Publications; trombonist on the hit single " A Fifth of Beethoven " with Walter Murphy's Big Apple Band; which was used on the sound track for the motion picture " Saturday Night Fever ".. also performed on the sound
track of the motion picture " The Attack of the Killer Bees "; NBC specials; NFL Highlights; and recently on " The Family Guy " and "American Dad " ; performed with the Bill Watrous/ Danny Stiles Big Band; Frank Foster Big Band; toured with Frankie Valli and The Four Seasons; Jay Black and The Americans; The Spinners; Horace Heidt Jr. Big Band at Ronald Reagan's 2nd Inaugural Gala; performed and recorded with The Original Klezmer Jazz Band; the soundtrack for the off-Broadway Show
" The Golden Land "; performed with The Danbury Brass Band led by Alan Raph... backed up artists : Sarah Vaughn, Sammy Davis Jr., Jack Jones, Joel Grey, Ann Jillian , Rita Moreno, Chita Rivera, Milton Berle, Henny Youngman, Jerry Vale, Sergio Franchi did 2 weeks at Michael 's Pub in NYC with Steve Allen; also backed up Diahann Carroll, Dom DeLuise, Florence Henderson and the list goes on.....Began trombone studies at 14 with Moe Snyder, then went on to study with Earle Leavitt of the Metropolitan Opera Orchestra; Alan Raph; jazz studies with Adolph Sandole; Barry Maur and Eddie Bert... Proud to be in the section with trombone greats such as Eddie Bert, Bill Watrous, Dave Taylor, Alan Raph, Jack Gale, Sonny Russo, Wayne Andre, and Tony Studd.