ERNIE CARLSON



This page is updated: October 18, 2020 10:45 AM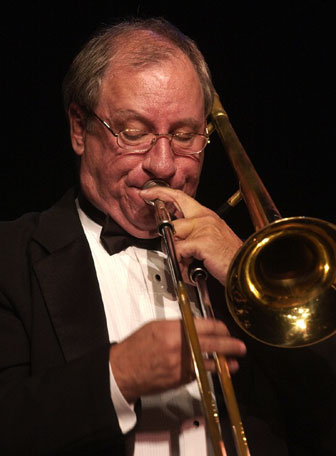 ERNIE CARLSON A native of Montana, Ernie discovered his passion for the trombone when he was 11 years old. After graduating from high school in Missoula Ernie headed for Los Angeles to pursue his dream of becoming a professional musician. He was soon a busy studio player. In the 32 years that followed, Ernie recorded with such greats as Frank Sinatra, Barbra Streisand, Sammy Davis, Jr., Boz Scaggs, The Osmond Brothers, Neil Diamond, Marvin Gaye, Kris Kristofferson, Burt Bacharach, The Four Freshman, The Supremes, Captain & Tennille, Whitney Houston, Air Supply, Ray Charles, Barry Manilow, Sergio Mendes, The Carpenters, Dionne Warwick, Steve Lawrence & Eydie Gorme and Tony Bennett.
Ernie also worked under the direction of Nelson Riddle, Don Costa, Jimmy Haskell, Tommy Oliver, Carmine Coppola, Basil Poledouris, Dominic Frontiere, Howard Shore, Tom Scott, Bill Conti, Nick Glennie- Smith, Lee Holdridge, Dennis McCarthy, Tommy Oliver, Al Capps, Ron Huff, Don Marsh, David Clydesdale, Otis Skillings and the legendary John Williams and Henry Mancini. Ernie's countless television credits include: The Sonny and Cher Show, The Donny and Marie Show, The Barbara Mandrell Show, The Carol Burnett Show, The Tony Orlando Show and The Jim Nabors Show plus hundreds of film TV shows such as Full House, Family Matters, Dinosaurs, Vegas, CHIPS, Eight is Enough, Dukes of Hazzard, Star Trek: Next Generation, Star Trek: Deep Space 9, Star Trek: Voyager, Battlestar Galactica and Barnaby Jones. Ernie played on over 120 motion picture scores including The French Connection, Crimson Tide, Enemy of the State, Glory, Backdraft, The Hunt For Red October, The Client, Days of Thunder, Lock Up, Spy Hard, That Darn Cat, True Lies, White Fang II, Mercury Rising Amistad and Godfather III.
Eleven years at the Shubert Theatre provided Ernie the opportunity to play the great Broadway shows, Chorus Line, 42nd St., Evita, The Wiz, Annie, City of Angels, Jerome Robbin's 'Broadway', CATS, Les Miserables and many more. Ernie studied privately with Harvey King, Archie Slusser, Charles Johnson, Miles Anderson, Tommy Johnson, and Robert Marsteller and received his Bachelor of Music degree in performance from the University of Southern California in 1970. Prior to beginning his career in LA he toured with the Don Ellis Big Band, Bill Medley and the Osmond Brothers.
Since 2011 Ernie and his wife, singer Judi Wallace, are residing in Nashville, TN after spending the previous 12 years performing and teaching in North Idaho.




Copyright 2020 René Laanen - Trombone Page of the World
Please direct comments and questions about this web site to René Laanen ~ contact