David Chamberlain, Conductor, Trombone & Flute - Chestnut Ridge, NY - USA
---

Band of Bones plays swinging big band jazz with a new twist and a totally unique sound.
They have great arrangements, exciting, original soloists, and their own sound.
www.bandofbones.com
---
Address
11 Oriole St.
Chestnut Ridge
NY 10977 U.S.A.
Phone: (845) 352 - 3566
E-mail:
davidctrombone@webtv.net
Internet:

www.horadecima.com
- www.directlatininfluence.com
-
www.bandofbones.com
Biography
- David Chamberlain, trombone
Dave has been active on the New York City Music Scene for over thirty years playing with Latin Bands, club dates, Broadway shows, and recordings. He is currently conductor of '
The Hora Decima Brass Ensemble
' and leader of the traditional Afro-Carribean Group '
Direct Latin Influence
'.
Dave plays many low brass instruments (tenor and bass trombone, euphonium, tuba, bass trumpet) as well as flute.
He has a B.S. Degree from the Mannes College of Music and an M.S. Degree from S.U.N.Y. Purchase. His primary teachers have been Anthony Gorruso, John Wummer, John Swallow, John Rojak, Carmine Caruso, and Morris Kainuma.
---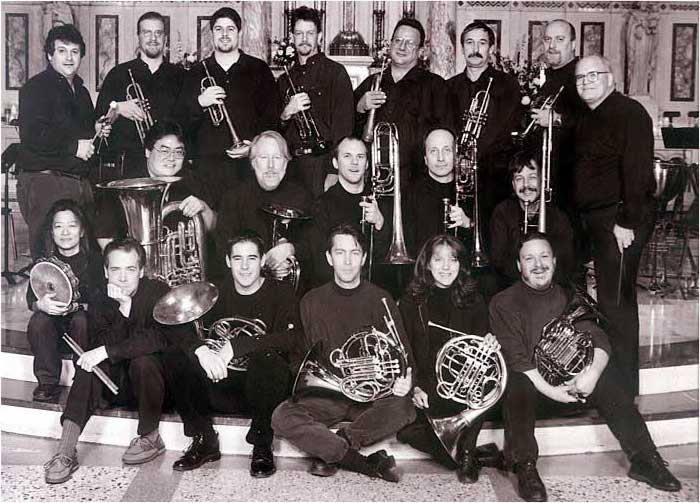 Biography - Hora Decima Brass Ensemble
Hora Decima Brass Ensemble is dedicated to the presentation, promotion, and preservation of the music for brass instruments. Founded in 1990 by trombonist David Chamberlain, The HDBE presents concerts in three formats: Large Brass Ensemble (as many as twenty-one players), Brass Quintet, and Trombone Octet. They have appeared at many N.Y. City area churches, schools, and universities, and the New York Brass Conference. Their repertoire extends from the renaissance to the present day and includes original works for brass as well as transcriptions of other well-known works. Members of the HDBE have performed with the New York Philharmonic, Metropolitan Opera Orchestra, Orchestra of St. Luke's, Fairfield Orchestra, many Broadway Shows, and with such artists as Johnny Mathis, The Temptations, and Tito Puente. Summit Records has issued their debut CD. It is available in stores and online at
www.horadecima.com
.
---

Joseph Alessi
, Principal Trombone of the New York Philharmonic says
"I recently had the privileged of performing with the Hora Decima Brass Ensemble. This ensemble is first-rate in every way: Great sound, balance, and musicianship, as well as fantastic virtuosity. Now New York as a great brass ensemble to boast about."