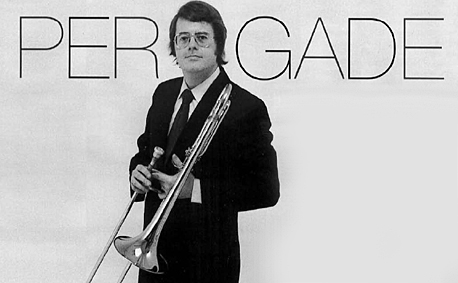 PER GADE - Trombone. Professor of Music.
Per Gade was born in Denmark (1944) and raised in Copenhagen by an artistic family whose descendants can be traced to the composer bearing the same surname. He became the first trombone professor in Denmark!
Per Gade became interested in music and the other fine arts at an early age. During his studies at The Royal Academy of Music, his teacher Palmer Traulsen (soloist in the Royal Opera & Ballet) discovered his unique talent on trombone as well as teaching of all the brass instruments from trumpet to tuba, and at the highest possible level. Already then Per Gade gradually proved to be able to solve almost any embouchure problems for other brass players and to organize the fastest possible development for his own students on brass instruments.
MUSIC TRADITION ON THE TROMBONE AND OTHER BRASS INSTRUMENTS: Per Gade represents a trombone tradition which goes back to some of the finest trombone players and teachers of the past, from Scandinavia (Thorkild Graae Jorgensen, Palmer Traulsen, Anton Hansen), from Germany (Paul Weschke, Robert Muller, Friedrich August Belcke, Karl Traugott Queisser), in France (Johannes Rochut), in England (Denis Wick), in USA, Chicago Symphony Orchestra (Jay Friedman and Arnold Jacobs) and in Russia (Vladislav Blazhevich).
Per Gade has had countless students on all the brass instruments
(trompet, cornet, french horn, tenor-trombone, bas-trombone, altohorn, tenorhorn, baritonhorn, euphonium, tuba's). He has for a lifetime himself studied all the famous methods and literature for brass instruments, by the best and most famous brass players and teachers of the past.
STUDIES: Per Gade's first education was as as a graphic designer at the age of 14 and when he was 15 he started playing trombone as a self- taught trombonist with interest for jazz. Two years later he was working as a graphic designer during the day and at night as a jazz musician, playing with small groups and later in Big Band. After a couple of years as self -taught on the trombone, Per Gade studied with Thorkild Graae Jorgensen (solo trombonist in the Danish National Symphony Orchestra) who later introduced him to Palmer Traulsen (principal solo trombonist with the Royal Opera & Ballet Orchestra), where Per Gade studied privatly and later at The Royal Academy of Music, Copenhagen. In 1968 he decided to devote himself to music 100% and to study further at The Royal Academy of Music (also with Palmer Traulsen), where he passed the difficult entrance examinations in 1968. Per Gade graduated in 1974 with distinction from the Royal Danish Academy of Music with two degrees: the Master of Music degree
(majoring on the trombone) as well as "the Government Master Degree as a pedagogue teacher". He also studied conducting under Royal Conductor professor Arne Hammelboe, orchestration/instrumentation under composer Leif Kayser and composition techniques under composer Niels Viggo Bentzon. Private studies in London with Denis Wick (principal trombonist a London Symphony Orchestra) in the summer 1973. A British Council Scholarship (the first such to be awarded to a trombonist) supported Per Gade when he entered the soloist class at the Guildhall School of Music & Drama in London for 1975-76 for advanced studies. Here again he studied with Denis Wick (principal solo trombonist with London Symphony Orchestra). Further studies followed in Chicago in 1977 at the invitation of principal trombone soloist Jay Friedman of the Chicago Symphony Orchestra. He also studied the mastering of breath control and wind, with the famous master Arnold Jacobs (solo tubaist in Chicago Symphony Orchestra).
PROFESSIONAL CAREER: Per Gade's professional career as a musician spans Scandinavia, England, USA, Japan and all Asia, where he has played music from the jazz and dance idioms, to opera, ballet and symphonic music. At The Royal Academy of Music Per Gade became assistant teacher in the trombone and brass classes for Palmer Traulsen (Solo trombone player at The Royal Opera) in 1973. Also assistant jobs as 2nd trombonist with "The Royal Orchestra" and "The National Radio Symphony orchestra" 1973-1978. At the same time he received several invitations from famous symphony orchestras in Germany, but decided to go to Japan in 1978 where he was invited for a position as professor, with recomendations from Germany, England and USA.
INTERNATIONAL CAREER: Per Gade accepted an invitation for a professorship at Sakuyo College/Academy of Music in Japan in 1978, where he lived for 11 years. At Sakuyo College/Academy of Music. Japan, he taught trombone and all the low brass instruments and became the musical director of the Academy Brass Ensemble. In 1981, Per Gade established Japan's first professional brass quintet, "Per Gade's International Brass Quintet". He has also toured countless times all over Asia as a soloist and conductor for special workshops and clinics for brass students as well as fine professional players and teacher of all brass instruments.
Per Gade has been a popular trombone soloist, conductor and clinician in Europe, Asia and USA where he has performed in concerts, radio and television, and in music festivals as soloist together with piano, organ, and various ensembles, including bands and symphony orchestras, as well as conductiong master classes, work shops and individual lesson for talented music students and fine professional players.
CONDUCTOR/MUSIC ARRANGER: Per Gade has also worked internationally as conductor and music arranger.
SPECIALIST ON EMBOUCHURE AND BREATH RELATED PROBLEMS FOR ALL BRASS INSTRUMENTS: In addition to the purely musical training for brass players, Per Gade is also recognised as a specialist in solving embouchure and breathing problems in brass playing, and to elevate performances to the highest possible technical and musical levels. Per Gade continues to be consulted by both students and accomplished professional players and is a frequent guest instructor at workshops and clinics internationally.
PUBLICATIONS: Contributions to music education are witnessed by more than 70 publications, including more then 56 of his own books, brass methods for trumpet, french horn, trombone, bariton horn & euphonium and tubas in Bb, C, Eb and F. The study materialis the essence of the best from past generations of famous brass players, as well as moderntechniques and scientific knowledge about the body in developing instrumental skills. Also excerpt study material from the operatic and symphonic repertoire for trombone & tuba; solo material for trombone and piano; trumpet and tuba, and chamber music for brass ensemble. Publications also include a fine book on the Danish tradition of trombone playing as well as numerous articles written for international music journals.
CUSTOM MADE MOUTHPIECES: Already as a student Per Gade became interested in special design of brass mouthpieces and later he worked together with Renold O. Schilke and Yamaha, Japan on developing new models for modern players, before he ended up designing his entirely own custom made mouthpieces for other brass players. Per Gade has designed special custom made mouthpieces for some of the best brass musicians in the world, performing in classical music and jazz (see statements from world famous players in the book "Per Gade. 1960-200. 40 Years In Fine Art & Music".
BRASS INSTRUMENT DESIGN: — GIARDINELL. USA. Per Gade gave ideas on custom development of trombones to Mr. Giardinelli (New Your, USA) himself from 1973 to 1977 on changable bells, F-vale and gooseneck on Bach 42 trombones, as well as improving intonation on Bach 42. — R. O. SCHILKE. CHICAGO: Per Gade was involved with R. O. Schilke himself in developing new brass instruments and mouthpieces between
1976 up til Schilkes death in 1982. — Per Gade participated in bringing the alto trombone back again into the symphony orchestra and as a solo instrument for trombone players. — YAMAHA, JAPAN: He also gave ideas to and participated in developing THE ALTO TROMBONE MODEL in Eb for Yamaha, Japan in 1979. A new alto trombone was born, better in tune and better in tone quality than other models on the market: Per Gade selected "the Kuhn metal copy" and other secrets in this process. This model became Yamaha's greatest success. - Per Gade also participated in developing the soprano trombone for Yamaha, Japan in 1982. — COURTOIS, FRANCE: Between 1981 and 1984 Per Gade gave new ideas on how to improve the slide action on the new Courtois trombones, model Prestige 200 and 300, as well as changable bells.
MUSIC PRIZES AND AWARDS: Per Gade has received several music prizes, awards as well as financial support for his performances as a solo trombone player, conductor, organizer of work shops and clinics for brass players around the world, projects under UNESCO, as well as for his great success developing educational systems for brass players internationally, and for his printed publications and methods. Here some excerpts of the above: The Royal Academy of Music's Jubilee Prize, The Aage Oxenvad Music Prize for particularly talented young wind instrumentalists (composer Carl Nielsen wrote his clarinet concerto for Royal Musician Aage Oxenvad), Ingens- Berghske Prize, The Royal Danish Ministry of Culural Affairs Cultural Prize and other prizes (numerous times), The Royal Danish Ministry of Foreign Affairs, The Royal Danish Ministry of Interior, British Council, Composer Jacob Gade's Music Prize in 1977, The Lasson Anderson Foundation, Augustinus Foundation, Danish Conductor's Association (under Royal Conductor professor Arne Hammelboe), David's Foundation, The Royal Danish Music Council
(received several times), Consul Georg Jorck's & Wifes Foundation, King Frederik & Queen Ingrids Cultural Foundation, The Music Association of 1865, Danish Musicians Union's Foundation, The Royal Danish Opera, Ballet & Symphony Orchestra's Foundation, The Ben Webster Foundation, UNESCO, and countless others...
Per Gade's name appears in Cambridge's "Who's Who in Music", "Men of Achievements", "Who's Who in Scandinavia" and others.



Copyright 2020 René Laanen - Trombone Page of the World
Please direct comments and questions about this web site to René Laanen ~ contact