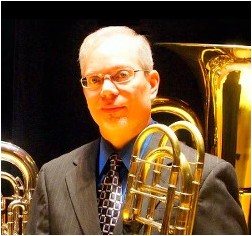 Dr. Frank Gazda is Professor of Music at Delaware State University in Dover, DE where he teaches applied low brass, music history, brass methods, and directs the trombone and tuba-euphonium ensembles. He is a former member of the faculty of Wayne State College (NE) and Shepherd University (WV).
Dr. Gazda performs on trombone, bass trombone, euphonium, and tuba in solo, chamber, and large ensemble settings. He has performed with, among others, the Kennedy Center Opera House Orchestra, the Delaware Symphony, the Sioux City (IA) Symphony and Brass Quintet, the Maryland Symphony Orchestra and Brass Quintet, the Richmond (VA) Symphony, the Harrisburg (PA) Symphony, and the Washington Bach Sinfonia. He has also performed with the Mormon Tabernacle Choir, the Jimmy Dorsey Orchestra, the Washington Trombone Ensemble and The Supremes and is a member of the Capitol Brass and the First State Brass.
Dr. Gazda was a finalist in the Eastern Trombone Workshop National Solo Competition and the IWBC National Solo Competition. He has been a clinician at the International Trombone Festival, the National Association for Music Education Eastern Division conference, the Hawkeye Regional Tuba-Euphonium Conference, the New Jersey Music Educators Conference, The Delaware Music Educators Conference, the Nebraska Bandmasters Association Conference, and at many schools and events nationally. Dr. Gazda reviews both recordings and literature for the International Trombone Association Journal and has contributed to several other publications as a guest author or reviewer. His arrangements are available from Cherry Classics Music (Vancouver, Canada).
Dr. Gazda received his Bachelor degree in Music Education from Shenandoah Conservatory, his Master of Music degree from the Manhattan School of Music, and his Doctorate in trombone performance and literature from the University of Maryland. His teachers have included David Summers, Stephen Norrell, and Matthew Guilford. He has pursued additional studies with David Fedderly, Michael Bunn, and Doug Elliott and studied brass pedagogy and literature with Dr. Milton Stevens.
Frank plays an S.E. Shires Stacked F and D Axial Flow valve bass trombone with a BI 7YLWT8 Bell and a Doug Elliott LB112.L.L8 mouthpiece. His large tenor is a S.E. Shires Axial Flow valve with a 7YM Bell and a Doug Elliott XT103.G.G8 mouthpiece. His small tenor is a Shires S08 1YM with a Doug Elliott MT103.C.C3 mouthpiece. His alto is a JP Rath 236 with a Doug Elliott MT103.C.altoS mouthpiece. His euphonium is a Meinl Weston 451S 4 Valve Compensating with a Doug Elliott XT103.I.I9 mouthpiece. His tuba is an M & M "Fletcher" Model 4 Valve compensating EEb with a Denis Wick 3L mouthpiece. His bass trumpet is a Holton Model 58 3 Piston Valve with custom main tuning slide trigger, played with a Doug Elliott MT103.C.C2 mouthpiece.
Frank Gazda
The First State Brass
(302) 735-1866
http://www.firststatebrass.com/
http://www.facebook.com/firststatebrass



Copyright 2020 René Laanen - Trombone Page of the World
Please direct comments and questions about this web site to René Laanen ~ contact