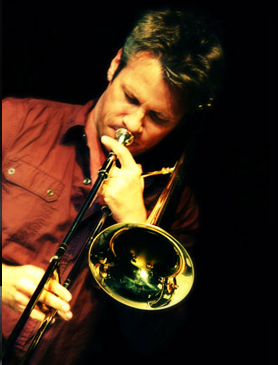 Trombonist Marshall Gilkes is forging new grounds and receiving high acclaim from critics in the United States, South America, Europe, and Asia. Born in Camp Springs, Maryland, Mr. Gilkes spent his childhood growing up in many different parts of the country traveling with his father, a musician in the Air Force, including Washington D.C., New Hampshire, New Jersey, Alabama, Illinois, and Colorado. He currently calls Brooklyn, New York home.
A graduate of The Juilliard School as well as Interlochen Arts Academy, Mr. Gilkes' teachers include Joe Alessi, Conrad Herwig, Buddy Baker, Ed Neumeister, and Wycliffe Gordon.
Mr. Gilkes is currently a member of the internationally acclaimed Edmar Castañeda Trio as well as the Maria Schneider Orchestra, and the David Berger Jazz Orchestra. In addition he has performed with Billy Cobham, Richard Bona, the Village Vanguard Orchestra, Duke Ellington Orchestra, Stanley Turrentine, and Benny Golson. In the Latin community, he has performed with Machito, Giovanni Hidalgo, Chico O'Farrell, Tito Nieves, Big 3 Palladium Orchestra, Raulin Rosendo, Ray Sepulveda, Eddie Santiago, Jose Alberto, and Iroko La Banda. During the fall of 2001-fall of 2002 Mr. Gilkes played for the National and Japanese tours of the Broadway show "Swing", and in 2003 was a finalist in the Thelonious Monk International Jazz Competition.
His album credits include two solo releases: the Marshall Gilkes Quintet "Lost Words" and the Marshall Gilkes Quartet "Edenderry", in addition to appearances on Edmar Castañeda's "Cuarto de Colores" David Berger "Marlowe", Ryan Keberle's "Double Quartet", Maria Schneider's "Sky Blue", Big 3 Palladium Orchestra's "Live at the Blue Note", and John Fedchock's "Up and Running". Mr. Gilkes has toured extensively throughout Europe, South America, Japan, and the Caribbean, and has performed at the Tanglewood Jazz Festival, Umbria Jazz Festival, Vienna Jazz Festival, JVC Jazz Festival, Telluride Jazz Festival, Panama Jazz Festival, Lincoln Center, Tokyo's Orchard Hall, and the Moscow Conservatory. Marshall is an artist for Edwards Instruments.