CHIP HOEHLER



This page is updated: May 1, 2022 1:03 PM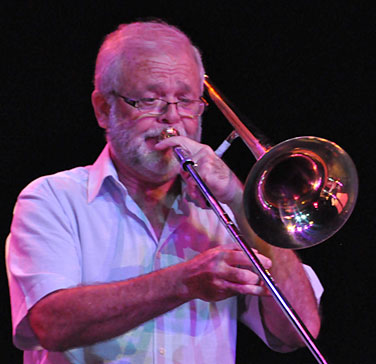 Born in Staten Island, New York City, Chip Hoehler's interest in music began at the age of 10 when he started playing the drums in the school band. Fate stepped in when Chip was 15. He was home from school one day and saw the musical biography, "The Fabulous Dorseys" and became "hooked" on the trombone. He spent time after that learning to play the trombone by playing along with records and copying trombone solos, basically being self-taught. He was working as a musician by the time he was 17 and a short time later was one of 20 teens chosen from a field of 5,000 to be selected for a youth jazz band sponsored by the Newport Jazz Festival. That band, the Newport Youth Band, went on to play Carnegie Hall with legendary vibraphonist Lionel Hampton and vocalist Carmen McRae followed by appearances at the Newport Jazz Festival in 1959 and 1960 with a guest appearance by Cannonball Adderley.
When Chip was 18 years old he left the Newport Youth Band to join the Billy May Band and went on the road for the next five years. During that time he worked with musical greats such as Buddy Morrow, the Kai Winding Septet, Stan Kenton, Charlie Spivak, Maynard Ferguson, the Glenn Miller Orchestra directed by Ray McKinley, the Jimmy Dorsey Orchestra directed by Lee Castle, and the Tommy Dorsey Orchestra directed by Sam Donahue. Additiionally, Chip worked as a session player in New York studios, and did Broadway shows and television work, first appearing on televison with a band that played back-up to Peggy Lee and Mel Torme at the Ed Sullivan Theater.
After spending two years in the Army, Chip returned to the road, and during that time he was road manager for Jimmy Dean. After going through a blizzard in Duluth, Minnesota, Chip accepted a job in Freeport, Bahamas for a temporary six-week gig as a bandleader/show conductor in a casino. That temporary job lasted 11 years, and in 1977 Chip left the Bahamas to work as a freelance musician in Miami, Florida. During that time he was appointed to the planning team for the S/S Norway (which was formerly the S/S France). The S/S Norway was launched in 1980. Chip worked onboard as musical director for eight years. He supervised 47 musicians and directed many bands including an 18-piece big band, a night club band, a Calypso band, a theater band, and a marching band. Following his eight years on board the Norway, he was asked to work as music coordinator for the entire company, which included Norwegian Cruise Line and Royal Viking Line, a total of 10 ships at the time. He worked as music coordinator for about a year, but when this lover of travel was offered a position as cruise director on a world cruise he couldn't turn it down. Many years later and after six world cruises, Chip decided to retire from the cruise industry.
With a wealth of experience behind him, Chip is now semi-retired and living in France. He works as a part-time musician and gives private trombone lessons.
In addition to those mentioned above, others that Chip has had the opportunity to work with throughout his career are:Benny Carter, Joe Williams, Zoot Sims, Clark Terry, Bob Wilbur, Al Cohn, Sarah Vaughn, Dizzy Gillespie, Buddy Rich, Tony Bennett, Petula Clark, Jack Jones, Barbra Streisand, Vic Damone, Louie Bellson, Mel Lewis, Milt Hinton, George Duvivier, Michel Legrand, Dihann Carrol, Jerry Lewis, Phyllis Diller, Debbie Reynolds, Eddie Fisher, Connie Stevens, Peter Nero, Norm Crosby, Jerry Van Dyke ... and many more






























Copyright 2022 René Laanen - Trombone Page of the World
Please direct comments and questions about this web site to René Laanen ~ contact