ROBERT 'BOB' ISELE



This page is updated: June 23, 2022 2:45 PM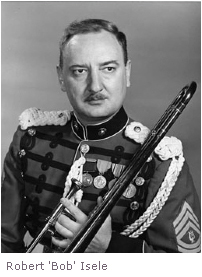 Robert D. "Bob" Isele, 91, passed away at his home in Camp Hill on December 8.
He was born on May 25, 1918 in Harrisburg, PA.

As a teen, he became the National Scholastic Champion Trombone Soloist for 3 years (1933-1935). He graduated from John Harris High School. He attended Eastman School of Music and studied with Emory Remington. In 1937, Robert joined the United States Marine Band ("the President's Own") as principal trombonist and was appointed trombone soloist in his first year. With the band, he played at the White House for Presidents Roosevelt, Truman, Eisenhower and Kennedy. Besides performing in the Washington DC area with the band, Mr. Isele also played national radio broadcasts and throughout the United States on the band's annual tours.

He retired from the Marine Band in 1961. He freelanced in the D.C. area playing for the ballet, ice capades, the Barnum and Bailey Circus and many other events. In 1964, he joined the National Symphony Orchestra (NSO) as second trombonist. He played under conductors Howard Mitchell, Antal Dorati and retired from the NSO in 1980 while it was under the direction of Mstislav Rostropovich. In 1994, Mr. Isele was given an award by the International Trombone Association for his outstanding accomplishments on the instrument. Those who knew him regarded him as a truly humble gentleman and a living legend.
He is survived by his wife Bette, son Robert, of Arlington, VA; and daughter Mary Catherine, of Tempe, AZ; 4 grandchildren, 3 great grandchildren and 1 great-great grandchild.
A Mass of Christian Burial will be celebrated at 11:30 A.M. on Saturday December 12, 2009 in the Church of the Good Shepherd, 3435 Trindle Road, Camp Hill, PA. A visitation will be held in the church on Saturday from 10:30 A.M. until the time of the Mass. Myers-Harner Funeral Home, 1903 Market St., Camp Hill, PA 17011.

In lieu of flowers, donations may be made to his church or to the Visiting Nurse Association of Central Pa., 3315 Derry St., Harrisburg, Pa., 17111.
www.pennlive.com/obits





Copyright 2022 René Laanen - Trombone Page of the World
Please direct comments and questions about this web site to René Laanen ~ contact