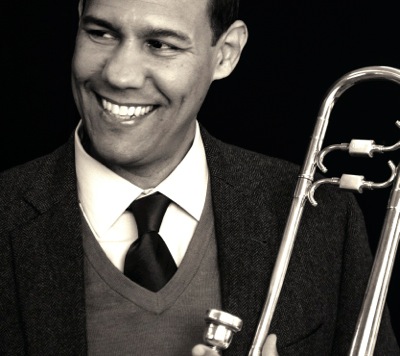 Biography

Jason Jackson has been one of the busiest and most respected trombone players in New York City since settling there 21 years ago. In addition to the two years he spent touring the world with Ray Charles not long after his arrival, he has been the lead trombonist in the Dizzy Gillespie All-Star Big Band for the past decade and also currently plays that part in orchestras led by Roy Hargrove and Charles Tolliver. And on Mondays, his off-nights from playing in the pit bands of such Tony Award-winning Broadway productions as The Color Purple, Wonderful Town, Nice Work If You Can Get It, and presently Motown the Musical, he has been a member for the past 10 years of the Grammy Award-winning Vanguard Jazz Orchestra at the Village Vanguard. He also teaches part-time at City College of New York, performs about once per month in a group he co-leads with his wife, vocalist Rosena Hill Jackson, and even finds time to occasionally sit in at jam sessions.

With the release of Inspiration, Jackson finally steps out of the background to present himself as a trombone soloist, arranger, composer, and bandleader of the first order. Recorded over a ten-year period at the legendary Capitol Studio A in Hollywood and at two studios in New York but mostly at his and his wife's Jack&Hill Recording Studio in their South Orange, New Jersey, home, with Jackson himself serving as recording engineer the CD features Jackson at the helm of full orchestras made up of rhythm, horn, and string sections.

Among the many world-class musicians heard on the disc are trumpeters Roy Hargrove and Terell Stafford, trombonist Slide Hampton, clarinetist Evan Christopher, saxophonists Pete Christlieb, Dick Oatts, Rich Perry, and Steve Wilson, pianists Roger Jones II and Michael Melvoin, bassist Rufus Reid, drummers John Guerin and Dennis Mackrel, and percussionist Roger Squitero. Of the ten selections on the CD, six of the arrangements were written by Jackson, one by his friend and former teacher Slide Hampton, one by Christopher, and two by the prolific motion picture composer Eddie Karam.

The remarkably varied program on Inspiration opens with the lively samba- and montuno-driven Jackson composition Brazilian Bop, which was inspired by Jackson's travels to Brazil with Ray Charles and by the two years he spent as one of four trombonists in Dominican salsa singer Raulin Rosendo's band. Oatts's alto saxophone solo is followed by one trombone chorus apiece by Jackson and Hampton.

Strings join in for Jackson's straight-ahead Burnin', which sports solos by Jackson, Hargrove, and Jones, who also take turns trading eights with Mackrel. Jackson says that the piece was inspired by his time on the road with Hargrove's big band. He is always out there playing, Jackson explains. It doesn't matter what country we're in or what hour it is, if there's a jam session going on, he's gonna go.

The standards "Spring Is Here" and "Tenderly" showcase Jackson as a supremely lyrical interpreter of ballads in the tradition of such trombone predecessors as Tommy Dorsey and Urbie Green, both of whom he credits as influences, although he cites J.J. Johnson, his onetime instructor at the Oberlin Conservatory of Music, as his all-time favorite. Karam arranged "Spring Is Here," and Hampton arranged "Tenderly." Sumptuous strings and woodwinds cushion Jackson's horn on both songs.

"Salute to Mandela," penned by veteran jazz composer Daniel Jackson and arranged by non-relative Jason, begins with a celebratory fanfare featuring trumpets and strings before trumpeter Greg Gisbert plays the melody and Stafford and Jason solo over a lively 6/8 Afro-Cuban Latin pulse. "I was trying to get the feeling of a South African safari," Jason says of his arrangement.

Jackson begins the lovely "El Huesero" ("The Bull") using a bucket mute, followed by Christopher, the song's composer and arranger, on clarinet. The two men, friends since their days at Idyllwild Arts Academy in Southern California, then blend their horns in haunting harmony over the rhythm section's relaxed Caribbean zouk underpinning. Pianist Jones, the leader's friend since they attended Oberlin together, is also featured.

Jackson, Jones, and Reid solo on "The Spot," the trombonist's swinging salute to jam sessions. "They're where we hang," he explains. "It's where musicians have sort of a social gathering; otherwise we're working all the time. It's where we go to play and hone our skills and be inspired by each other's ideas."

Vernon Duke's "April in Paris" is given a unique overhaul in Jackson's arrangement for horns, strings, and rhythm section. The 12/8 groove, Jackson's says, combines Elvin Jones's polyrhythmic sense of swing with an Afro-Cuban feel, and the melody, instead of beginning on the usual downbeat, starts a beat and a half later. "Coming in on one just didn't sound right with the way I switched to minor," he explains. "It gives the tune a more mysterious vibe." Solos are by Perry (on tenor), Jackson, Hargrove, and Squitero (on congas and bongos).

The swinging "Wake Up Election 2000" for full orchestra, with solos by Wilson (on alto), Jackson, and Stafford, reflects the trombonist's feelings about the outcome of the race between George W. Bush and Al Gore. "I didn't feel like the people in our country were really awake and seeing what was going on," he says. "If they were awake, it wouldn't have even come close enough for him [Bush] to steal the election."

The album closes with "My Friend Sam," another swinger for full orchestra, which was written in memory of Jackson's best high school buddy, Sam Karam, who died in 2001 from multiple sclerosis. It's the only song on the CD from the Hollywood session and features a piano intro by Melvoin, kicking drum fills by Guerin, and solos by Christlieb (on tenor) and Jackson. Sam's dad Eddie wrote the arrangement of Jackson's composition.

Jason Jackson was born on September 11, 1971, in San Bernardino, California, to an Italian-American mother and an African-American father, both of whom were jazz fans. While growing up in nearby Yucaipa, he picked up a trombone that belonged to his uncle and blew into it. "They were so amazed that I got a sound out of it, they gave it to me," he says of his family.

He played the instrument in the jazz band at Yucaipa Intermediate School. "I knew within my first year that this was what I wanted to do," he remembers. "I wanted to play trombone in space."

In 1989, after graduating from Idyllwild preparatory school, he enrolled at Oberlin in Ohio, where for one semester his instructor was modern jazz trombone pioneer J.J. Johnson. "I couldn't believe I was sitting next to my idol," Jackson recalls. "He was such a force in my life and trombone playing for so many years. He was such a humble man. It made me realize that we're all human. He didn't have an air about himself at all."

Jackson received a Bachelor of Music Degree from Oberlin in 1993 before relocating to New York to study privately with Slide Hampton on an NEA grant and to work on a Master's Degree in Jazz and Commercial Music at the Manhattan School of Music, where his trombone instructors included Steve Turre and Jack Gale.

In addition to the aforementioned work with Charles, Hargrove, Rosendo, Tolliver, the Gillespie band, the Vanguard orchestra, and numerous Broadway shows, Jackson's extensive New York credits include engagements with Ron Carter, Slide Hampton, Jimmy Heath, Illinois Jacquet, Maria Schneider, McCoy Tyner, and the Mingus Big Band. He also performs with his talented wife, whom he met in 2007 when both were working on Broadway in The Color Purple, about once per month. Jackson recorded an album of original music for sextet titled Going Home in 2001 and contributed to her 2008 album If You Believe. His discography also includes recordings with Carter, Heath, Tolliver, and the Gillespie and Vanguard bands. And, in addition to teaching at the Manhattan School of Music, he has conducted clinics in Italy, Japan, and throughout the United States.

"I needed to go ahead and go for it, instead of just doing sideman gigs," he says of his reason for making Inspiration.

With the release of the second CD to appear under his name and first new one in 13 years, Jason Jackson emerges from the shadows to make his mark a jazz master whose gifts as a composer and arranger match his virtuosity as a trombonist. His inspired combination of horns, strings, and rhythm is quite unlike anything else being recorded these days. Jackson has drawn on jazz traditions to create a variety of vibrant and refreshing new sounds that seem certain to place his name among those of the most creative forces in jazz today.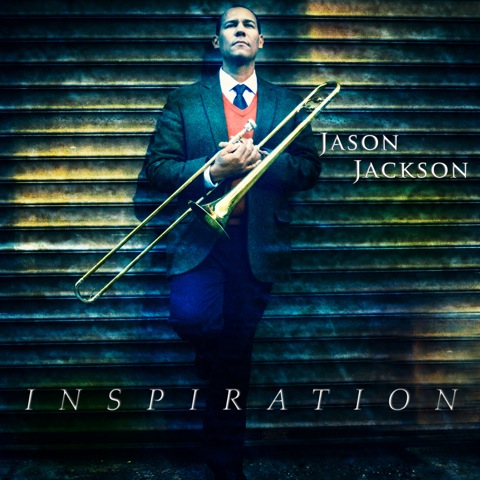 Jason Jackson: Inspiration (Jack & Hill Music) Street Date : October 14, 2014
-
Media Contact:
Terri Hinte
510-234-8781
hudba@sbcglobal.net



Copyright 1998 - 2020 René Laanen - Trombone Page of the World
Please direct comments and questions about this web site to René Laanen ~ contact