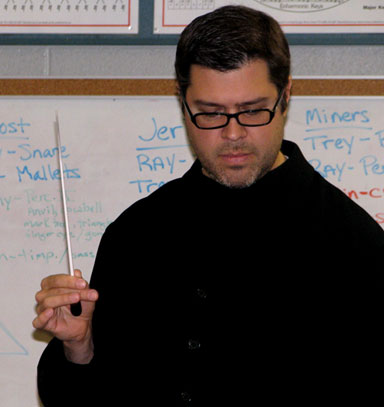 Jonathan A. Baker
Biography
Mr. Baker holds a Master of Music degree from the New England Conservatory of Music, Boston, MA, and a Bachelor of Music degree from the Chicago College of the Performing Arts, Chicago, IL. He has studied with the leading trombonists in the country including Douglas Yeo, of the Boston Symphony Orchestra; Joseph Alessi, of the New York Philharmonic; and Charles Vernon of the Chicago Symphony Orchestra.
Mr. Baker has been an active trombone teacher and freelance player in the Atlanta, Hartford, New York and Boston metropolitan areas. Mr. Baker has held teaching positions with several area secondary schools as a brass coach and trombone instructor, including two years at the University of Connecticut as bass trombone professor. Mr. Baker joined First Presbyterian Day School as the Director of Bands in 2007. Mr. Baker is also the brass teacher for the Macon Mercer Youth Symphony.
A member of Phi Mu Alpha Music Fraternity, member of the National Association for Music Education, the International Trombone Association and the Georgia Music Educators Association, Baker is a frequent adjudicator for audition panels for district, state, and marching competitions. Mr. Baker has been a clinician and guest artist in New York, Connecticut, Rhode Island, Massachusetts, Vermont, New Hampshire, North Carolina, Georgia, as well as Rondonopolis Brazil.
Mr. Baker has been involved in a wide range of recording projects including three recordings with the Albany Symphony Orchestra in New York, a studio recording for an independent film, soundtracks for WGBH Boston Public Television/Radio, television commercials, a promotional video for John Hancock Insurance Company, two recordings with the New England Conservatory Wind Ensemble, and recordings with the nine piece jazz-fusion group, Klarmusic, as well as a recording session with Para Music recording artist Aunray the Great, hip-hop artist in Atlanta. Mr. Baker has performed with numerous symphony orchestras, including the Hartford Symphony, Rhode Island Philharmonic, Vermont Symphony and New Hampshire Symphony Orchestras, as well as the Albany Symphony Orchestra in NY. Mr. Baker also performed a two-year Broadway National tour of The Music Man from 2001-2003 and a mid-west tour with the New Sousa Band under the direction of Keith O'Brion. Mr. Baker is currently bass trombonist with the Ocmulgee Symphony Orchestra in Hawkinsville, a member of the Mabel White Baptist Church Orchestra, a substitute player with the Alabama Symphony Orchestra and the Macon Symphony Orchestra. Mr. Baker can also be heard playing shows regularly at Macon Little Theatre and with the Civic Club of Macon.
Mr. Baker resides in Macon with his wife Juciene, from Brazil. They have two beautiful daughters, Isabella and Sophia.