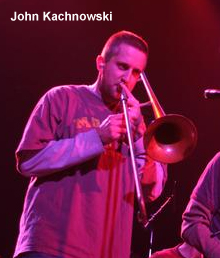 John Kachnowski is a freelance trombone player covering styles ranging from Ska, Funk, Rock, Alternative, Classical. A signature sound, for sure... Strangely Cool and LOUD. A master at Blending styles, tones and lyrical phrases into any song by any band different enough and daring enough to include a trombone.

Recorded/Performed with The Exceptions, Livonia Symphony Orchestra, National Ghost, Gangster Fun, Tickweasel, The Articles, Fifth Quarter Kings, Some People's Children and more! Frequent guest musician for many of Detroit's leading artists. Several appearances on top U.S. ska comps.

Performed on several film soundtracks(Warner Home Video) as well as a song for the Wii Video Game(THQ): "Battle of the Bands." (Brickhouse)

Some Notables: The Exceptions took 2nd place Nationally in Sam Goody's Best Unsigned Band contest in Vail, Colorado (600+ bands) Fifth Quarter Kings: Regional finalist in Mars Music's Best Unsigned Band contest. The Articles CD "Flip F'real" named Best Ska cd by Tower Records. Tickweasel listed as Metro Times Top Ten Albums/Bands. Undercurrents Music Showcase(Cleveland)--Tickweasel selected to be on "Best 10 bands of Show " press comp (out of 100+ bands)

Also featured as a solo artist on a compilation produced by Dave Huff: "WE THE PEOPLE(Thank You)"-- a Tribute to Our Soldiers and their families.
For more sounds & info: www.myspace.com/johnkachnowski





Copyright 2020 René Laanen - Trombone Page of the World
Please direct comments and questions about this web site to René Laanen ~ contact