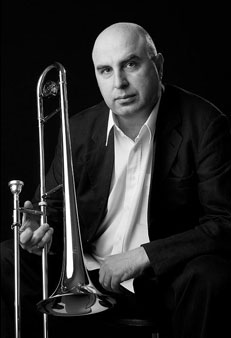 GRZEGORZ NAGORSKI began studying music at the age of eleven, playing tuba, and bass guitar. He studied trombone at the Secondary Music School in Gdansk. He made his professional debut with the Jan "Ptaszyn" Wróblewski group in 1982. In 1983, he was distinguished in the National Competition of Jazz Improvisation in his home country. The same year he began studying at the Academy of Music in Katowice. In 1987, Grzegorz received his Bachelor's Degree of the above mentioned Academy. During this period he performed with the jazz-funk group "Young Power" in Stockholm, Sweden, Norway, Germany and recorded two albums with that ensemble.
In 1990, Greg studied at the Florida Atlantic University in Boca Raton. The following year he entered the University of Miami Studio Music and Jazz program. In 1993, he graduated with a Master's Degree in Jazz performance. During 1993-1995, he tought jazz trombone and jazz ensembles at the above mentioned schools. In the meantime, he played with such greats as: Ira Sillivan - Inter/Outer Continental Quintet, Tito Puente, Ray Charles, Maria Schneider, Red Rodney, Michael Brecker, Joe Henderson, Slide Hampton, Arturo Sandowal, Pete Minger to name a few.
After coming back to Poland Grzegorz has been very active as a performer and became one of the most sought trombone players in the country. A partial list of his collaborations include: Henryk Miskiewicz, Zbigniew Namyslowski, Kuba Stankiewicz, Piotr Wojtasik, Robert Majewski, Jaroslaw Smietana, Maciej Sikala, Adam Pieronczyk, Leszek Mozdzer, Claus Raible, Bob Brookmeyer, Ed Neumeister among others. Grzegorz Nagorski recorded over twenty jazz albums as a sideman.
Selected discography: Robert Majewski - "Cos dla ludzi" (CDSound Int.), Henryk Miskiewicz - "Ja nie chce spac" (Pomaton EMI), Jazz Big Band Graz and Bob Brookmeyer "Jazz Big Band Graz plays music of Bob Brookmeyer" (Mons Records), Jazz Big Band Graz and Ed Neumeister "Jazz Big Band Graz plays music of Ed Neumeister" (Mons Records), Claus Raible Sextet - "Loopin' With Lea"(ORGM), Inga Lewandowska - Kuba Stankiewicz, "Ulice wielkich miast" (Koch International), Kuba Stankiewicz - "Chopin Songbook" (CD ACCORD), Grzegorz Angorski – "DEDICATION" (BCD RECORDS).
His first recording project as a leader "Dedication" with Lukasz Zyta on drums, Pawel Tomaszewski on piano and Andrzej Swies on bass, was realease in 2008 by BCD Records label, featuring original pieces by Grzegorz Nagorski. Starting in 1996 until present Grzegorz Nagorski was voted the "Best Trombonist" in the Jazz Top readers poll in Jazz Forum European Magazine.
For more sounds & info: www.myspace.com/grzegorznagorski