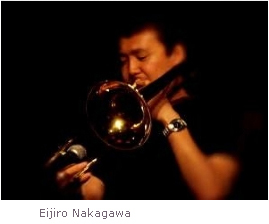 Eijiro Nakagawa is one of Japan's busiest trombonists. He can be found anywhere from Tokyo's recording studios to leading his quartet in one of Tokyo's jazz clubs to being the featured soloist in front of a large symphony orchestra or being across the world with his co-led jazz quintet, E'nJ. Eijiro has also recorded and produced his own albums, which have included artists such as Nicholas Payton and the Brecker Brothers. Eijiro is also a busy composer, having been recently commissioned to write himself a trombone concerto.
Being raised in a very musical family, Eijiro started playing trumpet at the age of 3 and trombone at the age of 5. By the time he was 6, he was performing "I'm Getting Sentimental Over You" in his father's jazz band. At age 15, he recorded his first album, "The Down Unders" with Rikya Masuda. Shortly after, he produced his first solo CD in New York entitled "Eijiro
Nakagawa & Funk 55". Several other CDs soon followed which included the talents of musicians such as Nicholas Payton, Abraham Burton, Daniel Faulk and the Brecker Brothers. Eijiro has also had the pleasure of playing with Herbie Hancock, Wayne Shorter, Steve Lukather, Makoto Ozone and Dave Holland. Eijiro also co-leads a two-trombone quintet with New York
trombonist, Jim Pugh. The group has recorded three CDs which are available through Japan's Superkids label and the US label, TNC Music.
Eijiro is also a highly sought-after classical trombone soloist. Since his solo debut in 1996, Eijiro has appeared as soloist with the Yomiuri Nippon Symphony, the Kosei Wind Orchestra, and Pershing's Own of the US Army Band. Eijiro is a founding member of the brass octet, Samurai Brass who have recently released their first album, "Hagakure". Eijiro was recently
commissioned to write a trombone concerto, which he calls, "Empyrean Convergence."
Being fluent in both jazz and classical idioms, Eijiro is in constant demand in the recording studios. He can be heard on countless records backing up some of the hottest artists in Japan as well as being on many jingles,
soundtracks and television shows.
As an educator, Eijiro has given masterclasses at the University of North Texas, the University of Nevada in Las Vegas, SUNY - Purchase College and most recently, was artist-in-residence at the University of Illinois in Urbana-Champaign. Eijiro has also served on faculty at the Skidmore Summer Institute of Jazz.
With the support of Yamaha-Japan, Eijiro has designed his own model of tenor trombone, the YSL-895EN which is set to release on December 5, 2007. Eijiro plays and endorses Yamaha trombones and Monette mouthpieces exclusively.
<Instrument>
YAMAHA YSL-895EN / Monette
<Official Website>
http://eijiro.net/
<My Space>
http://www.myspace.com/eijironakagawa
---