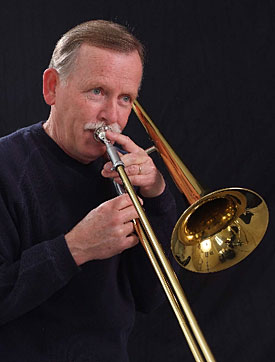 Robert Payne - all styles

Education:
Bob was raised in San Diego, California. He attended the University of Redlands and the University of Southern California where he received a Bachelor of Music degree. He also attended California State University Los Angeles where he received a Masters in Composition. Bob studied privately with Robert Marsteller, Murray Mceachern, and Dick Nash.

Military:
Bob played lead trombone with the NORAD Commanders and the Army Field Band Studio Band.

Bands:
Bob has recorded and toured with the bands of Stan Kenton, Woody Herman, Harry James, Les Brown, Louie Bellson, Nelson Riddle, Quincy Jones and many others.

Recording:
Bob has been a free lance studio musician in Los Angeles for over 38 years. He has been involved in all forms of recording during that time. Bob has played on over 200 motion picture sound tracks and 100's of TV shows, commercials and records. Recording projects include everything from Blood, Sweat and Tears to Frank Sinatra and Barbara Streisand. Bob is currently in his 20th season as first trombone with the Simpsons TV show.

Theater:
Bob has been involved with musical theater for much of his career, having been first trombone at the Shubert and Ahmanson Theaters for many years. Bob is currently in his 4th year as orchestra contractor for Center Theatre Group at the Music Center in Los Angeles.
-

Copyright 2020 René Laanen - Trombone Page of the World
Please direct comments and questions about this web site to René Laanen ~
contact