RUSSELL SCARBROUGH



This page is updated: October 15, 2020 9:32 AM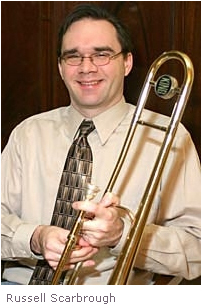 Russell Scarbrough is a composer and trombonist living in Rochester, New York. He studied composition with Hank Levy at Towson State University, and Bill Dobbins at the Eastman School of Music. He received his Doctor of Musical Arts degree from Eastman in 2008. He directs two main projects for showcasing his original music and arrangements: his 19-piece ensemble, the Russell Scarbrough Big Band, features his own works in a strikingly original voice; while his 12-piece Soul-Jazz Big Band features his arrangements of classic jazz from the 1960's and 70's.

Scarbrough was Assistant Principal Trombone in the Gettysburg Symphony Orchestra from 1990-1995, performing the Rimsky-Korsakov Concerto for Trombone during the 1992-1993 season. He studied trombone with John Gifford, John Melick, Wayne Wells, Harry Watters, Mark Kellogg, and John Marcellus. As a performer, he shared the stage with a host of jazz greats, including Clark Terry, Slide Hampton, Bob Brookmeyer, Johnny Mathis, Marian McPartland, Peter Erskine, Dick Oatts, Rufus Reid, Bob Sheppard, Conrad Herwig, Randy Brecker, Al Chez, Chuck Mangione, Pat LaBarbera, John Nugent, Byron Stripling, Marvin Stamm, Frank Tiberi, John Fedchock, Danny Gottlieb, Gary Foster, Barry Harris, Joey Sellers, Frank Vignola, Chuck Marohnic, Greg Hopkins, Jim Snidero, and Charlie Byrd. Presently he is a member of the Al Chez "Brothers of Funk" Big Band as trombonist and arranger. At Eastman he played trombone in the new music ensemble Ossia, the Philharmonia Chamber Orchestra, the Eastman Trombone Choir and Bionic Bones, the Eastman Jazz Ensemble, New Jazz Ensemble and the Dave Rivello Ensemble. He was awarded the Raymond and Maxine Schirmer Prize in Jazz Composition, and in 2005, he became the first recipient of the "Billy Joel Scholarship" at Eastman.

In the 1990's, Scarbrough spent several years in Phoenix, Arizona where he worked with tuba virtuoso Sam Pilafian and was the first director of the Concert Jazz Band II at Arizona State University. He recorded with the Mahronic-Pilafian-Hopkins Jazz Nonet on their 1997 release, "Hidden Agenda" (later re-titled "Jazz!"), on Summit Records, revisiting the music of Miles Davis's "Birth of the Cool" sessions.

Since 2005, Scarbrough has been the director of the Roberts Wesleyan College Jazz Ensemble. The ensemble regularly performs his original compositions, and features well-known jazz artists. The ensemble is known for its excellence in a diversity of styles, from the classics of big band jazz to cutting-edge works by emerging composers.

-

Copyright 2020 René Laanen - Trombone Page of the World
Please direct comments and questions about this web site to René Laanen ~
contact