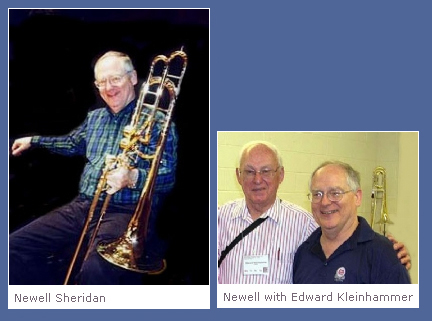 Wm. Newell Sheridan was bass trombonist with the Alabama Symphony Orchestra in Birmingham, Alabama over a period of 27 years until the bass trombone position was replaced with a tuba position. To this day, the Alabama Symphony Orchestra does not have a bass trombonist.
He has performed with the Atlanta, Columbia (SC) Florence (SC) and Augusta (GA) and Huntsville (AL) orchestras. He was a founding member of the Carolina Brass Quintet in 1971 and the Birmingham Brass Quintet in 1975 playing the fifth part on bass trombone.
Newell Sheridan was brass instructor at Samford University for 15 years and at UAB for 10 years. He is a clinician, teacher, and does presentations for a wide variety of groups.
He is active with woodworking and metalworking. In May of 2010, his home and shop were completely destroyed by a fire but most of the instruments were in his motorhome and were unharmed. Due to having Focal Dystonia, his playing is limited at this time.
The new home was built with a large bone room designed just for people to come and try out instruments.
Sheridan Brass Instruments is the largest US dealer of S E Shires trombones and mouthpieces. In traveling mostly throughout the Southeastern US, Sheridan visits many colleges, Universities and attends many music education conferences.
He studied at Northwestern Univ. in Chicago, Indiana Univ. and the Univ. of South Carolina and holds a bachelors and Masters degrees form the University of South Carolina. He has a doctorate from the University of Hard Knocks.
Teachers include Edward Kleinhammer, Arnold Jacobs, Charlie Vernon, Frank Crisafulli, Jay Friedman, Michael Mulcahy, Jan Kagarice, Tony Chipburn, Richard Oldberg, Lewis van Haney, Thomas Beversdorf, and more.
Being an "equipment junkie" since the seventh grade has caused Sheridan to study customizing trombones in a way so as to fit each player the very best way possible. It's important for the instrument to be easy to play and have a great sound in order to accelerate development, not just as players, but as musicians. After all, playing music is a lot better than playing a lot of notes.
Sheridan Brass sells solely Shires instruments because the S E Shires line of instruments, made in Massachusetts, makes it possible to custom fit just about any trombone player to perform at the peak of their abilities.