MACIEK WALICKI



This page is updated: October 11, 2020 4:13 PM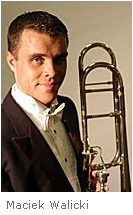 Maciek Walicki, HK Philharmonic
Originally from Bytom in Poland, Maciek Walicki was born into a musical family. He begun his training on the violin at the age of five with his violist mother. After switching to trombone he finished high school in the class of Pawel Waloszczyk in 1995 and went on to study in The Frederyk Chopin Music Academy in Warsaw in the studio of Roman Siwek, Principal Trombone of The Polish National Philharmonic. Two years later in 1997 Mr. Walicki got invited to continue his studies with one of the most sought after soloists and educators Prof. Jonas Bylund in The College of Muisc and Theatre Hannover in Germany, and in 1997 after succesful audition Maciek entered on the full scholarship The Juilliard School in New York City where he studied with the distinguised Joseph Alessi, Principal Trombone of The New York Philharmonic.
During his studies Mr. Walicki has been involved in many competitions and festivals locally and internationally, and among others won a Grand Prix at The Silesian Competition for wind Instruments in 1994 and First Prize at the Polish National competition for Wind Instruments in 1995. He also became a finalist at the 1996 International Competition of Wind Instruments Gdansk in Poland and won a Third Prize at The Lewis van Hanney International Trombone Competition in Nashville-Tennesse, United States in 2001.
While focusing on solo repertoire Maciek has also joined The World Orchestra Jeunesses Musicales in 1996 and The International Orchestral Institute Attergrau, Austria in 2000.
Mr. Walicki is an active soloist, chamber musician and teacher. He has given several recitals and masterclasses in Asia and Europe and his solo performances were broadcasted by the Radio Television Hong Kong. He has collaborated with Polish Radio Orchestra, Polish National Theatre, The Staadstheatre Kasel, The Di Capo Opera in NYC, Macau Orchestra and Singapore Symphony.
Mr. Walicki has been playing with the Hong Kong Philharmonic since 2001. He is on the faculty at The Academy for Performing Arts and also at the Music and Drama Institute of Hong Kong. In 2010 he became the artist/endorser of the C.G. Conn Trombone.

--






























Copyright 2020 René Laanen - Trombone Page of the World
Please direct comments and questions about this web site to René Laanen ~ contact