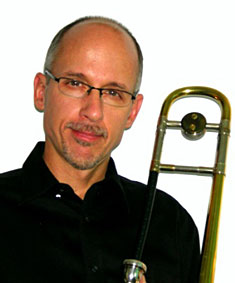 Regan began his formal music training at Mt. Hood C. College under the direction of Larry McVey. He continued at the University of North Texas in jazz studies, and subsequently completed his Master's degree in classical trombone (1999) from California State University, Long Beach. Along the way he studied with such recording session notables as Jim Ehrmin, Roy Main and Alex Iles.
During most of the 80's and 90's, Regan worked as a free-lance trombonist and brass instructor in Southern California. His varied and colorful playing career includes travels throughout North America, Europe and Asia, performing with ensembles as diverse as the Disneyland Band, Capistrano Pops Orchestra, Pacific Brass Quintet, Crystal Cathedral Symphony, Legends of Swing, Jimmy Dorsey Orchestra, Americus Brass Band, Caribbean Cruise Line, Jazz Pacific Orchestra, Stan Kenton Reunion Band, Bangkok Symphony, Hong Kong Big Band, and Nagasaki HTB Orchestra as well as performing at the renown Montreux, North Sea and Miri (Borneo) Jazz Festivals. He also served as co-principle trombonist with the Music Theatre of Southern California, spending 12 seasons in the orchestra pit playing dozens of productions including West Side Story, Phantom, South Pacific, Annie, Chorus Line, etc. In addition, he has dozens of studio recordings to his credit in television, film and radio.
In 1999, teaching opportunities took him to Hong Kong, and on to Bangkok in 2003 where he was instrumental music director at an international school. While there he was invited to be on the low brass faculty for the Thailand Brass Festival in 2005 as both performer and clinician. He also played occasionally with the Bangkok Symphony and Opera Orchestra.
Since moving to Singapore with his wife in early 2008, Regan has been playing in various shows and clubs around town, teaching and is currently serving as resident conductor of the Singapore Wind Symphony.

Regan Wickman
2A Margate Road, 12-03
Singapore 438073
9894-8026