JOHN WOLF - www.bonehenge.com



This page is updated: October 11, 2020 3:32 PM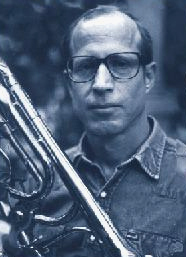 As long as I'm blowing my own horn, I might as well tell you a bit about myself and my musical journey to this website. I guess you could call this a resume.
I was born on New Year's Eve of 1951, in Washington, D.C., fifty-three years ago. At the age of twelve, I began playing the trumpet. I was fortunate enough to have a teacher who introduced me to jazz in pretty short order. Also in short order, I found an old, beat-up Conn 6-H tenor trombone at school, and fell in love with it. My teacher had me listen to the 1937-38 Count Basie band, (the one with Tbone soloists Dicky Wells and Benny Morton), and I fell in love with that, too.
During my one year of college in Vermont, I got in the habit of hitchhiking to Boston on the weekends and going to jam sessions. Since that absorbed most of my energy, I decided to drop out and move to Boston, where I helped form my first serious band, the Pure Sound Collective. After about a year and a half of regional touring, the band broke up and in early 1972 I moved to New York City.
While in New York, I attended a number of ongoing workshops led by such musicians as Sam Rivers, Barry Altschul, Lee Konitz, and Ornette Coleman, among others. I also joined German multi-instrumentalist Gunter Hampel and the GALAXIE DREAM BAND, with whom I recorded two albums. (I was fortunate, while performing with the GALAXIE DREAM BAND, to make the acquaintance of trombonist Marty Cook; now living in Germany, he continues to express himself with some of the most delicately beautiful sounds I've ever heard from the trombone). During this time, I had the privilege of studying with trombonist Garrett List, one of the finest, most versatile and fluent trombonists in both classical and jazz id ioms, especially the avant-garde reaches of both disciplines.
In early 1975, I moved to southwestern Massachusetts, in the Berkshire Mountains, where I had lived while in the Pure Sound Collective. There I found work with a jazz quintet of local musicians, and also found work as a refrigeration mechanic.
In 1976, I joined the Boston-based POWERHOUSE BLUES BAND, which specialized in the horn-heavy "jump blues" sound of the 1940's and early 50's. I toured New England, New York state, and the Washington, D.C. area for about a year, and in 1977 was offered a teaching position with a jazz workshop in Pittsfield, Mass. which had received a grant to operate for a year. In 1978, the funding for the workshop had ended; I spent another year working in the area in different, and mostly commercial, bands. However, work was by then becoming scarce.
In 1979, I moved to the Washington, D.C. area, and worked in a variety of blues and r & b bands, small jazz groups, and several jazz orchestras.
In 1982, along with four others, I helped found the band which would become the UPTOWN RHYTHM KINGS, a band which, like POWERHOUSE, emphasized the "jump" blues tradition, along with a healthy dose of early New Orleans r & b. Eventually the band expanded to eight, and briefly ten, pieces, and enjoyed increasing success.
In 1987, domestic changes required me to leave the band and move to St. Louis, Missouri. After about a three year absence from the music scene, my domestic situation changed again, and I found myself resuming my musical life with a vengeance. I rejoined the UPTOWN RHYTHM KINGS after being included on their first album, "OOH, WOW!" in 1990, and performed with them whenever they went on tour. I also, in 1991, joined the local swing band SWING SET, with whom I would perform full-time for the next two years.
In 1991, I also enrolled as a full-time music student at Webster University, where I would also remain for two years. While there, I studied with bass trombonist JAMES MARTIN, who in addition to performing with the St. Louis Muny Opera has performed with the great St. Louis Symphony Orchestra, the Rochester Symphony, the Buddy Rich Orchestra, and other top-notch classical and jazz orchestras.
In July of 1993, I formed the John Wolf Quartet, with whom I would release a C-D in December of 1993. This led directly to the establishment of BONEHENGE MUSIC.
In 1994 I formed SPEAK EASY, a trio specializing in early (1920's and 30's) blues and pop which worked for about a year, and played extensively with other local bands, playing music ranging from solo jobs to jazz to "alternative" rock bands to bluegrass/Balkan folk-influenced bands. As I acquired more technical skills, I branched out into the sound and recording fields to a limited extent.
In 1996, in addition to my musical activities, I put some sweat equity into a new, and welcome, addition to the St. Louis club scene, BB's Jazz, Blues and Soups. BB's is a name which has regularly appeared, and will appear again, on my calender page.
In December of 1997, I was flown to Vancouver, B.C. to record for Warner Brothers/ Canada with Canadian Superstar COLIN JAMES, a C-D entitled "Little Big Band II", featuring some of the best examples of the "Jump Blues" and Swing genres.
In January of 1998 I was hired as the newest member of the great Jump/Swing/R & B band ROOMFUL OF BLUES. I performed continuously with them for over a year and a half, travelling all over the United States and most of Western Europe and recording the C-D "There Goes The Neighborhood" (Rounder/ Bullseye Blues #11661-9609-2) in February of 1998. In May of '99, while on tour in Switzerland, I was privileged on two occasions to perform with St. Louis trumpet legend CLARK TERRY, while in Bern.
In July of 1999, due to my responsibilities as a parent and my desire to spend more time on my own projects such as the JOHN WOLF QUARTET and my wish to be more of a presence on the St. Louis music scene, I reluctantly resigned from that fine organization. I thus found myself back in St. Louis, fronting my Quartet, performing with blues legend BENNIE SMITH and his band URBAN BLUES EXPRESS, and free-lancing with other groups and in the commercial studios. A highlight of this period was getting to perform several times with bassist MARK DEUTSCH, one of St. Louis' top instrumentalists and inventor of the "Bazantar," an instrument combining the full-size double bass with the Indian Sitar, in Deutch's group MASS AMALGAM. I thus found myself performing with icons of the New York avant-garde just like nearly 30 years previously; players such as reedman J.D. PARRAN of St. Louis Black Artist Group fame, and trumpet virtuoso ROY CAMPBELL.
In 2001, I was asked to join one of the finest and longest-running St. Louis blues bands, the SOULARD BLUES BAND. Currently, I find most of my performing is taking place with them and with the UNIVERSITY CITY SYMPHONY ORCHESTRA, with whom I perform on bass trombone.
So, there you have it! Plant you now, dig you later, and hope to see you around, or right here at my website!
--






























Copyright 2020 René Laanen - Trombone Page of the World
Please direct comments and questions about this web site to René Laanen ~ contact